Former President Donald Trump took a victory lap over the weekend and celebrated the Supreme Court's striking down Roe v. Wade, the landmark 1973 ruling that provided constitutional protections for abortions.
The three justices appointed to the high court in Trump's single term—Neil Gorsuch, Brett Kavanaugh and Amy Coney Barrett—were instrumental in the decision to "upend the scales of justice and eliminate a fundamental right for women in this country," President Joe Biden noted in a statement after the decision came down on Friday.
Trump, on the other hand, hailed it as "a victory for the Constitution, a victory for the rule of law, and above all, a victory for life."
He has long said his elder daughter Ivanka has inspired his views when it comes to women's issues. In an interview in August 2015, he said she was his "guide" on the "whole issue of women's health and women."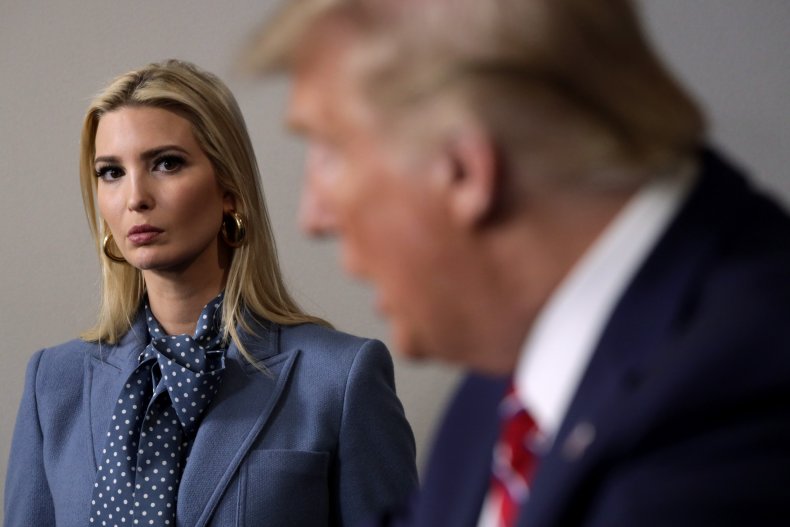 And Ivanka Trump served as a senior White House advisor while styling herself as a champion for women's empowerment during her father's presidency.
But as many continue to process and protest the high court's bombshell decision while anti-abortion activists and their Republican allies celebrate achieving a goal they have sought for decades, she has remained silent. Her most recent posts on Twitter marked Memorial Day and responded to a deadly mass shooting at an elementary school in Uvalde, Texas.
However, Ivanka Trump explicitly stated her opposition to abortion for the first time in late 2020, saying she is an "unapologetically" pro-life.
Ivanka Trump explained that parenthood—she has three children with husband Jared Kushner—had "affected" her thinking on the issue.
"I respect all sides of a very personal and sensitive discussion," she told RealClearPolitics when asked about her stance on abortion in an interview published days before Election Day in 2020.
"But I am also a mother of three children, and parenthood affected me in a profound way in terms of how I think about these things."
She continued: "I am pro-life, and unapologetically so."
A White House aide told the outlet that a "huge driving part" of Ivanka Trump's stance was "where the Democratic Party has gone" on the issue, without explaining what that meant.
Before that interview, it was not fully clear where the former first daughter stood on the issue of abortion rights.
She had dodged questions about her views on abortion when her father was running for the White House in 2016.
"I don't talk about my politics," she said when radio host Margery Eagan asked if she was pro-choice or not in February that year. "I don't feel like it's my role, and not the candidate's. I'm the daughter.... I don't think my politics are relevant to the discussion."
However, there have been hints that Ivanka Trump may share her father's pro-life stance (although the former president was vocal about supporting a woman's right to choose in the past) in recent years.
In 2018, then Planned Parenthood CEO Cecile Richards accused Ivanka Trump and Kushner of telling the organization it would have to stop providing abortions to keep federal funding in a meeting in early January 2017.
"Jared and Ivanka were there for one reason: to deliver a political win," Richards wrote in her memoir. "In their eyes, if they could stop Planned Parenthood from providing abortions, it would confirm their reputation as savvy dealmakers."
And days before the 2020 election, Ivanka marked the confirmation of Barrett to the court with a tweet. Trump's pick to replace the late Justice Ruth Bader Ginsburg had been criticized by supporters of abortion rights due to Barrett's opposition to abortion.