130 Undocumented Migrants From Latin America Surrender to Border Patrol in Arizona
Over 130 undocumented immigrants have reportedly surrendered to U.S. Border Patrol agents in Arizona.
Agents apprehended the group—which consisted of citizens from Guatemala, Honduras, El Salvador and Nicaragua—near San Miguel, Arizona.
The agents gave the group's members face masks and then transported them to Tucson for processing, according to John R. Modlin, Interim Chief Patrol Agent of the U.S. Border Patrol's Tucson sector.
The so-called Northern Triangle—which contains all the aforementioned Central American countries—is the primary source of migrants to the United States. The immigrants largely flee their region to escape high murder rates, gang violence, low employment as well as a lack of access to food, necessities and social services. Recent droughts and hurricanes have worsened conditions in the region.
The group's surrender occurred amid a recent poll showing that a majority of Americans disapprove of President Joe Biden's immigration policies and handling of the numerous immigrants arriving at the U.S.-Mexico border.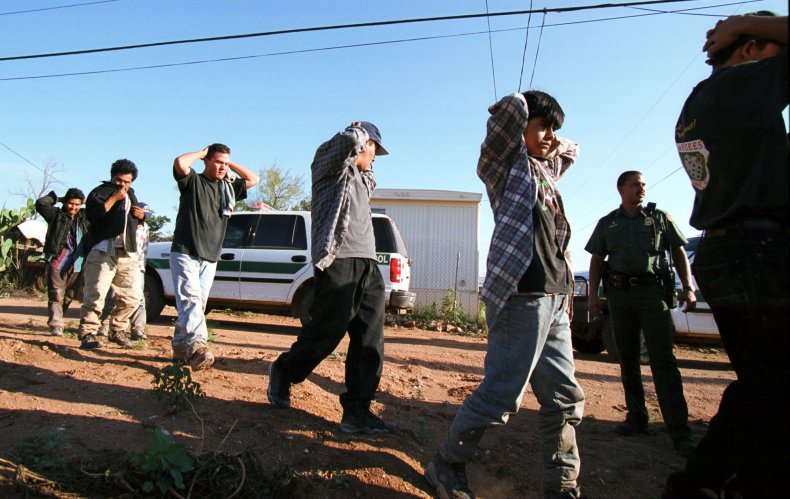 The Deputy Chief of the U.S. Border Patrol, Raul Ortiz, estimates that the federal agency will encounter over 1 million migrants at the southern border this year. The number would be more than double the 458,088 total encounters in 2020.
Another estimate figures that the U.S. could encounter as many as 2 million migrants at the southern border. The number would be nearly double the amount encountered in 2006, the last time border apprehensions exceeded 1 million.
Republicans have blamed the surge of migrants at the border on Biden's rolling back of former President Donald Trump's anti-immigration policies, including halting construction on Trump's border wall.
However, the Biden Administration has pointed out that a surge of migrants normally appears at the border at this time of year. The administration has also blamed Trump for leaving them a "dismantled and unworkable" immigration system.
Early into his presidency, Biden repealed Trump's Migrant Protection Protocol. The protocol required asylum seekers to wait in Mexico for their immigration court hearings. Under Biden's system, some migrants desire arrest by Border Patrol agents in order to enter U.S. immigration custody while awaiting their court dates.
The Biden administration has said that it continues to expel most of them under Title 42. Title 42 is a Trump-era COVID-19 prevention measure that allows U.S. authorities to rapidly deport any immigrants caught trying to cross the southern border.
Over 400,000 migrants have been expelled under Title 42, Reuters reported, some of them repeat offenders who were counted twice. Critics say that the order denies due process to asylum seekers. Biden hasn't said whether he will end it.
However, February data from U.S. Customs and Border Protection showed that many migrants are staying in the U.S. while awaiting their court dates.
How Biden handles the surge could set the tone for the eventual legislative debate on comprehensive immigration reform.
Biden's US Citizenship Act of 2021 represents the most sweeping modern reforms to the nation's immigration system. It provides an eight-year path to citizenship for undocumented immigrants while making asylum, immigrant worker protections, green cards and visas more accessible.
The legislation also contains proposals addressing foreign social issues that drive migration and additional funding for technology and infrastructure at points of entry. However, the bill doesn't address border security or interior enforcement measures meant to discourage immigration.
Newsweek contacted Border Patrol for comment.