Alan Dershowitz claims unsealed documents regarding Jeffrey Epstein's alleged sex trafficking accomplice Ghislaine Maxwell prove he "never had sex with anyone associated with Epstein" after the files outlined allegations against him.
An accuser named Jane Doe #3 in the documents claimed to have been trafficked to Dershowitz, an emeritus Harvard Law School professor.
The documents describe Dershowitz as "a close friend of Epstein's" and claim Jane Doe #3 was forced by the financier, who was found dead in a New York jail cell while awaiting trial, to have sexual relations with Dershowitz. Jane Doe #3 is said to have been kept as a "sex slave" for Epstein.
Virginia Giuffre, who publicly accused Epstein, also claimed to have been with Dershowitz. He has previously denied such allegations.
A defamation suit involving Dershowitz was previously settled in 2016, with lawyers having described it as a mistake to accuse him of having sex with a minor. This was also mentioned in the released documents.
Contacted by Newsweek, Dershowitz said he had wanted the documents to be unsealed as he believes they indicate Giuffre "made up the entire story about me."
"The documents prove I never had sex with anyone associated with Epstein," he said, branding those making allegations "false accusers" and suggesting they were made for financial gain.
In regards to allegations that he witnessed abuse, Dershowitz told Newsweek: "I never saw Epstein do anything improper. If I had, I would have reported him. I have sworn to that. When Guiffre said that to her lawyers, she did not say she had sex with me.
"Her story changed. None of it is true. I never met her. I never saw Epstein in the presence of anyone underage."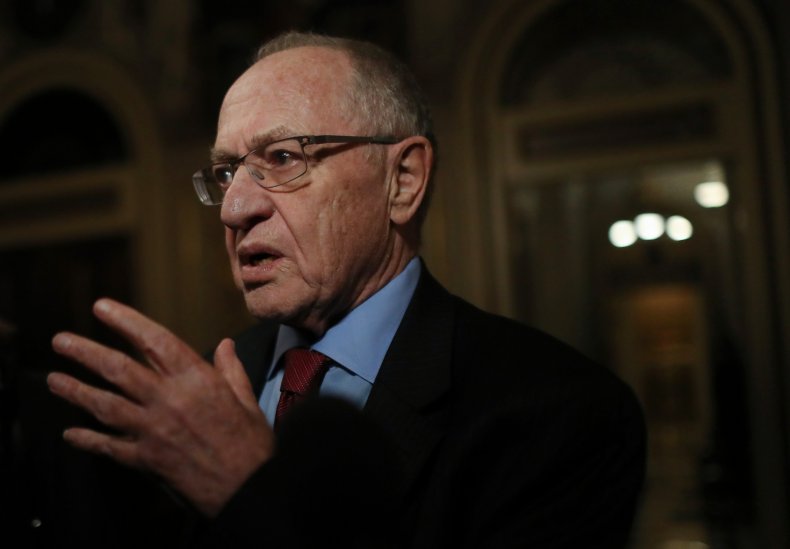 He also referred to another woman who made allegations against Epstein and said she had sex videos of prominent figures, but later said she invented the claims in an interview with The New Yorker.
Newsweek has reached out to Giuffre for comment through her non-profit organization, Victims Refuse Silence.
The fresh details come after U.S. District Judge Loretta Preska released documents Thursday as planned by a July 23 decision to unseal the files from a 2015 defamation case. Maxwell had lost a bid to block the unsealing.
The documents make reference to several other prominent figures.
Maxwell was arrested July 2, 2020, in New Hampshire with charges of perjury, sex trafficking, and enticement to minors, and remains in custody after being denied bail. She awaits trial and has denied the charges against her.
Epstein, a prominent financier, was convicted of sexual assault. He was found dead in a New York jail cell while awaiting trial for allegations of trafficking. His death was ruled to be a suicide.
Dershowitz was one of several lawyers who helped Epstein to secure a deal with Florida prosecutors in 2008 when he was convicted of sex offenses involving an underage girl.
The famed attorney was also part of President Donald Trump's defense team in the Senate during his impeachment trial.