What to Expect at Saturday's (Yes, Saturday's) Democratic Presidential Debate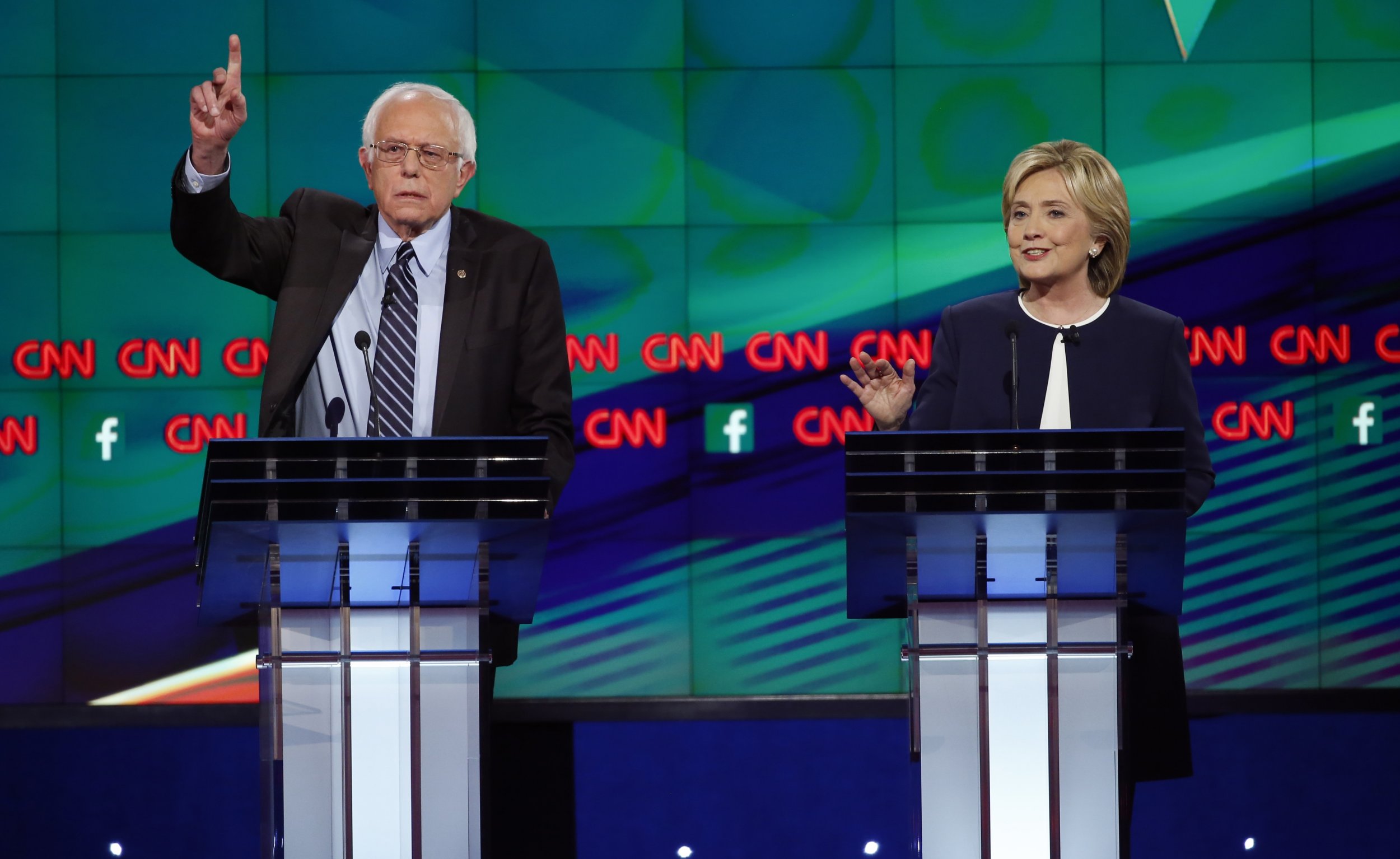 Updated | The three Democratic candidates will face off Saturday night in their party's second presidential debate of the primary season.
Former Secretary of State Hillary Clinton, who has earned the support of more than half of the superdelegates in her party, will be joined on stage by U.S. Senator Bernie Sanders of Vermont and former Maryland Governor Martin O'Malley. This contrasts to the gaggle of 12 Republicans who recently debated.
They will take the stage Saturday at Drake University in Des Moines, Iowa, at 9 p.m ET. The debate will air on CBS and its radio affiliates, and also stream online at Newsweek.com. It is expected to last for about two hours.
The event is co-sponsored by CBS, Twitter and the Des Moines Register. The moderator, Face the Nation host John Dickerson, said he will cover a wide variety of topics but will focus heavily on the economy.
Clinton typically is viewed as the clear front-runner among the three remaining Democratic candidates. But recently Sanders's favorability rating rose close to Clinton's support. By September 10, Sanders led Clinton in early primary states, including Iowa and New Hampshire.
But Clinton since has taken back the No. 1 spot, which many pollsters credit to her strong performance in the first debate, her testimony before the House's committee investigating the Benghazi assault and the end of uncertainty over whether Vice President Joe Biden would run against her. Last month, Biden decided not to seek the Democratic nomination, a decision he delayed in the wake of his son's death earlier this year.
The horrific events in Paris Friday night are likely to shift the tone of what was expected to be a debate heavy on domestic and Iowa-focused issues. All three Democratic candidates immediately put out statements condemning the terrorist attacks. Expect questions on how the United States should respond and what more the U.S. government should to to combat ISIS, something the candidates are split on. Clinton is generally the more hawkish of the three, and advocated more robust action in Syria when she was secretary of State.
Among the issues at hand are energy and climate change. President Barack Obama's rejection of the controversial Keystone XL pipeline, which would have brought heavy tar sands oil from Canada, is opposed by all of the Democrats. Clinton's late opposition to the plan is sure to be chided by Sanders and O'Malley. Sanders is supporting a recently introduced bill that would scale back oil and gas extraction on federal land.
The upcoming United Nations Climate Change Conference, which will be held in Paris from November 30 through December 11, also will shine a spotlight on international leadership and reducing carbon emissions.
Other issues that could emerge include criminal justice reform, the death penalty, drug policy, race relations, campaign finance reform and how to regulate financial institutions deemed too big to fail.
And there's always the controversy involving Clinton's emails. At the first Democratic debate, Sanders said, "I think the secretary is right, and that is that the American people are sick and tired of hearing about your damn emails." Then, less than a month later, Sanders suggested the ongoing FBI investigation into the security of her private email account is appropriate. She has faced widespread criticism this year for using her personal email address to conduct business during her tenure as secretary of state from 2009 to 2013.
O'Malley is expected to be on the offensive. He has suggested that Sanders was disloyal to Obama by urging a primary challenge ahead of the 2012 election. And he has gone after Clinton on gun control and immigration, claiming she flip-flopped because she previously took a harder line on undocumented immigrants. O'Malley has made calling for tighter gun laws a main part of his campaign, which builds on his two-term legacy in Maryland.
Emily Cadei contributed to this report.
This post has been updated to reflect the events in Paris Friday night.