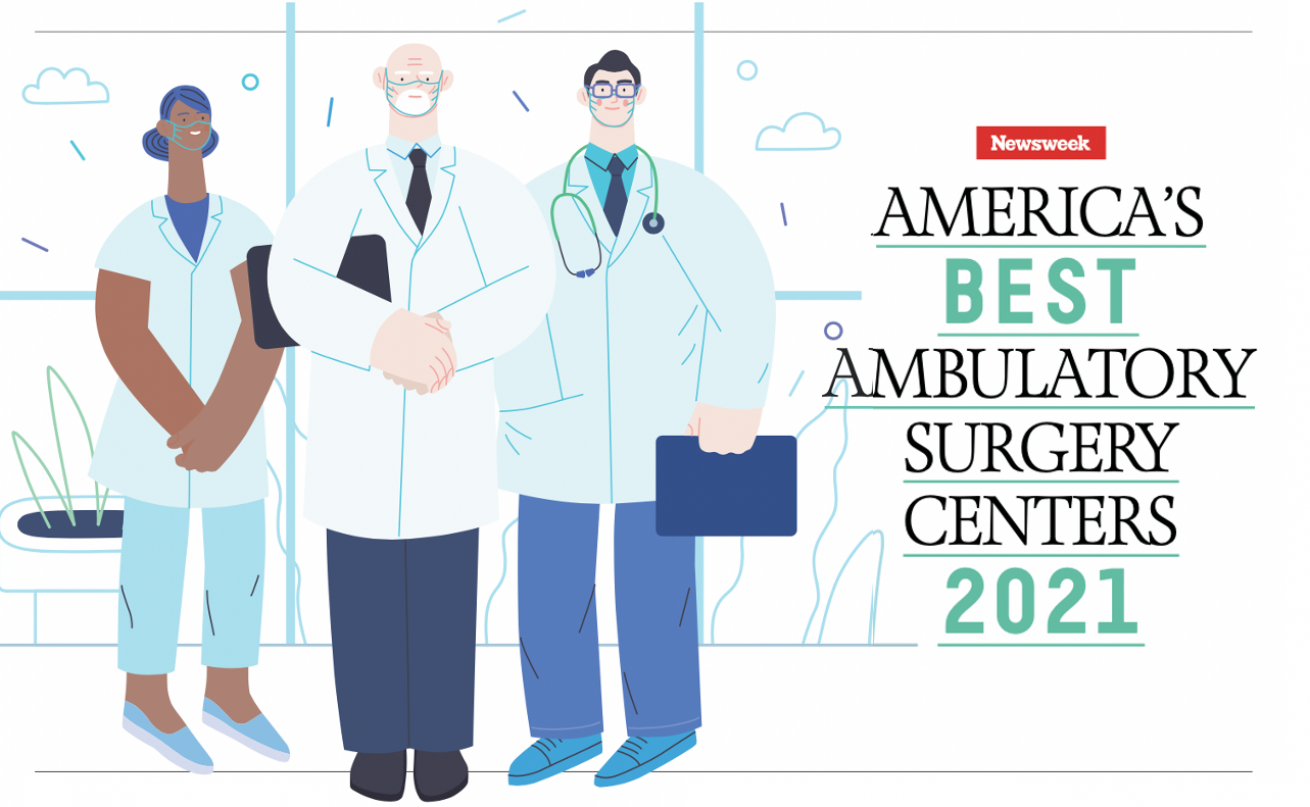 America's Best Ambulatory Surgery Centers 2021
---
Big, busy hospitals can be lifesavers—when you need them. But when outpatient care is possible, patients often prefer ambulatory care centers: they allow you to have procedures done after business hours, and closer to home.
Ambulatory surgical centers performed more than half of all outpatient surgeries in 2017, according to Bain research, and that percentage is already expanding. Orthopedic, cardio and spinal surgeries are expected to drive the growth.
To help our readers make knowledgeable choices when they seek care for themselves or loved ones, Newsweek partnered with respected global research firm Statista to name America's Best Ambulatory Surgery Centers 2021. This list spotlights the 400 best centers in the 25 states that have the most facilities. (They are: California, Florida, Illinois, North Carolina, Texas, Colorado, Georgia, Missouri, Maryland, Michigan, New Jersey, Oregon, Pennsylvania, Louisiana, Ohio, Wisconsin, Washington, Minnesota, Arizona, Mississippi, New York, South Carolina, Indiana, Kansas and Tennessee.)
Our experts and our survey-participants assessed quality of care, performance data and peer recommendations relative to in-state competition. they also took into account how well facilities were responding to the threat of COVID-19.
Even after you've decided to undergo a procedure, it can be stressful to choose a facility. Your health, safety and quality of life are important to you—and to everyone who cares about and depends on you. We hope these trustworthy, carefully vetted rankings of America's Best Ambulatory Surgery Centers help you make choices with confidence.

Licensing
If your facility is listed in the ranking, click here to learn more about the licencing options.
Methodology
Working with data research firm Statista, we analyzed ambulatory surgical center performance data. As part of the research, we conducted a survey of experts, asking nurses, therapists, physicians and surgeons, and administrators in ASCs for the best surgery centers in their state or a state they're familiar with. We also invited them to assess how well the ASC in question has handled the challenges of the COVID-19 crisis.

The rankings included Ambulatory Surgery Centers operating exclusively for the purpose of providing surgical services to patients not requiring hospitalization and in which the expected duration of services would not exceed 24 hours following an admission. An unanticipated medical circumstance may arise that would require an ASC patient to stay in the ASC longer than 24 hours, but such situations should be rare.

The research project analyzed more than 4,300 Ambulatory Surgery Centers in 25 states. The 400 Best Ambulatory Surgery Centers were identified, with a varying number of ASCs awarded per state: California, with 80, had the most, while Mississippi is represented with 3 ambulatory surgery centers.

The Ranking is based on the Overall Score of each facility, which is based on the Reputation Score and the KPI Data Score. The Reputation Score is based on three sub-scores: for recommendations, for quality and for the handling of the situation regarding Covid-19 (as of August 2020).

Additionally, experts from all over the US were able to participate in the survey of the Best Ambulatory Surgery Centers in the US on newsweek.com. All data was collected by Newsweek and Statista during the survey period from July to September 2020. Self-recommendation was not possible (e.g. a recommendation of the ambulatory surgery centers someone worked for was not counted in the evaluation).

Participants were asked to recommend up to five ambulatory surgery centers. Additionally, participants were asked to rank quality, differentiating among these variables:
- Management in times of the COVID-19 crisis (e.g. safety of residents, hygiene measures)
- Management of waiting time (e.g. appointments) Quality of surgery preparations (e.g. consultation with doctor, information)
- Quality of surgical care (e.g. procedure)
- Quality of follow-up care (e.g. physical therapies)

The KPI Data Score is based on number of measures which are important for safe surgeries (e.g. burns, falls, hospital transfers). The U.S. Centers for Medicare & Medicaid Services (CMS) finalized the Ambulatory Surgical Center Quality Reporting (ASCQR) Program which provides KPI data for ambulatory surgery centers.
For the full methodology, download this file.