Anne Heche Details 'Odd' Ellen DeGeneres Romance in Posthumous Book
Anne Heche detailed her relationship with Ellen DeGeneres in her new book Call Me Anne, which is due to be released posthumously next year.
The memoir—which is set to be released in January 2023—is a sequel to 2001's Call Me Crazy. According to her publisher, Jarred Weisfeld, president of Start Publishing, the Donnie Brasco actress had finished a manuscript shortly before her death.
Heche died on August 11 at the age of 53 after she crashed her car into a home in Mar Vista, California six days prior, causing the house to burst into flames.
At the time, the Los Angeles Fire Department reported it took 59 firefighters over an hour "to access, confine and fully extinguish the stubborn flames within the heavily damaged structure, and rescue one female adult found within the vehicle."
Heche was rushed to the hospital with severe burns. Her representative later revealed Heche slipped into a coma and "suffered a severe anoxic brain injury" as well as a "significant pulmonary injury."
According to the Los Angeles County coroner's office, Heche's official cause of death was smoke inhalation and thermal injuries. The crash was ruled an accident.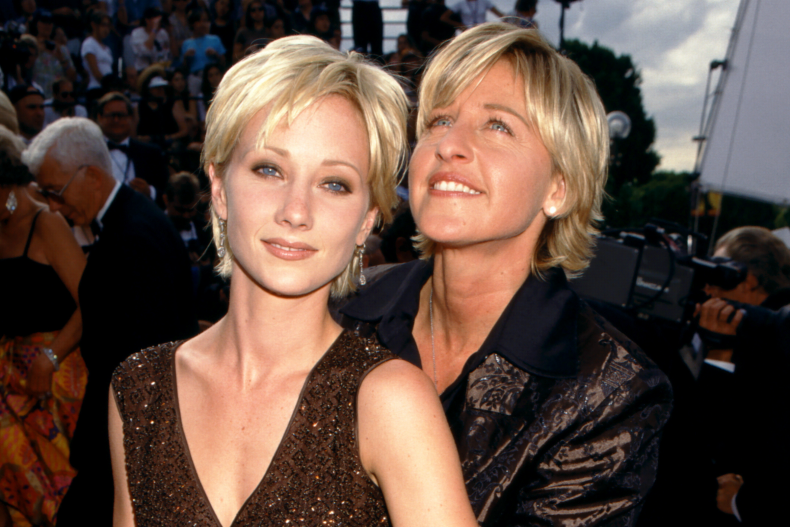 Heche and DeGeneres, 64, were one of Hollywood's first openly gay couples and dated from 1997 to 2000. As a result of their romance, Heche was blacklisted from Hollywood at the height of her career.
In excerpts from Call Me Anne obtained by the Associated Press (AP), the Ohio native shared her thoughts on their highly publicized relationship after the pair met at a Vanity Fair Oscars party.
"I was labeled 'outrageous' because I fell in love with a woman," the Six Days, Seven Nights star wrote. "I had never been with a woman before I dated Ellen."
"I did not, personally, identify as a lesbian. I simply fell in love! It was, to be clear, as odd to me as anyone else," the excerpt continued. "There were no words to describe how I felt. Gay didn't feel right, and neither did straight. Alien might be the best fit, I sometimes thought. What, why and how I fell in love with a person instead of their gender, I would have loved to have answered if anyone had asked, but as I said earlier, no one ever did. I am happy that I was able to tell you in this book—once and for all."
In addition to DeGeneres, the AP reported Heche's memoir will include stories about Alec Baldwin, director Oliver Stone and others, as well as what it was like having Harrison Ford as a mentor.
Following her death, DeGeneres released a statement via Twitter, writing, "This is a sad day. I'm sending Anne's children, family and friends all of my love."
Heche is survived by her son Homer Laffoon, whom she shared with ex-husband Coleman Laffoon, and son Atlas Heche Tupper, whom she shared with ex-boyfriend James Tupper.