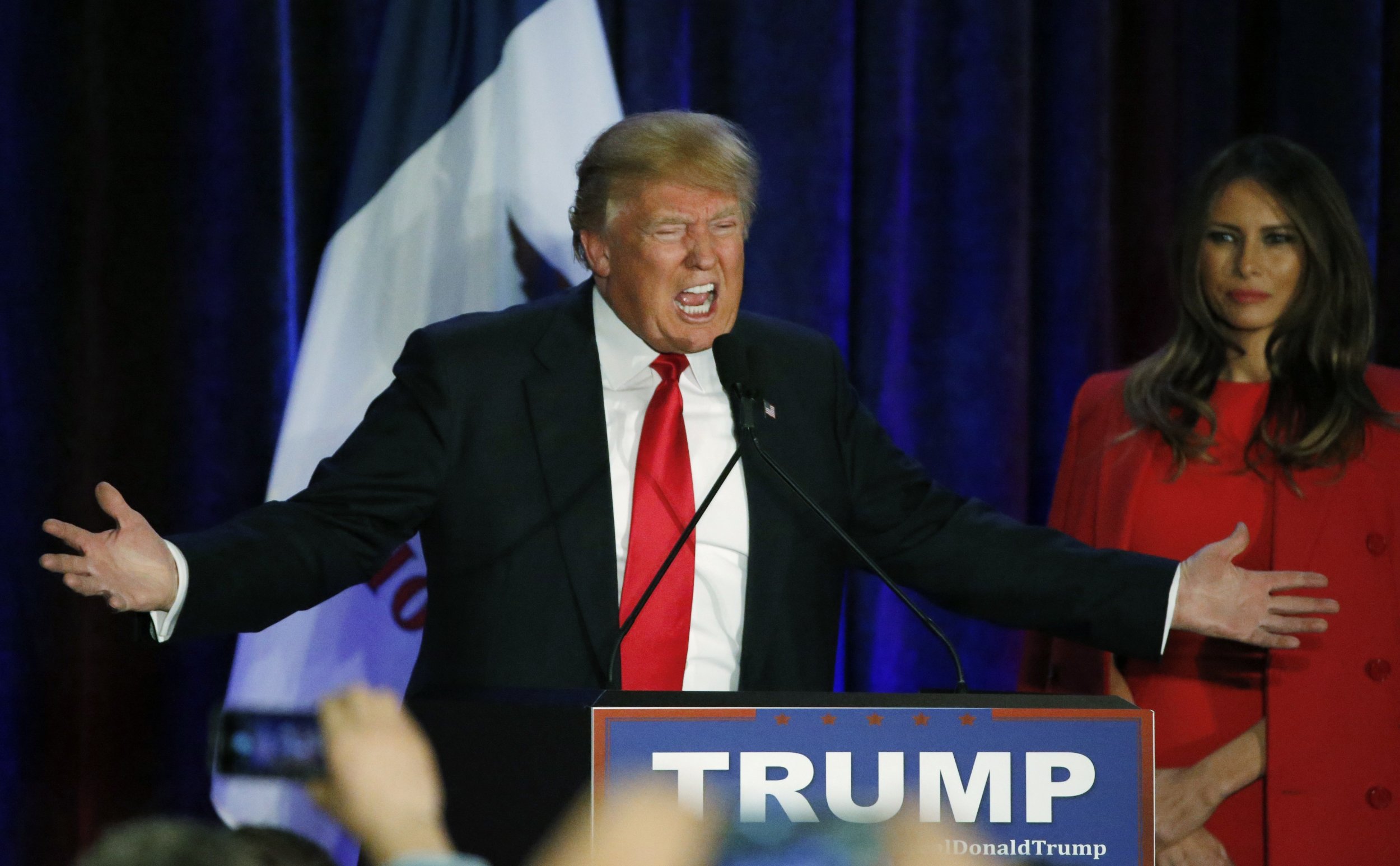 Following his loss to Texas Senator Ted Cruz in the Iowa caucuses, billionaire Donald Trump has toggled between toning down his typical rhetoric, to dipping into verbal attacks against other Republican candidates and the media. Since Monday night, he has switched from admitting that boycotting the GOP presidential debate last week might have cost him the win in the Hawkeye State, to calling for a new election after accusing Cruz of fraud in the Hawkeye State.
"I think it could have been the debate. I think some people were disappointed that I didn't go in the debate," Trump said Tuesday at a rally in Milford, New Hampshire, a week before the state's first-in-the-nation primary. "I just want to continue to do well."
But when asked which event he would attend if someone gave him the chance to redo the night, Trump said he again would skip the debate and host his rival fundraiser, citing the $6 million he raised for veterans in an hour on January 28.
At the Tuesday rally, Trump, the nationwide GOP front-runner, received his first backing from a former or current U.S. senator. Former Massachusetts Senator Scott Brown, who ran in New Hampshire two years ago and is a prominent Republican in New England, endorsed the real estate mogul. Brown's support for Trump follows an endorsement last month from former Republican vice presidential nominee Sarah Palin.
Fueled by record turnout at the Iowa caucuses, Cruz earned almost 28 percent of support, while Trump ended the night with slightly more than 24 percent. Florida Senator Marco Rubio followed in third with 23 percent. But both Trump and Rubio scored only one delegate less than Cruz, seven to eight.
During a concession speech not expected of his usual behavior, Trump spoke cautiously about his chances in the upcoming New Hampshire primary, a state where polls have shown he holds a wide lead over his closest competitors. He praised his Republican challengers as "incredible candidates," especially Cruz for his win. He even went so far as to say, "Congratulations to everybody."
With hopes to rebound in New Hampshire, though, Trump has criticized the media for not talking positively about his second-place win, yet crediting Rubio for gaining significant ground among voters. He called reporters "the worst people ever."
Surprising to his usual actions, Trump didn't tweet between most of Monday afternoon and Tuesday morning, which included hours when the Iowa caucuses took place. But by Wednesday morning, seeming to dip into attack mode, Trump in a tweet demanded either a new election or for Cruz's results to be revoked because of what he called "fraud" committed by the Texas senator in Iowa. In another Twitter message, he said Cruz "stole" the win in Iowa and said the polls were wrong. Whether this meant Trump might be laying the groundwork for an independent presidential bid by claiming fraud should he fail to get the GOP nomination began to seem plausible.
His remarks are the most recent in his attacks against Cruz, who he says will be sued if he wins the Republican nomination because he was born in Canada. Trump similarly attacked Barack Obama ahead of the 2012 presidential election by publicly trying to pursue his birth certificate to determine whether the president was born in Hawaii.
Ben Carson, who placed fourth in Iowa, also has criticized Cruz. The retired neurosurgeon said the senator spread rumors that Carson would drop out of the race after he announced that he would travel home to Florida—instead of heading north to New Hampshire—to get a clean change of clothes. Carson remains in the presidential race.
Trump continues to tout his success as a rookie experiencing the political process for the first time as a presidential candidate. The businessman, who casts himself as the ultimate victor, downplayed his defeat and said he is trying to be more "understated and statesman-like" during an interview with the Today show on Wednesday morning. He reminded Americans that he isn't a professional politician, but still he has "been winning all my life." He also told Morning Joe that he was happy and satisfied with his "strong second place" win, especially because consultants advised him not to go to Iowa and risk defeat.
On Saturday night, the Republican candidates will face off in their eighth debate, and the last one before New Hampshire voters cast their ballots in the first primary next week. Two GOP candidates—Kentucky Senator Rand Paul and former Arkansas Governor Mike Huckabee—both have withdrawn their campaigns after poor showings in Iowa, thus dropping the crowded Republican field from 11 to nine contenders.
The two remaining Democratic candidates, former Secretary of State Hillary Clinton and Vermont Senator Bernie Sanders, will speak to New Hampshire voters in Derry on Wednesday night in a live CNN town hall. Clinton narrowly won their party's Iowa caucuses.