Donald Trump Ramps Up Rhetoric Against Bill Clinton's Infidelity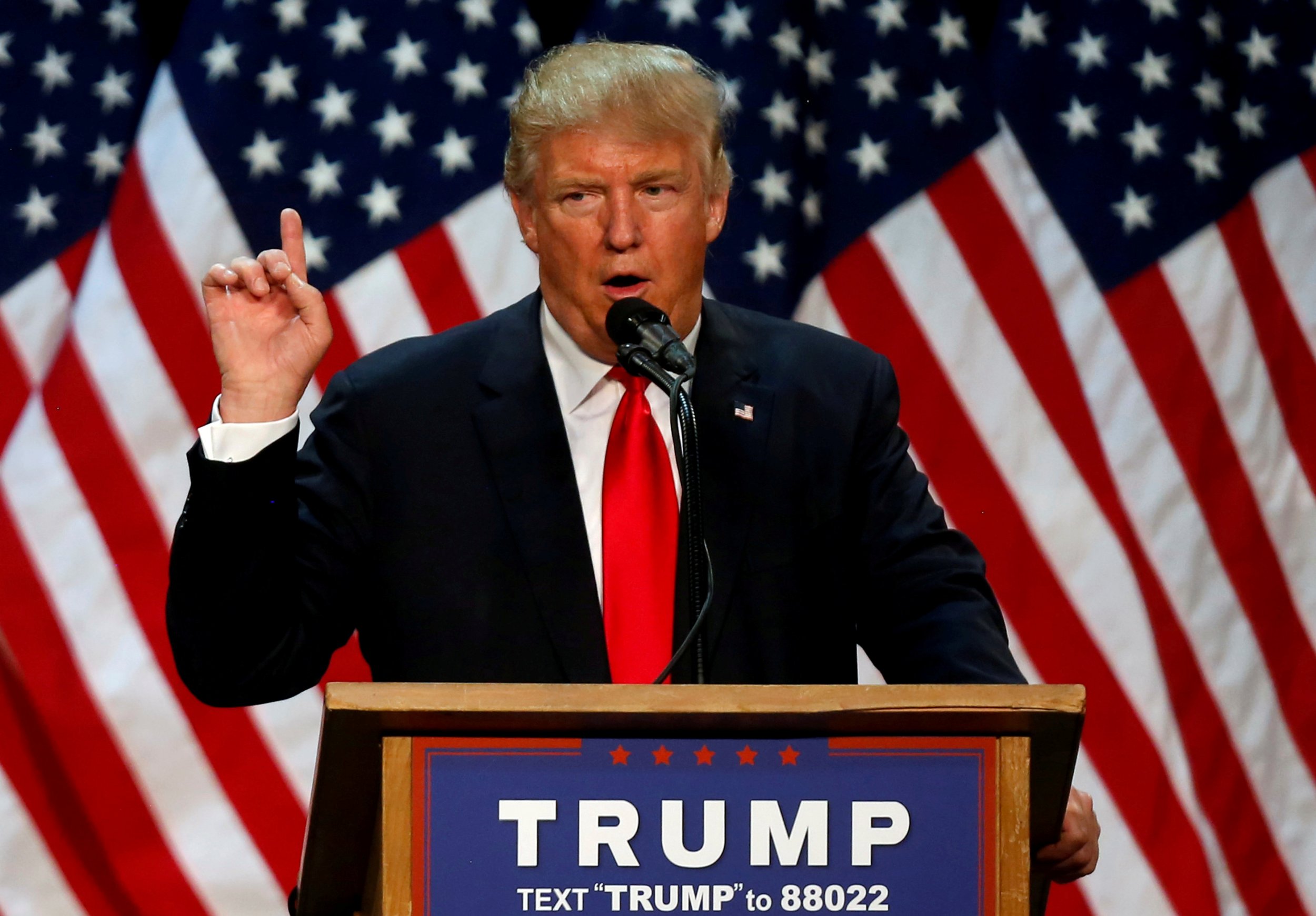 As the Republican party's presumptive nominee, Donald Trump took on Hillary Clinton in a personal way Friday night, accusing her of mistreating women involved in her husband's past infidelity.
"She would go after these women and destroy their lives," Trump said at a rally in Eugene, Oregon. "She was an unbelievably, nasty, mean enabler, and what she did to a lot of those women is disgraceful."
Former President Bill Clinton's sexual history had remained outside of the campaign trail's parameters until December, when Trump called his affair with former White House intern Monica Lewinsky "fair game" in the contest. Since then, the issue mostly has remained out of the race. But now, since Ted Cruz and John Kasich both ended their campaigns this week, Trump is focused on the November general election, when he likely will be matched up against Hillary Clinton, the Democratic front-runner.
Without citing specific examples, Trump asked the audience: "Have you ever read what Hillary Clinton did to the women that Bill Clinton had affairs with? And they're going after me with women? Give me a break, folks."
In recent days, Trump has stepped up his rhetoric against his likely Democratic rival. The New York billionaire is fewer than 200 delegates short of earning the required 1,237 to clinch the nomination, and has been deemed the presumptive nominee by Republican National Committee Chair Reince Priebus. Clinton continues in her fight to push Vermont Senator Bernie Sanders out of the Democratic race to focus on the general election. Sanders won their party's most recent primary in Indiana Tuesday.
Trump's latest remarks came as prominent members of his party and former presidential rivals say they won't support him in the election or attend the Republican National Convention this summer in Cleveland.
While some voters criticize him for his derogatory remarks against women—including Fox News anchor Megyn Kelly and ex-rival Carly Fiorina—the former reality TV star repeatedly says "nobody respects women more than me." On Friday, he used his famous phrase to attack Bill Clinton.
"Nobody in this country and maybe in the history of this country politically was worse than Bill Clinton with women," he said.
A week ago, Trump had accused Hillary Clinton of playing the "woman's card" to gain support, telling Americans she wouldn't gain 5 percent of the vote if she were a man. She has fired back at him in recent days, attacking his views toward women and telling CNN that Americans can't take a risk on Trump, a "loose cannon," to be in charge of the country.
If she is elected president later this year, Clinton has said she probably will repeat some of the responsibilities she held as first lady, including picking the flowers and china for state dinners, to prevent her husband—who would be the country's first-ever first man—from facing those decisions.
In his speech in Eugene, Trump also targeted Elizabeth Warren, the liberal Massachusetts senator whose name has been tossed around as one of Clinton's possible vice-presidential choice.
"I think that Hillary should run with goofy Elizabeth Warren. I would love to beat them," he said. As in the past, Warren took to her Twitter account Friday to post a series of messages against the Republican front-runner. She responded to his use of the term "goofy" as "weak."
The Guam Democratic caucus was underway Saturday. The next round of voting will occur Tuesday in West Virginia for both parties and in Nebraska for the Republicans.
The candidates mostly have been campaigning along the West Coast in preparation of upcoming primaries in California, Oregon and Washington.