Donald Trump Presses Senate On $2,000 Stimulus Checks, Says People 'Have Suffered Enough'
President Donald Trump has urged the Senate to pass legislation to boost stimulus checks from $600 to $2,000 amid political wrangling over the move.
Trump responded to comments that Sen. Bernie Sanders (I-VT) could filibuster a move to override the president's veto of the defense funding bill unless a vote is held on the $2,000 checks.
Replying to details of this potential move, Trump wrote on Twitter: "Give the people $2000, not $600. They have suffered enough!"
Newsweek has contacted the White House for further comment.
Trump previously called for $2,000 checks before signing the latest relief legislation, which included checks of up to $600 per individual. Before signing this, he had labelled it a "disgrace."
The House of Representatives voted to boost the checks to $2,000 on Monday. The vote was split 275-134.
However, Republican opposition to this increase in spending could see the action stalled in the Senate.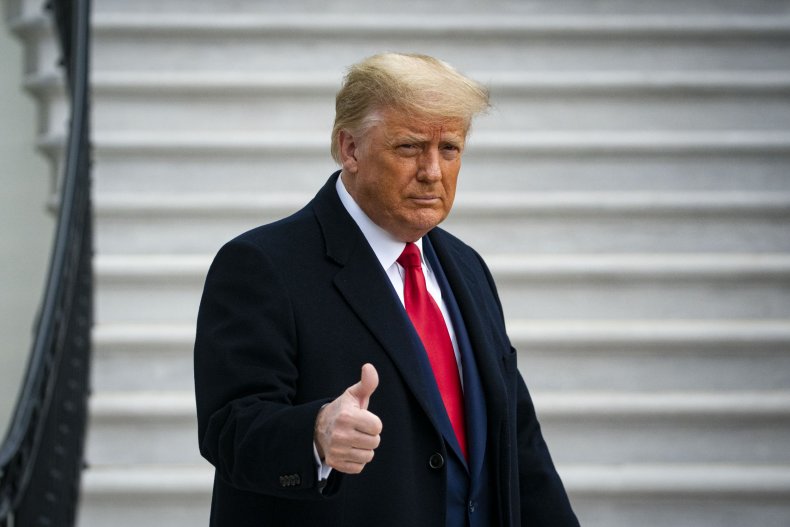 Senate Minority Leader Chuck Schumer (D-NY) said he will move to pass the legislation on Tuesday in the Senate.
"There's strong support for these $2,000 emergency checks from every corner of the country," he said.
Schumer said it will pass as long as Republicans do not block it, reiterating the support for the move among Democratic lawmakers who had previously pushed for higher stimulus check payments.
Trump's sway over GOP lawmakers will be put to the test on this point, given his vocal desire to increase the direct payments.
Upon signing the new relief legislation on Sunday, which was combined with an omnibus government funding bill, Trump voiced his desire for the Senate to vote to increase the checks to $2,000. A major delay to the latest stimulus measures was Republican concern over spend, with this potentially a blockade to further outlay.
Recent polling indicated that Americans believe the stimulus check payments should be higher. More than two in five, 43 percent, asked in a Business Insider/Survey Monkey poll said the payments should be $2,000 or more. The survey was conducted among 1,123 respondents on December 21.
The last major COVID-19 relief package, the CARES Act, included $1,200 stimulus checks. This passed in March and there has been public support for further action since.
The COVID-19 crisis has caused economic turmoil across the nation, with more than 19 million cases confirmed across the U.S., according to Johns Hopkins University figures.
Its figures also state there have been more than 334,000 COVID-19 deaths in the United States.