Ex-U.S. Military Members Predict Where Russia's Next Big Offensive Will Be
Predictions that Russia could be plotting a renewed offensive in Ukraine have run rampant in recent weeks, hinting that a new stage of the war could be on the horizon as it approaches the one-year mark.
Retired U.S. General Mark Hertling predicted this month that Russia's war in Ukraine could ramp up in the spring after the tough winter conditions ease. The Institute for the Study of War (ISW), a U.S. think tank, wrote in a campaign assessment this week that Russia was preparing for an "imminent" new offensive in Ukraine.
And Ukrainian National Security and Defense Council Secretary Oleksiy Danilov told Sky News in an interview published Tuesday that Russia is planning for a "maximum escalation" in the coming months. Danilov did not rule out the possibility that Russia could ramp up attacks in the next two or three weeks to align with the one-year anniversary of the war on February 24.
While only Russia knows its plans for its next big push, experts weighed in on where it could focus a spring counteroffensive.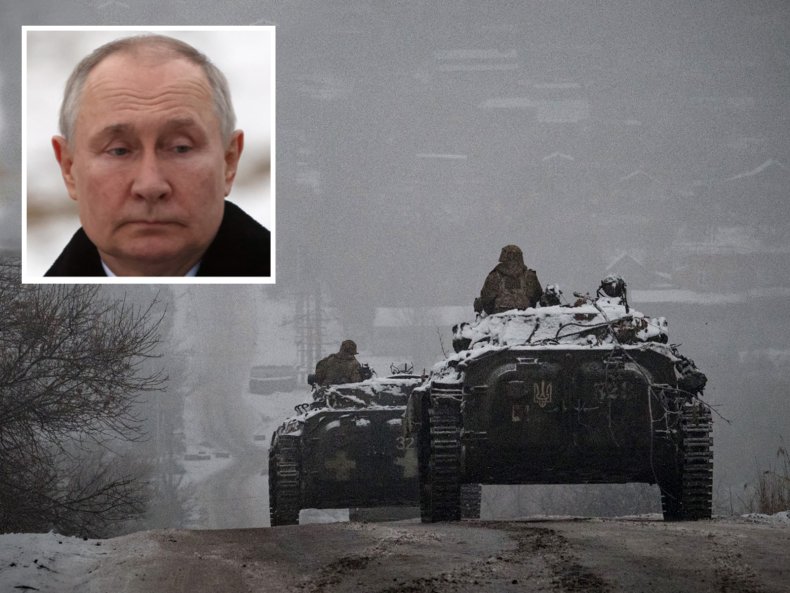 Dan Soller, former U.S. Army intelligence colonel, believes the most likely course of action for Russia is to complete its encirclement of the long-embattled city of Bakhmut in Ukraine's eastern Donetsk region while launching another offensive north from the Donetsk and Luhansk regions to retake territory in Kharkiv.
Kharkiv, another region in eastern Ukraine, became the site of a surprise Ukrainian counteroffensive in September, reportedly forcing some Russian troops in the area to flee.
Soller told Newsweek that Russia can be expected to conduct "some operations" in the southeastern Zaporizhzhia region, which, along with Donetsk, Luhansk and Kherson, was declared as annexed by Russia last year. Many in the international community denounced the move as illegal and illegitimate.
Overall, Russia "would like to capture or recapture as much territory as possible in the four illegally annexed oblasts" before Ukraine can conduct its own counteroffensive with capabilities Western nations are delivering, such as the German-made Leopard 2 tanks and Bradley Fighting Vehicles heading to Ukraine, Soller said.
He added that Russia wants to continue its attacks on Ukraine's energy infrastructure and launch a large counterstrike in the annexed regions and "force Ukraine to the negotiating table from a position of weakness."
As for the southern Kherson region, Soller doesn't see Russia being able to retake the city of Kherson, which Russian forces withdrew from in November, or retake parts of the oblast on the right bank of the Dnieper River anytime soon.
He also doesn't expect Russia to launch a major attack from ally Belarus, whose military exercises in recent months have fueled speculation it could ramp up its involvement in the conflict.
Sean Spoonts, a U.S. Navy veteran and editor-in-chief of Special Operations Forces Report (SOFREP), believes that Russia might focus heavily on protecting occupied Crimea in the next phase of the war. Russia annexed the peninsula from Ukraine in 2014, but Ukraine asserts that Crimea must be returned alongside the rest of its territory captured in the war.
Major General Kyrylo Budanov, Ukraine's defense intelligence chief, told The Washington Post in an interview published Tuesday that Ukraine's military "must do everything to ensure that Crimea returns home by summer."
Retired U.S. Army Lieutenant General Ben Hodges predicted last month that Ukraine would retake Crimea by the end of August.
"Russia will drive from Kherson and Melitopol to protect Crimea," Spoonts told Newsweek. "That's what they have to protect."
He added that he believes Russia's "major effort" will be to "blunt" a potential attempt from Ukraine to take Crimea, so he predicts Russia might launch a "two-pronged attack" from Melitopol and Kherson as part of the goal.
Melitopol, which is in the Zaporizhzhia region, has been Russian-occupied since early in the war.
Newsweek reached out to the Russian Defense Ministry for comment.