Fox News Host Reads Daunte Wright's Past Charges, Expresses Sympathy for Cop Who Killed Him
Fox News host Martha MacCallum has read off a list of the alleged past legal charges faced by Daunte Wright, a 20-year-old fatally shot on April 11 by a Minnesota police officer. MacCallum also expressed sympathy for the officer who killed Wright, calling the officer's life "forever changed" by the incident.
MacCallum made her comments during the Monday installment of her Fox News show, The Story with Martha MacCallum. Her comments came after noting the emotions of the police officers who recounted the shooting during a Monday morning press conference.
"You have to think about that person as well today, because that officer's life is forever changed by this, what is being referred to as an accident," MacCallum said. MacCallum added, "We need to allow the process to play out here, we need to know what was going on. Every one of these situations is individual and unique."
MacCallum noted that Wright's mother had noted on a phone call that the person who was with Wright at the time of the shooting told him not to run.
"This tragedy could have ended very differently obviously," MacCallum added. "It is awful that it ended the way it did. Now that police officer is suspended under investigation and we'll continue to follow it."
In the Monday press conference, Brooklyn Center Police Chief Tim Gannon said the officer hadn't intended on shooting Wright. Gannon played an unedited clip of bodycam footage showing Wright's death.
In the clip, the officer who killed Wright yelled "Taser!" as Wright struggled to escape the officers trying to arrest him. After the officer shot her weapon, she said, "Holy sh*t, I shot him," as Wright sped off in a car.
The officer, who hasn't been publicly identified, has been placed on leave pending an investigation. Gannon said it was "too early" to determine if there would be charges brought against the officer.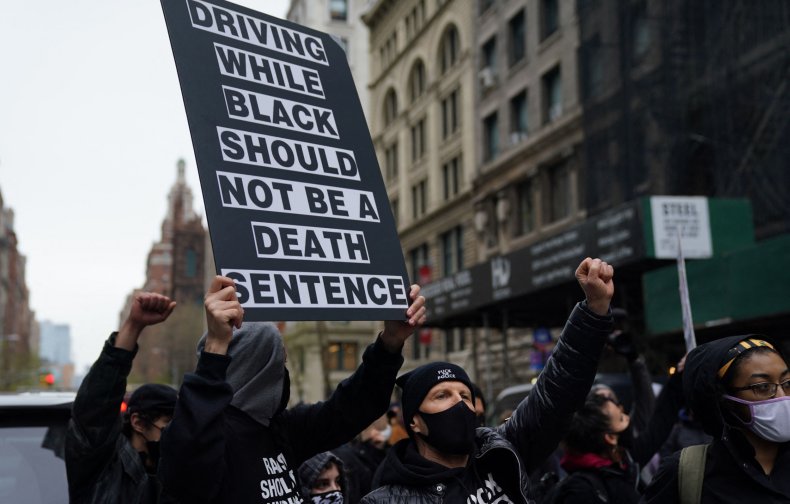 Later in her Monday broadcast, MacCallum read a list of Wright's alleged past legal charges. She said Wright had an outstanding warrant for two misdemeanors: one for carrying a pistol without a permit and another for fleeing the police.
She added that police issued a warrant against Wright on April 2 and that he had also failed to appear in court for the charges.
"This is, this is likely why the officer asked him to get out of the car when they ran his license plate," MacCallum said.
In the video that Gannon played during Monday's press conference, officers explained to Wright that he had an arrest warrant.
Wright's death triggered protests and looting of local businesses on Sunday night. In a Monday morning tweet, civil rights attorney Ben Crump pointed out that Wright's killing occurred only a few miles where Black Minneapolis resident George Floyd was killed by a police officer on May 25, 2020.
The area was already on edge because of the ongoing trial of Derek Chauvin, the former Minneapolis police officer charged Floyd's death.
In response to Sunday's uprising, the state's Democratic-Farmer-Labor Party governor Tim Walz issued a regional curfew until Tuesday morning. The number of National Guard troop members called to address potential unrest during Chauvin's trial was also doubled soon after Wright's killing.
Update (4/12/2021, 9:43 p.m.): This article has been updated to include additional context about MacCallum's comment.

Correction (4/21/2021, 4:30 p.m.):This article originally referred to Wright's killing as a "murder." Newsweek regrets the error.