George Santos 'Certain' He Can Get his Credibility Back
Republican Representative George Santos of New York said he can regain his credibility after he admitted several claims he made about his personal and professional life were untrue.
In a recent interview with Piers Morgan, Santos admitted that he's "been a terrible liar."
He adds that the lies "weren't about tricking people" but about "getting accepted by the [Republican] Party."
During the interview, Santos acknowledged that his credibility has taken a hit.
Morgan asked Santos about the claims he has since admitted were lies.
"The problem people have is they don't know when you're lying and when you're telling the truth," Morgan said to Santos. "So when you now look me in the eye and say well actually, no, this is true, I don't know what to believe."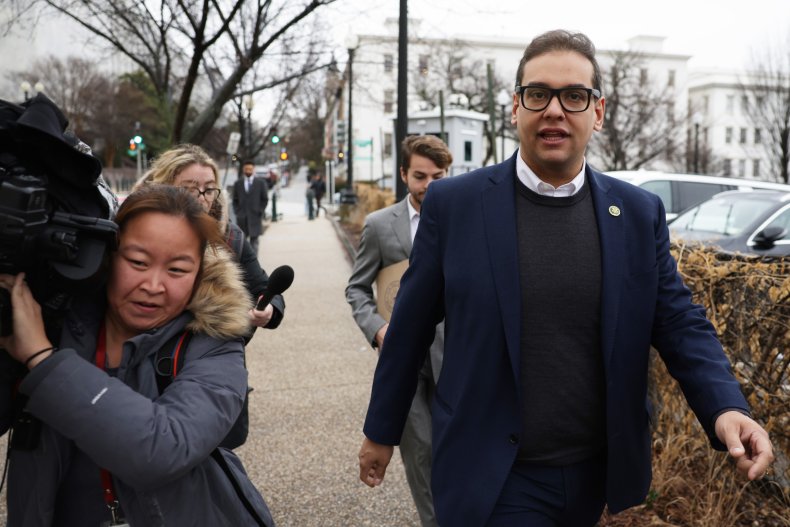 Santos responded that he understands the position he has put himself in.
"My credibility is what I'm gonna have a hard time and a long road to recover, and I stand clear and I stand certain that I'll be able to do that," he said.
He added that he has "no problem" saying sorry and asking forgiveness of the American people, but said he has not been given the opportunity to ask for or gain forgiveness, like he claims others are.
When pressed on how he thought he could "tell blatant lies" during his run for Congress, Santos admitted in the interview with Morgan that he didn't think it would be an issue.
"I ran in 2020 for the same exact seat for Congress and I got away with it then," he said.
Steven Smith, a Political Science professor at Washington University at St. Louis, told Newsweek that he is certain that it's "not possible for [Santos] to regain credibility."
"It's one thing to admit you lied; it's quite another to indicate that he managed to pull one over on the voters two years earlier and didn't get caught and thought he could get away with it again," he said. "This is not merely a matter of dismissing his own behavior and reestablishing his own credibility, but he's condemned voters for their gullibility, and I don't think that's easily overcome."
Smith said this attitude towards lying to voters will not go over well for Santos again.
"He intimated that this was possible because the voters are dumb," he said. "I don't see how you run for reelection successfully when you express that attitude about, about the voters."
What Did George Santos Lie About?
Several claims made by Santos about his personal and professional life have been proven false since he was elected to Congress in November 2022.
Such debunked claims include that he graduated from New York's Baruch College in 2010 with a degree in economics and finance, that he worked for Goldman Sachs and Citigroup, and that he is the descendant of Holocaust survivors.
He recently stepped down from his House committee assignments amid an ethics investigation and accusations that he violated campaign finance laws.
Santos is also facing three criminal investigations following numerous allegations made against him involving campaign funding and lies about his background.
Richard Painter, a law professor at the University of Minnesota and former White House ethics lawyer for President George W Bush, laments the current state of honesty in Congress.
He told Newsweek that it is "unfortunate" that increased partisanship has made honesty, integrity and ethics a "low priority" to some voters.
"In this political climate, having a reputation for honesty and integrity may not be what some of the most partisan people are looking for," Painter said, adding it may be true for both parties.
These values, he said, are seemingly less important for many people than a politician's position on key issues, like abortion or guns.
Despite calls from his constituents and local Republican leaders in New York to resign, Santos said he will remain in office. He even appears to have his sights set on a 2024 run.
The Federal Election Commission (FEC) is now asking Santos to clarify whether he intends to run in 2024.
This comes after a report that his campaign committee "accepted contributions and/or made expenditures in support of your 2024 candidacy," according to a letter sent by the FEC to Santos earlier this month.
Under federal law, a candidate must file a statement of candidacy to the FEC if they raise or spend more than $5,000 for an election.
The FEC said Santos must either disavow these activities or redesignate his principal campaign committee by filing a Statement of Candidacy. The deadline for this decision is March 14.
Santos has not yet confirmed whether he will be running in 2024.
A spokesperson for Santos told Newsweek that the congressman's top priority is "introducing as well as cosponsoring sound policy in a bipartisan manner that will benefit his constituents."
Looking ahead, Smith said Santos will have a hard time convincing Republican leaders in Congress to support him in a primary.
"I think the odds of him making a political career, certainly in Congress are very slim," he said. "I don't think he can get through another primary."
Fellow New York Republican Representative Marc Molinaro said he "does not see a scenario" where Santos runs for re-election or even completes his term.
Smith said the Republican Party is "in a bit of a bind."
With only a slim majority in the House, Smith said Republicans are not excited about leaving Santos' seat vacant until a new election in a swing district that could put a Democrat in his place.
So the question becomes whether House Republicans will take steps to expel Santos or have him "sit quietly and eventually disappear."
If Santos refuses to resign, Republicans "may just have to live with him" as a "pariah" in the House for the next two years, Smith said.
Santos is "not going to have much of a role in the House," as he will likely not be asked to many events or to be the co-sponsor on any bills.
Update 02/21/23 3:33 p.m. ET: This article was updated with comments from Steven Smith and Richard Painter.