Georgia Runoff Hopeful Jon Ossoff Questions $600 Stimulus Checks: 'Really?'
Democrat Senate candidate Jon Ossoff suggested the value of the second round of stimulus checks is not enough and took aim at incumbent Republican Sen. David Perdue as he challenges for the seat in the Georgia runoffs.
Ossoff, who has previously sought to weaponize the issue of stimulus against his opponent, questioned the $600 payments and reflected on the financial hardships caused by the COVID-19 pandemic.
"It's been 8 months," he tweeted, with the last COVID-19 relief package, the CARES Act, which included the first round of $1,200 stimulus checks, having been passed at the end of March. "$600? Really?"
In a direct criticism of Perdue, he added: "After 8 months of obstruction Senator Perdue and Senate Republicans insisted on cutting direct relief checks for Georgia families in half. $600 won't cover the rent or the bills that have piled up over their months of inaction.
"We deserve better."
In a further statement, shared with Newsweek, Ossoff said: "With Georgia's unemployment rate rising and many Georgia families in dire financial straits, the need for meaningful direct payments to families is clear to everyone.
"That's why it is shameful that after eight months of obstruction Senator Perdue and Senate Republicans insisted on cutting direct relief checks for Georgia families in half, while so many are struggling this holiday season."
He also repeated his previous attack line accusing Perdue of looking to profiteer off the pandemic through his stock activity, which the Republican has denied.
Perdue, in a joint statement with Sen. Kelly Loeffler (R-GA), defended the relief actions taken by Republicans. This referred to the Paycheck Protection Program and also stimulus checks.
"We will continue to take historic action to protect and rebuild our communities from this unprecedented crisis and we will not stop fighting for the people of Georgia," the statement said.
While Democratic lawmakers have welcomed the agreement on the new package as a positive step, many voiced their desire for further action to be taken next year.
Other lawmakers also pushed for higher amounts for the next round of action, advocating payments similar to those under the CARES Act of a maximum of $1,200.
The new roughly $900 billion package will include the $600 stimulus checks, a continued boost to unemployment payments, and support for small businesses through the Payment Protection Program. Democrats had proposed higher amounts for direct payments in particular.
The criticism from Ossoff comes amid a bitter race for the Georgia seats, which are set to determine the control of the Senate. Loeffler is also facing off against Democratic challenger Raphael Warnock.
Newsweek has contacted Perdue for comment.
Early in-person voting has begun in the runoffs while mail-in ballots have also been sent out. The main election day is to be held on Tuesday, January 5.
The races have garnered heightened national focus due to their impact on Senate control. Victory for the two Democrats in the runoffs would split the Senate 50/50. This would comprise of 50 Republicans and 48 Democrats plus the two independents who caucus with them.
Tiebreaker votes would then go down to the vice president in such a situation. Kamala Harris, a Democrat, is vice president-elect.
President-elect Joe Biden needs the Georgia Democrats to be victorious in order to enact his agenda. The Republicans have presented themselves as a firewall against what they say are radical policies.
Polling has shown the incumbent Republicans Perdue and Loeffler slightly ahead of Democrats Ossoff and Warnock. Between Ossoff and Perdue, the Republican is ahead but a tight result is expected.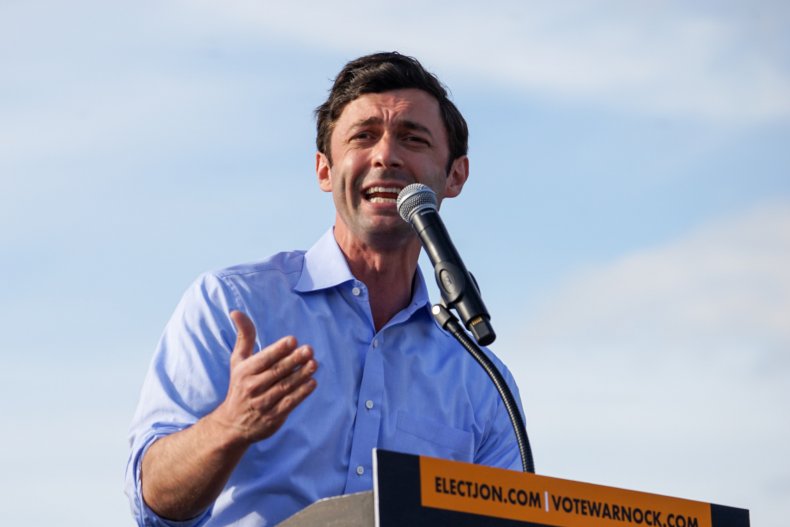 Update 12/22/2020: This page was updated with comment from Sen. David Perdue.