21 Heartwarming Good News Stories That Happened in 2021
No one is likely to rave about 2020. And while 2021 has been another tough, hard year, it also witnessed some pretty neat stuff.
Here are just a few heartwarming and inspirational good news stories from this year.
1. Family Reunites With Kidnapped Son After Decades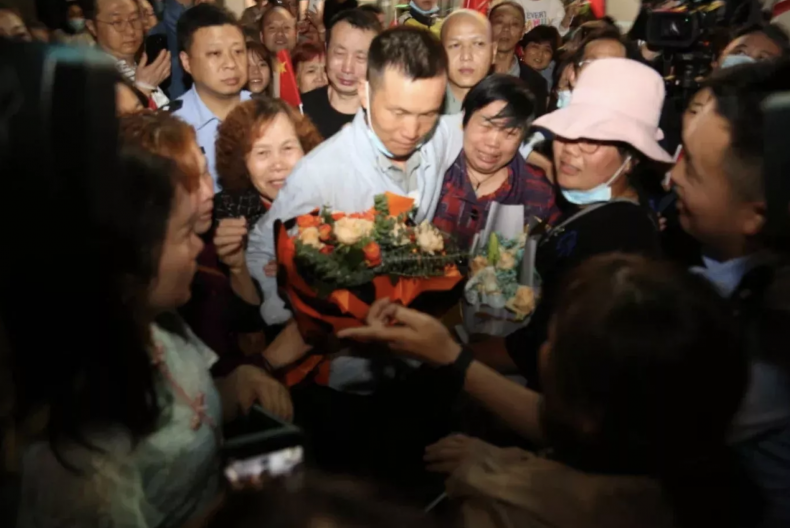 A man snatched from his family as a young child was reunited with his biological parents—34 years later.
After growing suspicious about his foster parents' story that he was adopted from an orphanage, the man—identified by the last name Huang—gave a sample of his DNA to a national missing persons database and a match with his birth parents was discovered.
Huang was on a train within 24 hours, making the 1,000-mile journey to meet his parents.
Images, such as the one above, of the May 26 reunion showed Huang being welcomed home by his family and many from their neighborhood.
2. NASA Rover Made Oxygen On Mars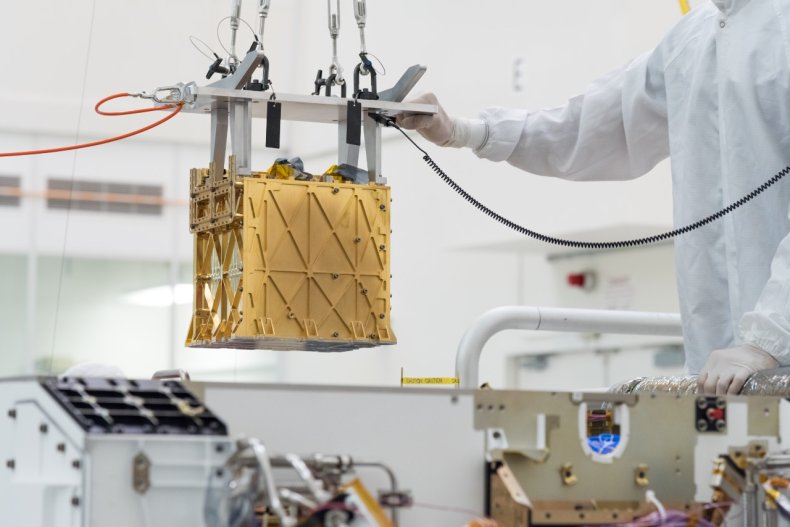 In a growing list of "firsts" for NASA's Perseverance rover, in April it successfully converted some of red planet's carbon dioxide-rich atmosphere into oxygen.
As a potentially significant step towards establishing a manned-base on Mars, NASA said the demonstration "could pave the way for science fiction to become science fact."
3. Video Captures Baby Seeing Clearly For First Time
A TikTok video went viral in July, showing the adorable moment a young girl is given a new pair of glasses at an opticians.
The clip shows the child staring open-mouthed in wonder, with her eyes widening in delight as she looks around the room clearly for the first time.
4. 13-Year-Old Olympians' Gold-Silver Medal Embrace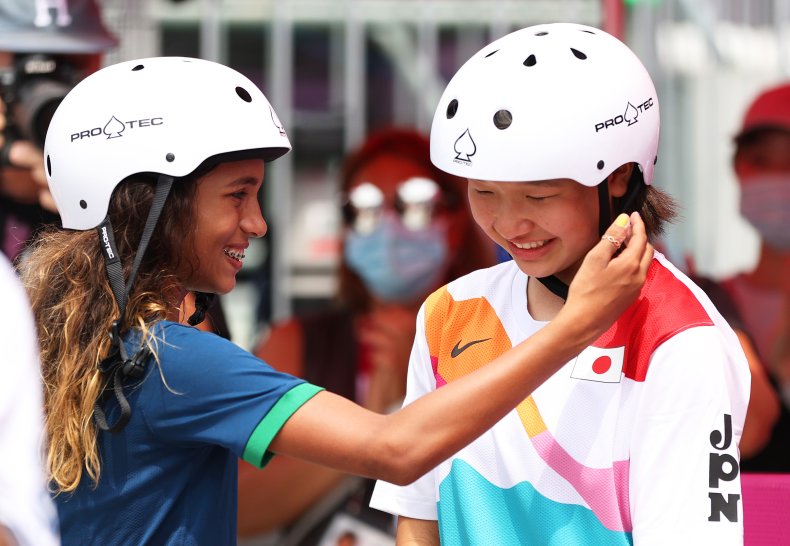 A pair of young teenage skateboard champions celebrated their gold and silver medals at the Tokyo 2020 Olympic Games, with a tender hug in a picture that melted hearts online.
Japan's Momiji Nishiya, 13, won the Olympic title in the women's street skateboarding competition and was congratulated and embraced by Brazil's Rayssa Leal, also 13, who took the Silver medal.
5. Elephant Introduces Newborn To Keeper Who Raised Her
They say an elephant never forgets.
And on the day orphaned nelly, Sunyei, gave birth she knew exactly where to head: the human who had raised her.
Scenes shared to social media showed Sunyei, introducing her new daughter, Siku, to Kenya's Sheldrick Wildlife Trust keeper Benjamin.
6. Couple Share 22-Year Photobooth Series
A husband and wife who have shot a photobooth portrait every year since they first met 22 years ago went viral in 2021 after sharing the heartwarming results on social media.
Over the years, couple Giles and Michelle Paley-Phillips' have incorporated their two sons, Elijah, aged 14, and Sonny, 12, in the endearing annual tradition.
7. Juneteenth Made a Federal Holiday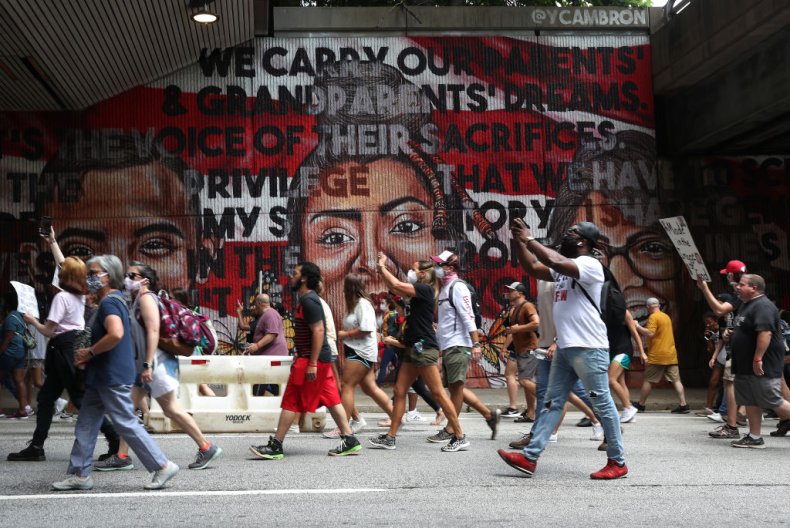 President Biden this year signed legislation making June 19, known as Juneteenth, a federal holiday.
Juneteenth commemorates the emancipation of slaves in the U.S. in 1865, and is the first national holiday established since Martin Luther King's birthday in 1983.
8. Honest Boy Praised After Spotting Dropped Cash
Enough to make any parent proud.
CCTV footage from a convenience store captured the moment an young boy helped someone who had dropped cash.
In a clip posted to TikTok, a customer is seen accidentally dropping cash on the floor and before the boy picks it up and follows him outside to return his money.
The boy was widely praised for his honesty.
9. Pets' Reaction To Owners' Newborn Melts Hearts Online
Two Golden Retrievers' responses to meeting a brand-new member of their human family proved a hit on TikTok in September.
Video footage shows the pair of extremely-excited dogs approach their owner's newborn son, Caysen, wagging their tails before sniffing and licking the tiny tot.
10. Athlete Auctions Olympic Medal For Child's Surgery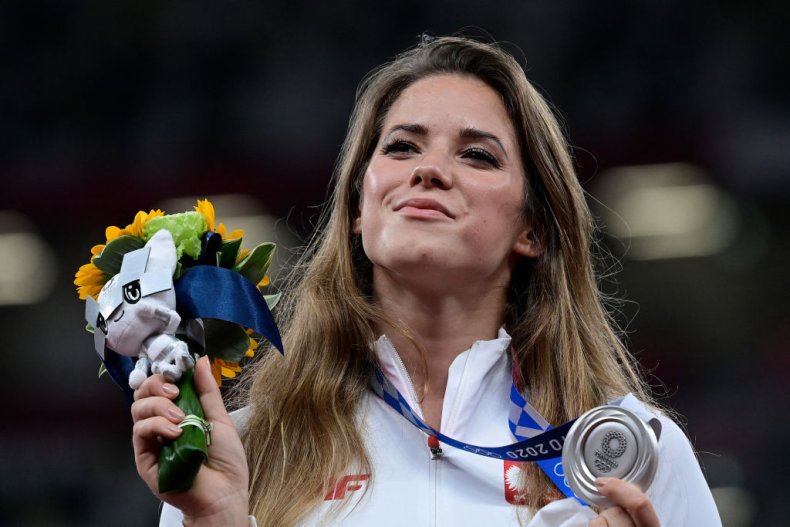 Javelin thrower Maria Andrejczyk truly went the extra yards after winning a silver medal at the Tokyo 2020 Olympic Games.
After the games, the Pole auctioned her gong to raise more than $100,000 to help a child from her home country receive life-saving heart surgery.
The funds raised will pay for 8-year-old Miloszek Malysa to receive surgery at California's Stanford University Medical Center.
Andrejczyk told The Times her medal was "only an object, but it can be of great value to others."
11. Most Diverse Oscars Nominee List In History Unveiled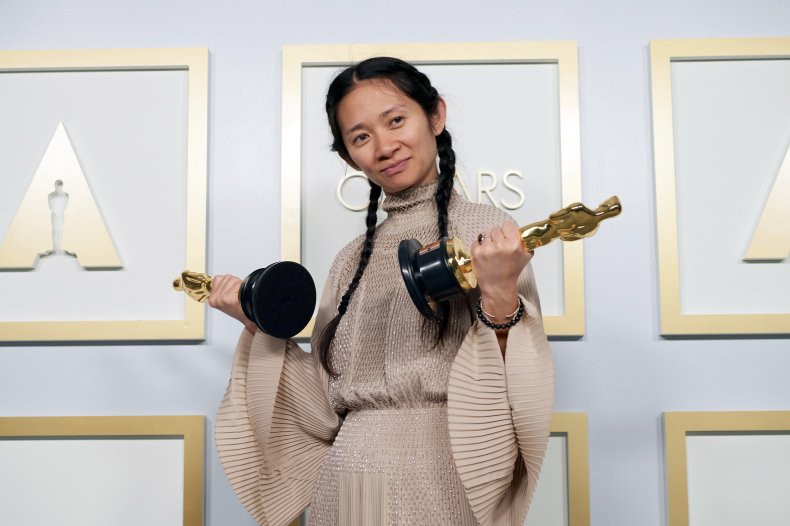 The first acting Oscar won by a Black person went to Hattie McDaniel for Gone with the Wind in 1939, when the actress was banned from sitting with her co-stars on the night due to segregation. Her win would be the last nomination of a Black actor for a decade.
The 2015 and 2016 Oscar ceremonies, meanwhile, had all-white acting nominees.
But after years of backlash, this year witnessed a more diverse lineup.
At the ceremony in March, Chloé Zhao became the first woman of color to win Best Director, while Yuh-jung Youn became the first South Korean actor to win an Oscar.
12. Cheetah Quadruplets Celebrate First Birthday
Two sister cheetahs, Sibaya and Malkia, and their two brothers, Tuli and Paka, turned one on June 22.
The siblings live at the world's oldest zoo, the Tiergarten Schonbrunn Zoo in Vienna.
"The four are almost as tall as their mother. said zoo director Stephan Hering-Hagenbeck. "Sometimes, you have to look twice to distinguish them from [their mother] Afra."
13. Amputee Goes From 'Basketball Girl' to 'Fish Girl'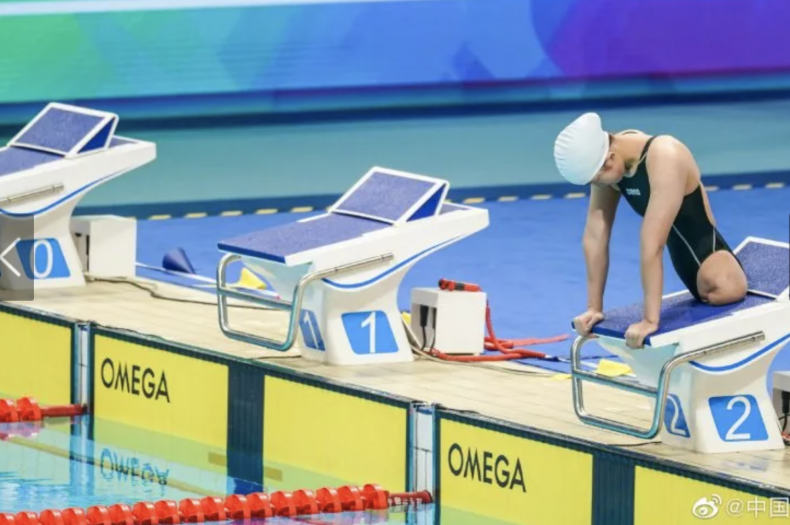 Qian Hongyan, a double amputee, first made headlines more than 15 years ago when she was photographed sitting inside a makeshift wheelchair made from half a basketball and moving around using wooden-handled paddles.
It earned her the nickname "Basketball Girl" and led to a nationwide drive to assist her impoverished family and help crowdfund her prosthetic limbs.
She would become a Chinese Paralympian and in October the now-25-year-old, medaled at a national swim meet, inspiring millions around the world.
14. Surplus Food Market Opens—'Pay What You Feel'
Huge quantities of food are daily thrown away as supermarkets, restaurants and cafés dump produce beyond its "best if used by" date.
However, as Newsweek reported in September, Rescued Food Market in Vancouver has opened its doors to provide food to those in need, in addition to helping slash unnecessary food waste.
15. Scientists Recycle Plastic Into Vanilla Flavoring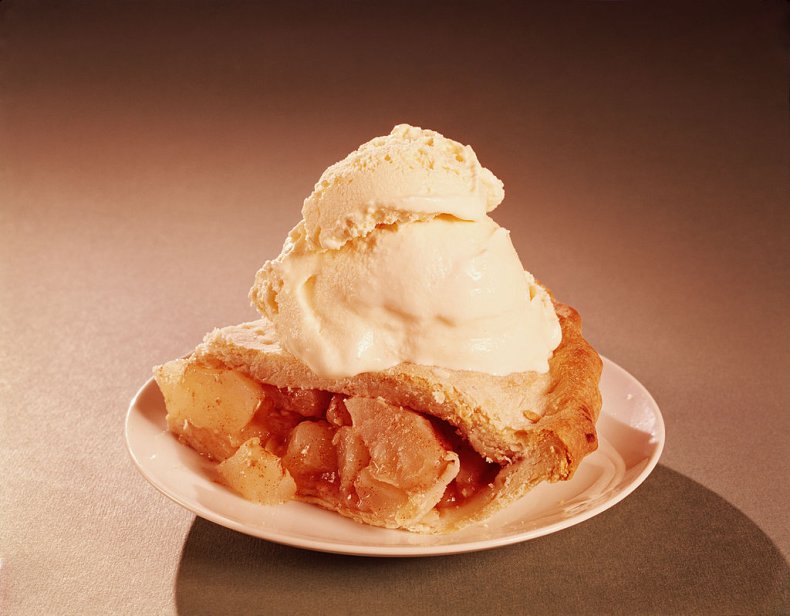 Common E. coli bacteria has been harnessed to transform used plastics into something both functional and tasty—the flavor compound vanillin.
According to EcoWatch, a study published in Green Chemistry last week explained how scientists harnessed the power of the bacteria to turn used-plastics into something more functional.
Vanillin is responsible for the characteristic taste and smell of vanilla, according to the scientists. It is also used in herbicides, anti-foaming agents and cleaning products.
16. Strangers Raise $57K To Replace Pensioner's Scooter
The Internet reacted in the most life-affirming way imaginable after learning a disabled 79-year-old U.S Navy veteran only mode of transport had broken.
Popular Minnesota-based Kenny's plight went viral via a TikTok video posted by a friend and resulted in donations topping more than 10 times the amount they were initially looking to raise for a replacement scooter.
17. Heartbroken Great-Grandma Receives $90,000 Surprise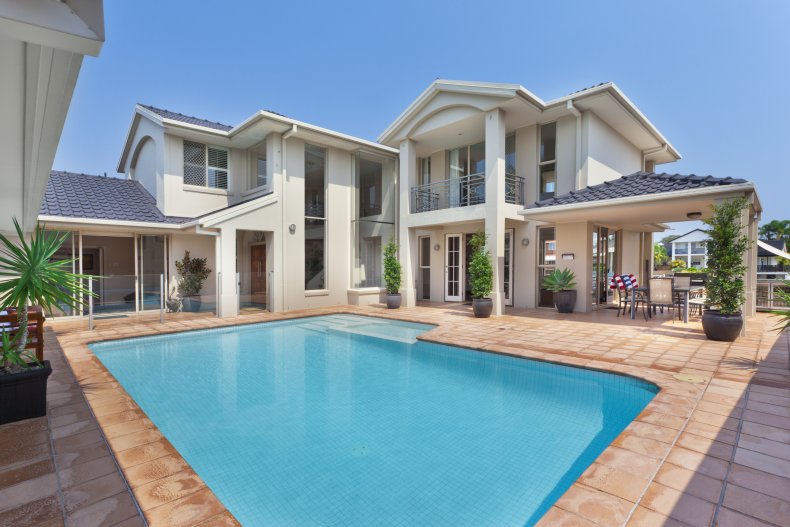 When Kitty Smith was 80-years-old she used her life savings to buy an house, where she could spend time with her grandchildren and great-grandchildren, in Indiana.
So the great-grandma was heartbroken when her in-ground pool collapsed, destroying her dream backyard.
But she received an extraordinary gift in time for Thanksgiving 2021, after her community clubbed together to pay to repair her damaged dream backyard.
Total strangers raised the $90,000 necessary to fix her in-ground pool after it collapsed and her homeowner's insurance was unable to cover the cost of replacement.
18. 'World's Best AirBnb Guest' Offered Refund For Stay
A woman who lets out a property in Virginia, shared a video on TikTok captioned: "I absolutely loved this AirBnb guest!"
The footage shows not evidence of a very well tidied interior, but also to a card, a gift bag containing what appears to be a bottle of wine, and is later heard to exclaim: "She even separated her recyclables!"
19. McDonald's Worker Leaps From Drive-Thru Window to Save Customer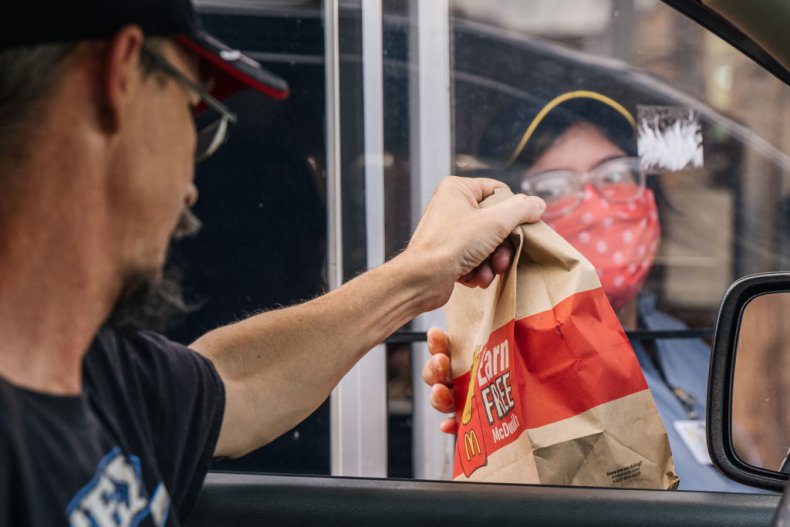 When teenage Sydney Raley discovered a female customer was choking on a chicken nugget, she literally jumped into action.
The quick-thinking 15-year-old from Minnesota immediately ordered her manager and the woman's daughter to call 911, before jumping from her window to perform the life-saving Heimlich maneuver on the customer.
20. Waiter Receives $1,000 Tip From Stranger
Self-described "serial tipper" Lexy Burke is true to her nickname.
The TikToker made a waiter's day after unexpectedly leaving him an extraordinarily generous tip earlier this year.
Her video released in August went viral after Burke astonished unsuspecting server Al when she sent him a Venmo tip of $1,000, telling him how "amazing" he was.
21. Dog Presented With Puppy Pal for Christmas
Footage of a dog meeting its new four-legged friend melted the hearts of millions of viewers on TikTok ahead of Christmas 2021.
The cute clip titled: "We Bought Our Puppy A Puppy" sees Chihuahua Lenny forge a heartwarming instantaneous bond with fellow Chihuahua Ernie.
Roll on 2022.