Iran Has Reached 'Peak of Power' and Says It's Ready for War if U.S. Attacks
A top Iranian general has warned the U.S. that his forces are prepared for any potential military action as President Donald Trump threatens to escalate his campaign against Tehran.
Major General Iranian Mohammad Hossein Bagheri, chief of staff for Iran's armed forces, made the remarks to parliament Wednesday as the country braced for further U.S. sanctions. The Trump administration has accused Iran of destabilizing the Middle East through support for foreign militias and developing ballistic missile technology, but Iranian officials have emphasized their commitment to a 2015 nuclear deal that the U.S. withdrew from earlier this month despite international pleas to remain.
"America is a disloyal, atrocious, criminal, isolated, angry enemy with disloyal, corrupt leaders whose salaries are paid by the Zionists and the MKO [People's Mujahedin of Iran] terrorist group," Bagheri said, according to the official Iranian National News Agency.
"This is while Iran as a big nation is faithful to its promises and remains committed to the international laws," Bagheri said. He added, "Today Iran has reached its peak of power" and would not wait for permission to pursue its domestic and regional interests.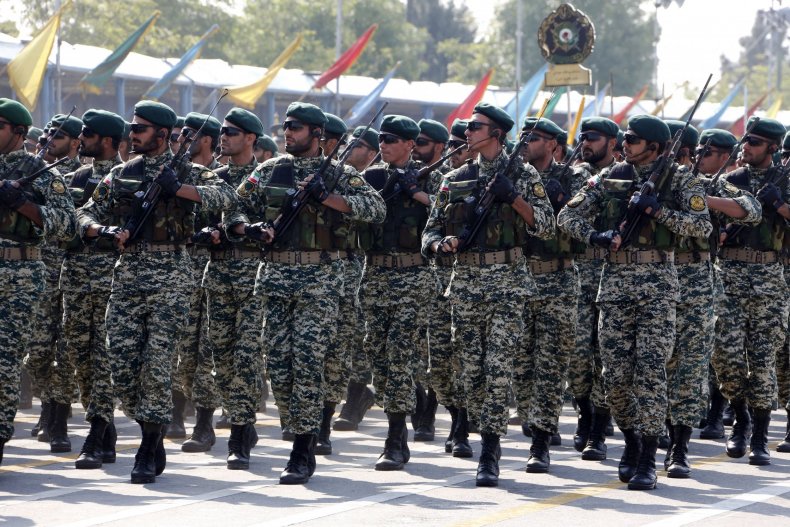 Trump's May 8 exit from the multilateral nuclear agreement, known officially as the Joint Comprehensive Plan of Action (JCPOA) has triggered further regional instability. Shortly after Trump's announcement, Israeli jets struck suspected Iranian military sites in Syria, followed by a rocket attack targeting Israeli forces in the occupied Golan Heights. Israel responded with the largest wave of airstrikes against Syria since the 1973 Yom Kippur War.
The White House has defended Israel, which is widely believed to be behind a years-long campaign of airstrikes against Iranian and pro-Iran positions in Syria. Countries such as Russia and China, which have joined Iran in backing Syrian President Bashar al-Assad against rebels and jihadis, have urged both sides to show restraint.
Related: Iran goes against Russia, says it's staying in Syria as U.S. military threatens "new actions"
Russia and China, along with France, Germany and the U.K., are signatories to the 2015 nuclear agreement and called on Trump not to abandon it. In the U.S.'s absence, these nations have embarked on extensive negotiations with Iran in an attempt to save the deal as the regional flare-up threatened to erupt into an all-out conflict.
The U.S., which supported the 2011 uprising against Assad that precipitated the seven-year war in Syria, has targeted Syrian government sites in the wake of alleged chemical attacks and has launched airstrikes against pro-Syrian government fighters amid clashes in southern and eastern Syria. After Secretary of State Mike Pompeo vowed to launch "the strongest sanctions in history" against Iran on Monday, the Pentagon said it was considering "new actions" targeting the revolutionary Shiite Muslim power.
Ismail Kowsari, the deputy commander of the Sarollah Revolutionary Guards base in Tehran, responded to Pompeo's first major policy speech by calling on Iranians to unite and "deliver a strong punch to the mouth of the American secretary of state and anyone who backs them."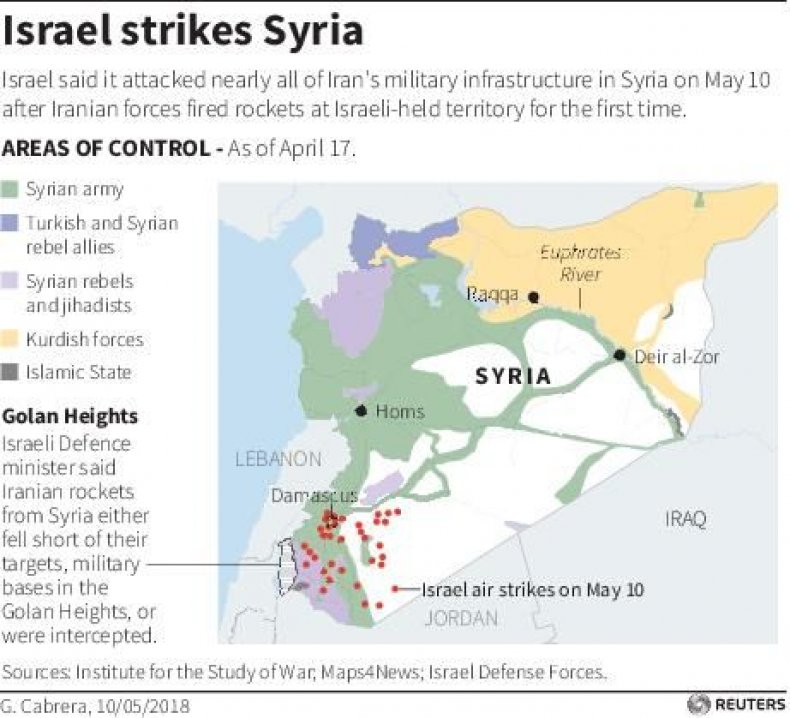 Despite calls from the U.S. and Israel to withdraw, Iran has said it would remain in Syria as long as the Syrian government welcomed its presence. Tehran emphasized its stance after fellow Assad ally Russian President Vladimir Putin told the Syrian leader that all foreign fighters—including Iranians and those supportive of Iran—should eventually leave as Syria's armed forces claimed consecutive victories. The Syrian government considers only Russian and Iranian intervention to be legal and has called on the U.S. and Turkey to withdraw their troops immediately.
"This topic is not even on the agenda of discussion, since it concerns the sovereignty of Syria. We cannot let anyone even raise this issue. Those who ask for something like that—and this is definitely not our Russian friends—are considering the possibility of intervention in all parts of Syria, including the support of terrorists in Syria and elsewhere in the region," Syrian Deputy Foreign Minister Faisal Mekdad told Russia's state-run Sputnik News.
Mekdad said that the Syrian government "highly appreciates" the contribution of Iranian and Russian forces to the fight against insurgents and said "the United States must stop supporting terrorists and respect Syria's sovereignty and choice of the Syrian people."