Kate Had "Swan-Like Glow Up" After Meghan, Harry Exit Says Bethenny Frankel
Kate Middleton had a "swan-like glow up" following Meghan Markle and Prince Harry's move to California, according to Bethenny Frankel.
The former Real Housewives of New York City star, 51, compared the Princess of Wales, 40, and the Duchess of Sussex, 41, on her podcast "Just B With Bethenny Frankel" following Queen Elizabeth II's funeral on Monday, September 19.
The British monarch, who reigned for 70 years, died on September 8 at the age of 96. Her state funeral took place at London's Westminster Abbey, and she was laid to rest at St. George's Chapel in Windsor, England later that evening alongside her husband Prince Philip, who passed away last year.
Meghan and her husband, Prince Harry, stepped back as senior members of the royal family in 2020, relocating first to Canada and then to California. Currently, the couple lives in Montecito with their children, Archie, 3, and Lilibet, 15 months.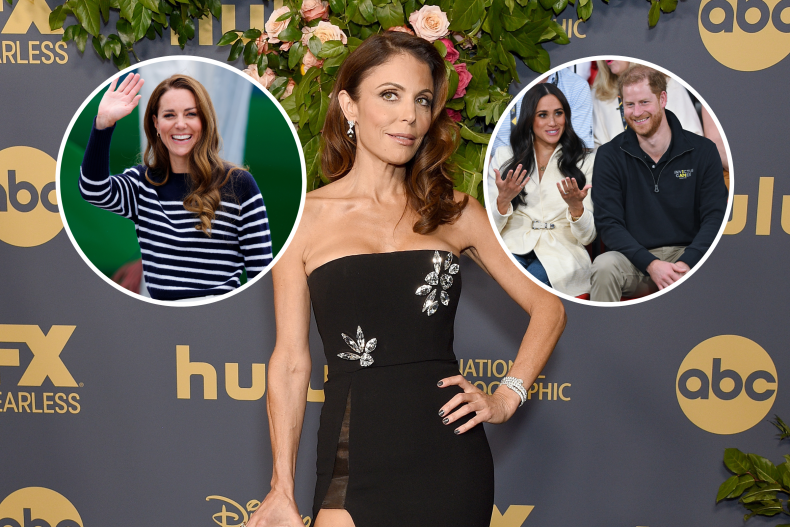 The pair were in London when news broke of the queen's passing. At the time, they were nearing the end of their European tour.
Harry and Meghan had previously been in Germany and were due to attend the WellChild Awards in London. Their appearance was canceled, however, after doctors publicly voiced their concerns for Queen Elizabeth's health and Harry flew to Scotland's Balmoral Castle to be with his grandmother.
During Frankel's podcast, she dissected the "funeral fashion show," telling viewers Kate and Meghan were the "two top models."
"There's definitely been a glow up, let's just be honest," Frankel said on September 22, noting that when Meghan first arrived on the scene, she was wearing, "I'm meeting my in-laws clothing."
As for Kate, she "was always very conservatively, nicely dressed," the mom of one—who shares daughter Bryn Hoppy with ex Jason Hoppy—said, adding that she "always looked pretty," and "elegant."
After Meghan and Harry's move to the United States, though, Frankel claimed there was a "subtle change."
"Kate had a motherf***ing swan-like glow up, okay? She was like, 'Listen bitches, I'm gonna be queen, and now I got this f***ing nuisance out of my way, and the wardrobe has changed,'" she explained. "It's not just that the dress has changed, it's the whole look—it's the messaging, it's the jewels, it's the crown jewels."
"She's doing everything she can do to still look subtle and elegant but with a massive side of f*** you."
"Meghan, on the other hand, is coming in like a black widow spider saying, 'Listen, if I'm gonna be polarizing and half the people are gonna love me and half the people are gonna hate me, I might as well f***ing slay all day,'" Frankel said of the former actress. "She is coming in with fierce outfits, and we cannot pretend that the funeral was not a fashion show."
Frankel concluded her lengthy message saying the ladies "hit their marks," claiming that everything from their accessories to their makeup was "all intentional."
Following Queen Elizabeth's death, her eldest son, Charles—now known as King Charles III—immediately became king. He was later proclaimed in an official ceremony.
The queen was born in 1926 and began her reign in 1952 at the age of 25 following the death of her father, King George VI.