Kate Moss Wore Diamonds Johnny Depp Gave Her From the 'Crack of His A**'
Kate Moss has revealed that her ex-boyfriend, Johnny Depp, gave her the first diamond necklace she ever owned—after initially hiding it in a bizarre location.
Supermodel Moss, 48, dated Pirates of the Caribbean star Depp, 59, between 1994 and 1998. Their relationship became a public talking point in recent months when Moss testified for Depp during his defamation trial against Amber Heard.
In a new video interview with British Vogue, Moss candidly shared how she came to own the treasured jewelry item as she looked through a range of her most memorable ensembles going back to 1991.
Seeing the grown she had worn to the 1995 CFDA Fashion Awards in New York City, Moss said: "This is the John Galliano dress that I have lost. If anyone has it out there please return to me. It's my favorite dress.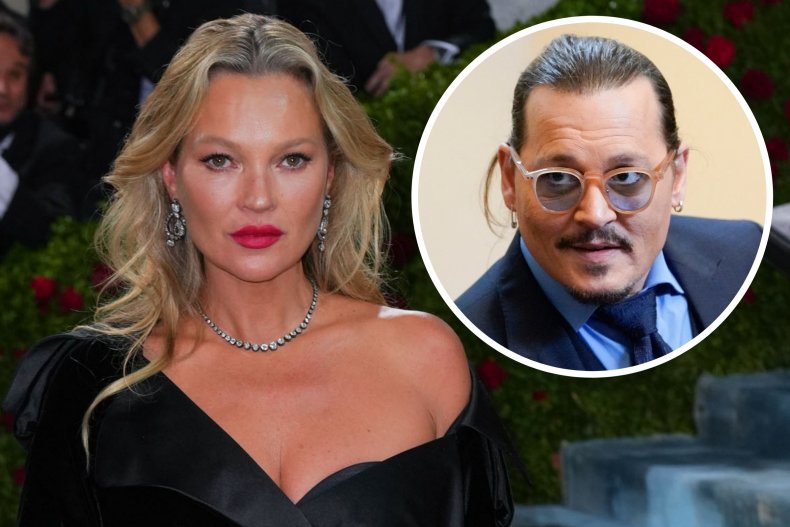 "He gave it to me for my 21st birthday. And those Manolo Blahnik shoes were my favorite shoes. I lived in them. They were the Mary Jane black patent."
Turning her attention to the sparkling accessory around her neck, the south London native went on: "That diamond necklace Johnny gave me. They were the first diamonds I ever owned.
"He pulled them out of the crack of his a**. We were going out for dinner and he said, 'I've got something on my bum. Can you have a look?' And I was like, 'What?' And I put my hand down his trousers and I pulled out a diamond necklace—that diamond necklace!"
Back in May, Moss was called to testify by Depp's legal team to debunk a rumor that the actor once threw her down some stairs. She appeared for just four minutes but was widely praised by Depp supporters on social media.
Depp filed a $50 million defamation lawsuit against his ex-wife Heard, 36, in response to a 2018 op-ed in The Washington Post, in which she said that she was a domestic abuse survivor.
During their respective testimonies, each side leveled accusations at one another of physical abuse. Both have vehemently denied the allegations.
Heard mentioned Moss at one point during her testimony, which eventually led to Moss appearing virtually to testify later on in the trial. During her brief testimony, she said that Depp had never physically abused her during their relationship.
Speaking from Gloucestershire, England, via a live video link, Moss was asked about a specific vacation she and Depp took in Jamaica. Moss testified that as she left their room, she slipped on some wet stairs.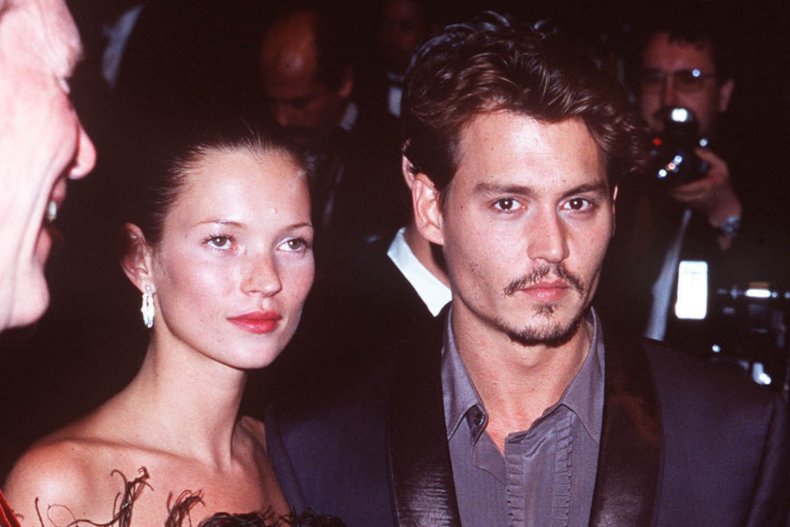 "I screamed because I didn't know what happened to me and I was in pain, and he came running back to help me and carried me to my room and brought me medical attention," Moss testified.
In June a jury found that Heard had defamed Depp and awarded him more than $10 million. Depp was ordered to pay $2 million to Heard—who had counter-sued for $100 million—for defaming her via comments made by his attorney Adam Waldman. Both sides are now appealing the verdicts against them.
Moss has explained her reasoning for agreeing to be a part of the high-profile trial, telling BBC's Desert Island Discs in July: "I believe in the truth and I believe in fairness and justice."
"I know the truth about Johnny," Moss went on. "I know he never kicked me down the stairs. I had to say that truth."