Kathy Griffin Addresses Jeffrey Epstein Island Accusations: 'Nut Jobs'
Kathy Griffin addressed an unfounded conspiracy theory spread by "nut jobs" that she flew to convicted sex offender Jeffrey Epstein's private Caribbean island, Little St. James.
Epstein's private jet, which was used to transport guests to the island, was derisively called the "Lolita Express" by certain media outlets following allegations that it was used to fly underage girls to some of the late financier's properties.
Following Epstein's death by apparent suicide in jail in 2019, lists have been shared on social media purporting to show the high-profile people who had visited the island, which is located east of Puerto Rico in the British Virgin Islands.
In recent years, Griffin's name has been erroneously added to the mix of Epstein's guests by a faction of social media users who have falsely targeted a number of celebrities as part of an apparent campaign to link them to Epstein's crimes.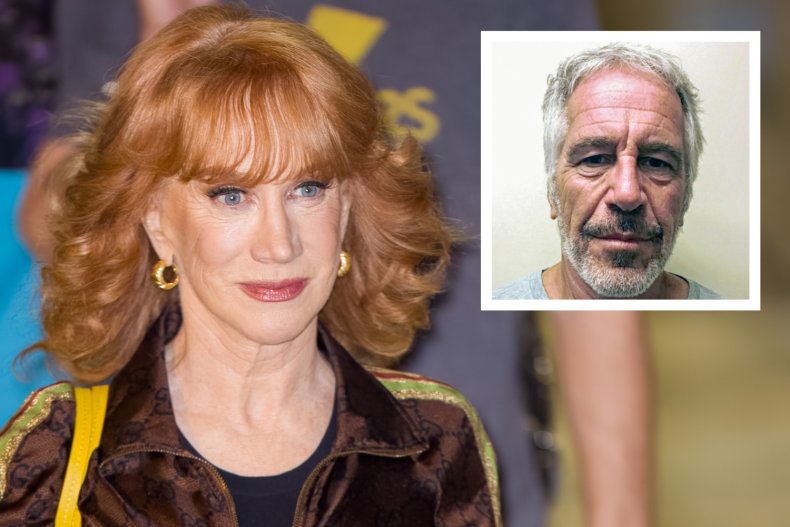 Last week, Griffin addressed the persistent claims on TikTok, after a person on the platform wrote on one of her posts: "You proud of visiting Epstein island sicko."
Sharing a video of herself looking exasperated, the comedian repeatedly shook her head as she pointed to the comment and said: "You guys, seriously?"
"YOU GUYSSSSS? Ok, I guess I just gotta #laugh #Ridiculous," the comedian captioned the seconds-long clip.
Griffin also shared the video on Instagram, where she added the caption: "STILL WITH THESE NUT JOBS...I know. I know. I guess I just gotta laugh."
Responding to Griffin's post, TikTok and Instagram users doubled down on their baseless accusations, concluding that her lack of a detailed denial was somehow a sign of guilt. A number of others ridiculed the suggestion.
Griffin was included in a list of 124 purported island visitors—many of them celebrities—that was shared on social media back in 2020, the Daily Beast reported. Among the other names listed on the purported flight log were Beyoncé, Eminem, Chrissy Teigen, Oprah Winfrey, Tom Hanks and former President Barack Obama.
However, a cross-reference of the screenshot list shared on social media with the actual flight logs released in the court record showed that 36 celebrities were named who had never set foot on the aircraft, including all of the above.
Despite this, the conspiracy theory has continued to float around alone. Part of the issue is that some names, such as famed lawyer Alan Dershowitz and former President Bill Clinton do show up on real flight logs.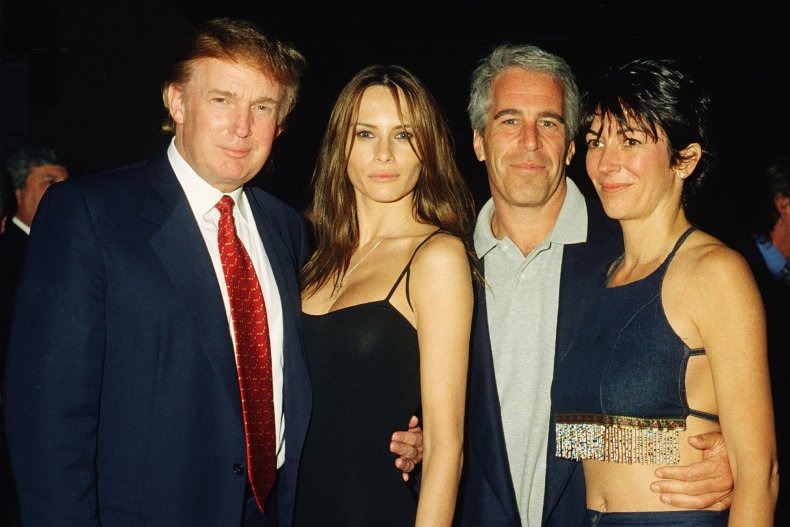 Epstein's personal pilot gave testimony during the New York City trial of Epstein's former partner Ghislaine Maxwell.
For nearly 30 years, Larry Visoski piloted the Boeing 727 that reportedly hosted a spate of famous names, including Britain's Prince Andrew and numerous U.S. senators.
Visoski testified that he never saw evidence of sexual activity on planes as he flew Epstein and his high-profile passengers aboard the two jets he piloted for roughly 1,000 trips between 1991 and 2019.
He told the court that he recalled Prince Andrew being a passenger on the jet as well as actors Kevin Spacey and Chris Tucker. He also remembered violinist Itzhak Perlman and named tech mogul Bill Gates, as well as politician and former astronaut John Glenn.
Former Senate Majority Leader George Mitchell was also named by Visoski as being a passenger on the "Lolita Express."
During Maxwell's trial, the pilot was asked if he ever saw sex acts with underage females, to which he replied: "Absolutely not."
In June 2022, Maxwell received a 20-year jail sentence for trafficking girls for Epstein to abuse.
Who flew on Jeffrey Epstein's 'Lolita Express' plane?
Donald J. Trump
Bill Clinton
Kevin Spacey
Chris Tucker
Bill Gates
Prince Andrew
Robert F. Kennedy, Jr.
Violinist Itzhak Perlman
U.S. Senator John Glenn
Former Senate Majority Leader George Mitchell
All of the above names were reported by the Associated Press and CNN. There is no suggestion that those who flew on the jet were involved in any illegal activity.
Virginia Giuffre alleged that she was abused by Prince Andrew and claimed that Maxwell flew her around the world when she was 17 and 18 for sexual encounters with billionaires, politicians, royals and heads of state. Prince Andrew has denied all of the claims made against him.
Roger Stone, a longtime ally of Donald Trump, recently sought to distance the former president from statements that he had flown on Epstein's jet.
While making an appearance on Lindell TV, Stone said Trump only visited Epstein's Palm Beach, Florida, residence once, and added that he "told the traveling security guard, 'Wow, what a nice guy Jeffrey Epstein is, letting all the kids in the neighborhood swim in his pool."
"Reportedly, Trump left the Epstein residence after only 15 minutes because he was uncomfortable with the mix of younger women and the limited number of men," Stone said.
He dismissed any other assertions about their relationship as a "smear."
"But now I see these smears being recycled all over the internet," Stone said. "And I hate to say this, but they are courtesy of supporters of Governor Ron DeSantis."
Although Stone tried to downplay the ties between the two, they for years ran in similar social circles. Newsweek previously reported that records show Trump boarded Epstein's plane, which allegedly flew underage girls to his properties, seven times, though no evidence of wrongdoing has been presented.
Over the years, Trump has distanced himself from Epstein. After Epstein's 2019 arrest, the then-president said he only knew Epstein because "everybody in Palm Beach" did.
"I had a falling out with him. I haven't spoken to him in 15 years. I was not a fan of his, that I can tell you," he said.
But earlier on, he offered more complimentary words toward his former friend.
"I've known Jeff for 15 years. Terrific guy," Trump told New York magazine in 2002. "He's a lot of fun to be with. It is even said that he likes beautiful women as much as I do, and many of them are on the younger side."