Donald Trump's Campaign Promises: Keeping Score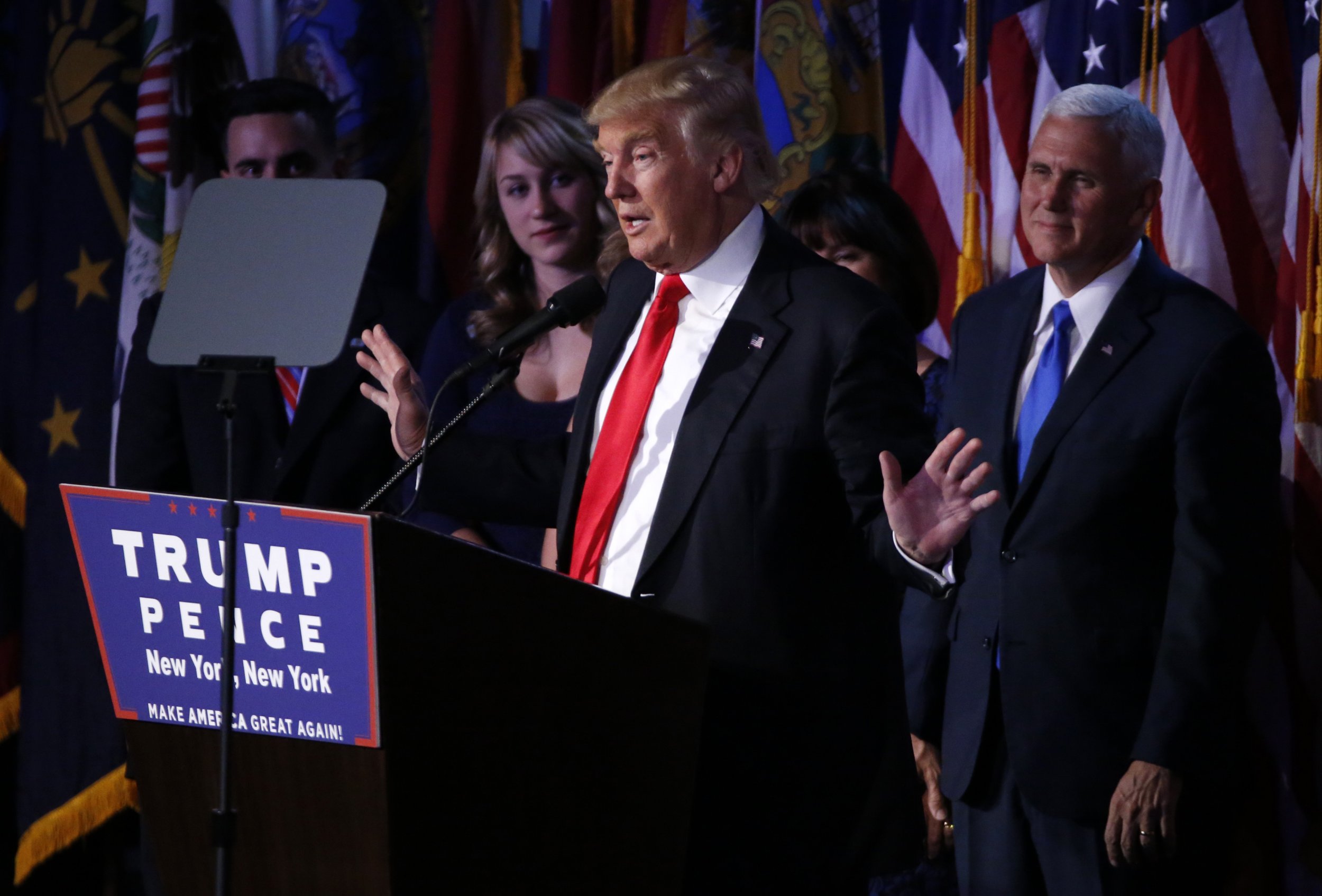 Updated | During his nearly 17 months on the campaign trail, candidate Donald Trump bragged that he would enact "various things very quickly" as president. But so far, as the president-elect, Trump has appeared to soften his tone on some of his key complaints and big plans. Sixty-four percent of registered voters recently polled by Harvard University's Center for American Political Studies and the National Research Group said the businessman turned president-elect will either be very or somewhat effective in carrying out his promises, including repealing President Barack Obama's signature health care law and cutting taxes.
Related: Trump criticized for breaking promise to go after Clinton
Many wonder whether the novice politician will rein in his angry rhetoric once he arrives at the White House in January, and how literally they should hold him to his campaign promises. Here's a look at some of the policies he so far has revised—or even completely reversed—since his stunning victory over Hillary Clinton on November 8.
Newsweek is watching to see whether Trump lives up to his many campaign promises. Today, his vow to Drain the Swamp.
'Drain the Swamp!'
Then: Trump ran on a pledge to "drain the swamp" in Washington. Running as an outsider, he repeatedly vowed that he is not close to the establishment and doesn't fall in line with congressional Republicans. He even attacked House Speaker Paul Ryan and other high-profile Republicans, saying they were "disloyal" to him. When Ryan said he wouldn't defend his party's 2016 presidential candidate, for example, Trump seemed to infer that the GOP's 2012 vice presidential nominee and other established members held him back, as he celebrated on Twitter being free from their "shackles."
Now: His Cabinet picks so far seem to indicate otherwise, as Trump has tapped insiders including high-profile Republicans and individuals from the business world. For White House chief of staff, he has chosen Reince Priebus, who has served as chairman of the Republican National Committee and of the Republican Party of Wisconsin. Among his earliest picks were Kansas Representative Mike Pompeo for CIA director and Alabama Senator Jeff Sessions for attorney general. He has vetted Georgia Representative Tom Price—a widely known Obamacare critic—for the Department of Health and Human Services. Trump has tapped former Goldman Sachs banker and wealthy loyalist Steven Mnuchin for treasury secretary, and billionaire investor Wilbur Ross for commerce secretary. His nominee for transportation secretary, Elaine Chao, served in former President George W. Bush's administration—and is the wife of Senate Majority Leader Mitch McConnell. In some respects, all could be said to be part of the "swamp."
The Wall
Then: Building a wall along the U.S.-Mexico border to curb illegal immigration was Trump's signature promise—and one of his most controversial. It can be traced back to his announcement of his presidential run in June 2015. "I would build a great wall, and nobody builds walls better than me, believe me, and I'll build them very inexpensively. I will build a great, great wall on our southern border, and I will have Mexico pay for that wall," he said in that speech at Trump Tower in New York City. "Mark my words." As Trump reiterated this plan across the United States during the primary and general election seasons, Mexican President Enrique Peña Nieto rejected the idea that his country would pay for the structure, which was expected to be a multibillion-dollar project.
Now: During a 60 Minutes interview that aired five days after the election, Trump indicated that he might build a fence instead. "For certain areas, I would" build a wall, he said, adding that for other areas, "it's not appropriate." And Trump ally Newt Gingrich said the idea merely was a "great campaign device."
Special Prosecutor to Investigate Clinton
Then: To the delight of his supporters, Trump threatened to appoint a special prosecutor to look into his Democratic rival's use of a private email server as secretary of state, and quipped that she would go to jail. He celebrated with his fellow Republicans in the final weeks of the election season when FBI Director James Comey announced the agency was looking into more emails related to Clinton's server.
Now: "I don't want to hurt them. They're good people," the president-elect said about the Clinton family during the 60 Minutes interview. Weeks before he moves to Washington, Trump's incoming administration already said it won't pursue charges. Senior adviser Kellyanne Conway said "things that sound like the campaign" aren't among Trump's thoughts as he prepares to take over the presidency.
Related: A brief history of Donald Trump and Bill Clinton's friendship
Climate Change
Then: As a candidate, Trump denied the existence of climate change, often casting doubt on the scientific evidence behind it. He said global warming is a "hoax"—invented by the Chinese—and vowed to dismantle the Paris climate change agreement, which Obama signed onto in an effort to reduce greenhouse gas emissions quickly. Trump mocked climate change and global warming, saying, "It's called weather."
Now: Trump told The New York Times in late November that he had a "totally open mind" on climate change and the Paris agreement. He added, "I'm looking at it very closely." He also said there's "some connectivity" between climate change and human activity, but it "depends on how much it's going to cost our companies."
Obamacare
Then: Before he became a presidential candidate, the reality TV star led the "birther" movement that questioned Obama's U.S. citizenship. Then, while announcing his candidacy, Trump said, "I would repeal and replace the big lie, Obamacare." He reiterated this promise at his rallies around the country.
Now: After the election, Trump suggested he would move fast on Obama's signature health care law. Then he met with Obama at the White House on November 10, the first face-to-face meeting between the two, and the president reportedly asked him to preserve the initiative. Sitting next to Obama while briefly speaking to the media, Trump called his predecessor "a very good man" and vowed to seek his advice as leader. A day later, he suggested to The Wall Street Journal that he might keep parts of the Affordable Care Act, including the benefits that force insurers to cover patients with pre-existing conditions and that allow children to remain on their parents' policies through their mid-20s. "I told him I will look at his suggestions, and out of respect, I will do that," Trump said, according to the Journal. "Either Obamacare will be amended, or repealed and replaced."
This article has been updated to include additional campaign promises.
Read more from Newsweek.com:
- Trump is officially said to win Michigan in presidential election
- Trump mulls General Petraeus at state despite email scandal
- Under Trump, what will happen on guns?