Charles Withholding Archie, Lilibet Titles Over 'Trust' Would Be 'Petty'
If King Charles III were to alter an established royal convention entitling his grandchildren Archie and Lilibet to be styled as prince and princess now that he has become monarch, he would open himself up to allegations of racism and pettiness, that's according to a discussion on the latest episode of Newsweek's The Royal Report podcast.
Chief royal correspondent Jack Royston and royal commentator Kristen Meinzer discussed the possibility of Charles removing the titles which, according to a convention started in 1917 by King George V, they are now entitled to use after the enquiries at Buckingham Palace about the subject have been deferred.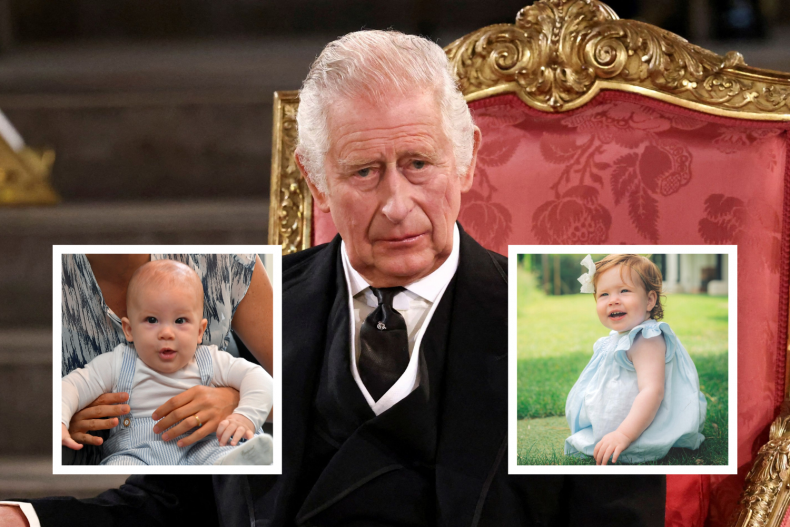 "There's been no official update on this, and all indications so far are that the palace does not see this as a burning or pressing question that needs to have an immediate answer," Royston told Meinzer after media speculation that Harry and Meghan's children would not be made prince and princess began to grow following the death of Queen Elizabeth II on September 8.
"The public and the media see this very differently," he continued.
"This is the big question that people want an answer to, and what answer comes could have major implications on how the monarchy is perceived, particularly among the younger generation."
Controversy around the titles held by Harry and Meghan's children has circulated since the birth of Archie in 2019.
To the surprise of many, the new royal baby, it was announced via Instagram, would be known simply as Archie Harrison Mountbatten-Windsor. As the son of a duke, Archie was expected to take on his father's lesser title of Earl of Dumbarton.
From birth, the children of Harry and Meghan were not entitled to be styled as prince or princess because of the George V convention which was drawn up during the days of World War I in an effort to reduce the number of extended royal relations who called themselves princes or princesses of the United Kingdom.
George V stated that only children and grandchildren (by sons) of the monarch could be styled HRH (His/Her Royal Highness) prince or princess. An exception was made for the eldest son of the eldest son of the Prince of Wales as a direct heir to the throne.
In 2013 when Prince William and Kate Middleton were expecting their first child, Queen Elizabeth II deviated from the convention to state that all children of the eldest son of the Prince of Wales would be prince or princess to create equality among siblings. If this had not been done Princess Charlotte and Prince Louis would be known by lesser titles, most likely Lord and Lady.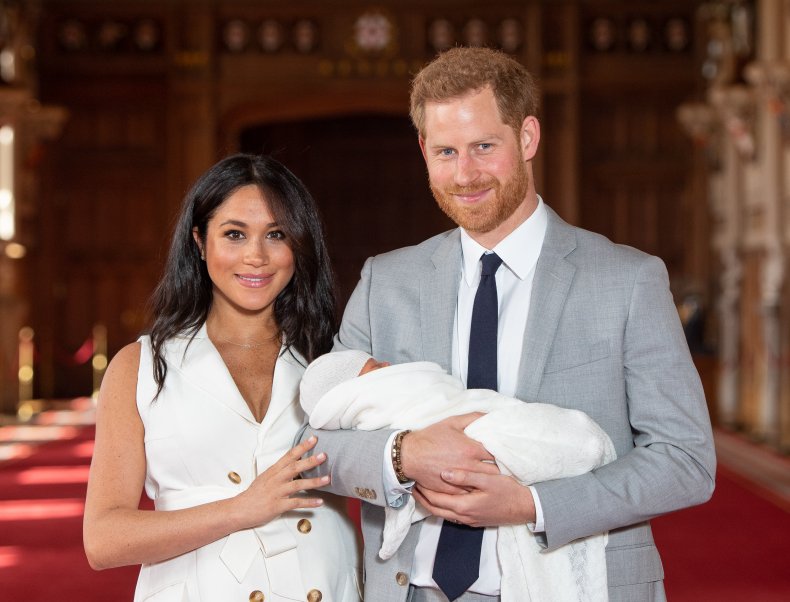 When they were born, Archie and Lilibet were the great-grandchildren of the ruling monarch and the children of the second son of the Prince of Wales, meaning they were not entitled to prince or princess titles. However, when Charles became king, this changed as they became the grandchildren of the monarch.
"If Charles decides to depart from that [convention], which he does have the right to do if he wants to," Royston told The Royal Report. "There will almost certainly be an allegation that he has stripped the first mixed race members of the royal family in living memory of titles that rightfully belong to them."
Discussions surrounding the British monarchy and racism grew in the wake of Meghan's introduction to the family which was met with a number of racially insensitive media stories as well as allegations of racist comments being made by members of the family themselves which were revealed during the Sussexes' 2021 interview with Oprah Winfrey.
The apparent delay by the palace to comment on Archie and Lilibet's titles was highlighted by Meinzer who called it "suspicious" given their lack of delay in recognizing the new titles of other family members following the queen's death.
"It looks kind of suspicious from the outside because while they're treating Archie and Lilibet's titles as a non-priority, they immediately changed on their website what [other family members] titles were publicly, and in Charles' speech he made clear what everyone's new titles were except for Archie and Lilibet," she said.
"There was no announcement there even though all other royal correspondence websites etc. made clear the other titles being changed."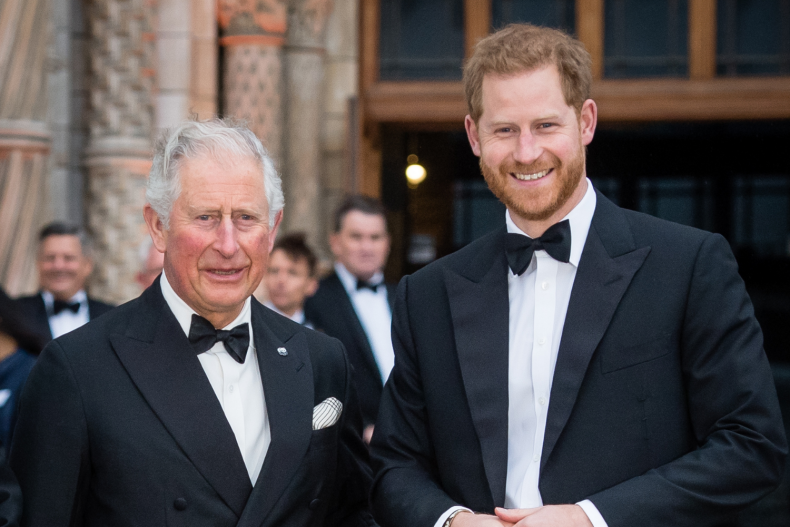 Meinzer then raised the reported idea that Charles could be withholding the titles over a lack of trust with his youngest son and daughter-in-law after the couple have made a number of bombshell claims during interviews since stepping down from their roles as working royals and moving to the U.S. in 2020.
"What trust is there to be had with a 3-year-old and a 1-year-old?" she said about Archie and Lilibet.
"This isn't about them. He is having an issue with Meghan and Harry and has decided to take it out on toddlers essentially."
"It's almost a bit of an ultimatum isn't it," replied Royston. "'If you want those titles you have to do a certain thing.'
"It's been suggested that maybe they're concerned about Harry's memoir or they're concerned about any further criticisms that may be made in the Archetypes podcast," he continued.
"But there is also the possibility that Harry and Meghan will simply call their bluff and at that point they either have to make good on the threat or they have to pull the titles. I think they really have to understand that what's important here is the long-term situation."
"Oh Charles, don't be petty!" Meinzer concluded. "Don't be petty. This is not a pen that has leaked on your hand. You don't need to get all baby about this. These are your grandkids."
"That's what it comes down to," offered Royston. "These are children and there's a rule or convention that suggests they should have these titles so it's a very miserly thing to even entertain the idea of stripping them of titles that the convention suggests they should have."
Newsweek approached Buckingham Palace for comment.
Do you have a question about King Charles III, William and Kate, Meghan and Harry or their family that you would like our experienced royal correspondents to answer? Email royals@newsweek.com. We'd love to hear from you.