Kremlin Official Rages Over Russia's Military Struggles in Ukraine War
A Russian official raged over recent military blunders in Ukraine during an appearance on state television, a rare admission of Kyiv's successful counteroffensive around Kharkiv over the weekend.
Russian President Vladimir Putin launched the invasion on February 24, hoping for a quick victory, but Ukraine in recent weeks launched two counteroffensives—one in the southern city of Kherson, and the other in areas around Kharkiv, the country's second-largest city. While the Kherson offensive has seen slower progress, the Kharkiv front appeared to catch Russia by surprise, allowing Ukraine to quickly take back territory. Ukrainian President Volodymyr Zelensky said during a Monday night address that his troops recaptured more than 2,000 square miles.
The recent successes are putting more pressure on Putin, whose military has been dealt myriad challenges throughout the war. He initially received broad support from Russian citizens, but a number of public figures have critiqued Russia's military in a sign of growing frustration over the war.
During an appearance on Russian state television, Bogdan Bezpalko, who is a member of the Kremlin's Council for Interethnic Relations, rebuked the military, according to a report in The Daily Beast.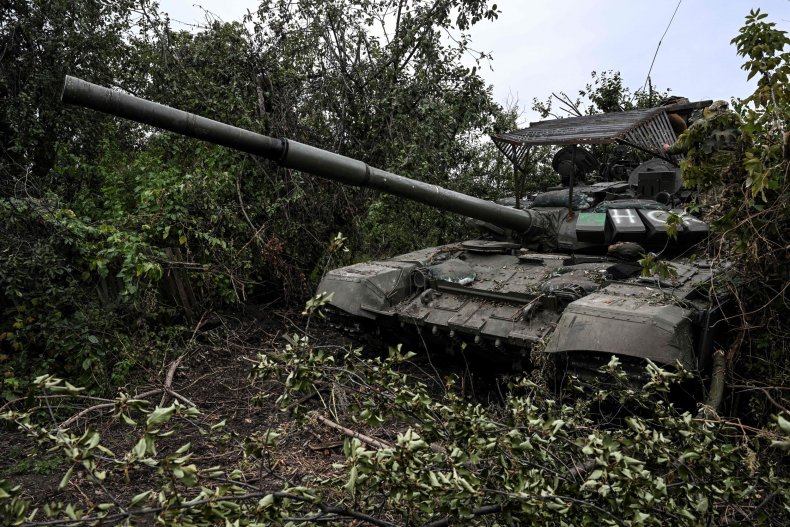 Bezpalko said that Moscow suffered a "tactical defeat" and condemned military leaders for not being more prepared to fight back against Ukraine's counteroffensive.
"For two months, Ukrainian armed forces and military equipment have been massing in that area, all Telegram channels have been writing about it," he said. "Where was our damn reconnaissance? All of their heads should be laying on Putin's desk, hacked off at the base. Of course, this is a tactical defeat. I hope it will be very sobering."
War opposition in Russia is rare and potentially dangerous, as the Kremlin passed a law at the start of the war banning people from spreading "fake news" about the war, though the law has been used to stifle dissent.
Still, Putin's war has faced increased scrutiny in recent days. More than 30 local officials in cities such as Moscow and St. Petersburg signed a petition demanding Putin's resignation over "harm" done to Russia amid the war. Officials have condemned the war for resulting in the death of Russian soldiers, as well as strengthening NATO.
Pro-Russia bloggers echoed similar sentiments toward military leaders over the weekend. One, Peter Lundstrem, blasted Putin for attending a holiday celebration while they believed troops were left without ample supplies.
Putin spokesman Dmitry Peskov warned that critics, including Telegram channels, must be "very careful" when taking about the Russian Ministry of Defense.
"As for other points of view, critical points of view, as long as they remain within the framework of the current legislation, this is pluralism," Peskov said. "But the line is very, very thin. You have to be very careful here."
Newsweek reached out to Russia's defense ministry for comment.