Leader Behind Darya Dugina Plot Says Putin's End Will Come 'Quietly'
The leader of a group that claimed responsibility for the death of Darya Dugina predicted that the end of Russian President Vladimir Putin's reign will happen "quietly and fearfully."
The National Republican Army (NRA) leader, identified only as "Aleksandr," told the Kyiv Post in an interview published Thursday that Putin will be removed from power "as soon as he becomes inconvenient for elites."
"Maybe, he will spend three days lying around in his cabinet like one of his predecessors. But it is very possible that he will lose his head in exchange for sanctions relief," Aleksandr said. "In other words, the old man will become the fall guy and will be charged with everything that happened. Well, he certainly deserves that.
"However, his cronies won't be able to get away with it either. We have taken note of every move."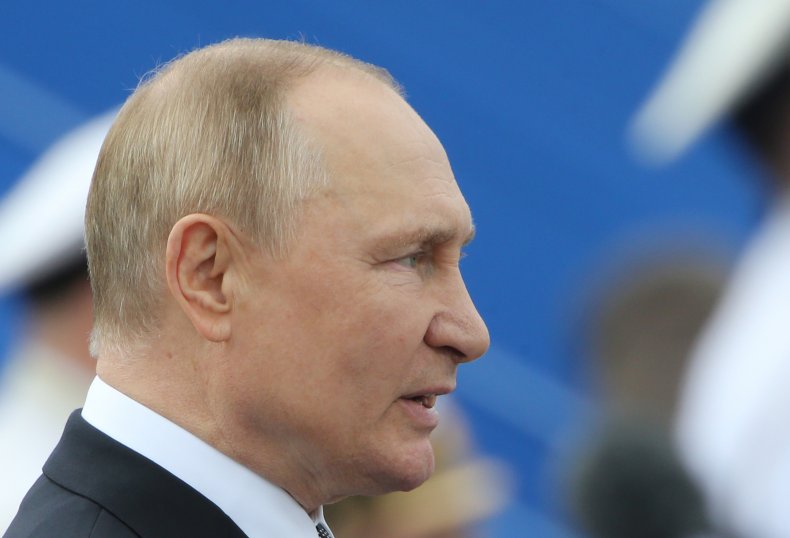 The anti-Putin group was unknown before the 29-year-old Dugina died in an August 20 car explosion that the Investigative Committee branch for the Moscow region attributed to a bomb planted in her vehicle.
Dugina was the daughter of Alexander Dugin, a political philosopher and commentator known for promoting Russian propaganda and credited with being the architect of Russia's ongoing Ukraine invasion. Dugin has sometimes been referred to as "Putin's brain" and "Putin's Rasputin."
Following Dugina's death, ex-Duma member Ilya Ponomarev said that he was approached by the NRA, which purportedly authorized him to release their "manifesto." The NRA's "manifesto" said that the group is against the Russia-Ukraine war and warned that Russian officials who do not resign will be "destroyed." Both Dugin and Dugina were the targets of the car explosion, according to Ponomarev.
But Russia's Federal Security Service (FSB) has named other suspects they believe to be behind the attack. Last week, Russian state media reported that the FSB had accused Ukraine's secret services and a female Ukrainian citizen of plotting Dugina's death.
The FSB alleged that the Ukrainian woman traveled to Moscow in July to prepare for the killing, then fled to Estonia afterward. Ukraine has vehemently denied any involvement in Dugina's death.
On Monday, the FSB accused another Ukrainian national of being involved in the explosion. It alleged that Ukrainian Bogdan Tsyganenko assisted the female suspect by providing her with a fake ID and fake license plates, and by helping her assemble the bomb.
Aleksandr reaffirmed in the Kyiv Post interview that Dugina and her father were the targets. He also said that while the NRA does not believe an armed overthrow of the Russian government is currently possible, a split among Russia's elites could begin to crumble Putin's regime from within.
"And we, the NRA, will do it from below," Aleksandr added.
There have been several unconfirmed indications that Putin is losing the confidence of some Russian elites. In May, an independent Russian news outlet reported that a growing number of the elites, including some who support the Ukraine invasion, were dissatisfied with him.
In March, Ukrainian intelligence alleged that Russian elites were planning to oust Putin from power and had a successor in mind. Newsweek was not able to independently confirm the reports, and several months have passed without any known anti-Putin uprisings among elites since the Ukrainian intelligence was released.
Newsweek reached out to the Kremlin for comment.