Marjorie Taylor Greene's 'Three Toe' Feet Go Viral in Doctored Photo
Rep. Marjorie Taylor Greene (R-GA) has been making headlines this week with a series of controversial statements, including calls for a "national divorce," in which she inaccurately suggested that the majority of Americans would support the separation of red and blue states.
As Newsweek has reported before, Greene has spread misleading, fabricated or provably false information (including QAnon conspiracy theories that she later appeared to backtrack on)—but has also herself been on the receiving end of such misinformation, as well as hateful and crass posts about her appearance.
So when a photo emerged this week purportedly showing the Georgia congresswoman with only three toes on each of her feet, Newsweek Misinformation Watch suspected something fishy was afoot.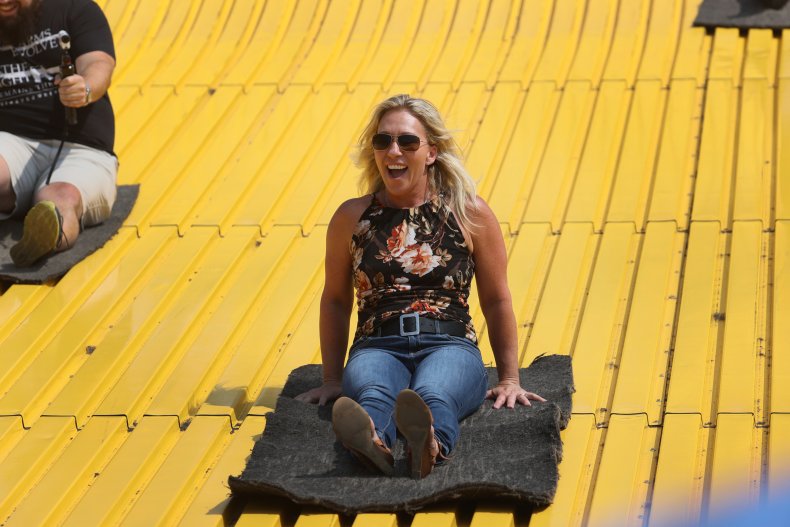 A photo of Greene posing with Donald Trump's former national security advisor Michael Flynn, with a small insert zooming in on her feet in sandals, began spreading on a number of social media platforms, including Twitter and Reddit.
A February 26, 2023, post on Twitter by user James Tate received nearly 150,000 views, and was captioned: "She has the same number of toes as brain cells. Spork foot is out in full force."
Another tweet, posted on the following day, Monday, February 27, got even more engagement, including more than 13,000 interactions and 665,000 views.
The above tweet was also shared as a screengrab on Reddit, receiving around tens of thousands of additional interactions.
But after some digging, Newsweek found that the image is a doctored version of an older photo that does not show "three toes," while other photos suggest all the digits on MTG's feet are fully accounted for.
The original photo, shared by attorney Ron Filipkowski, among others, was dated to May 5, 2022, and likewise promoted the misleading claims (perhaps in an ironic reference to past photos) about her toes.
It spawned numerous crass jokes and sarcastic comments from other Twitter users, as reported at the time by the Political Tribune and other outlets.
The purported lack of toes on the photos is likely due to a combination of low-resolution close-ups, the apparent gaps between her digits, and the choice of footwear: Other photos of hers wearing the same sandals display a similar effect, with the pinky (much shorter than other digits) apparently hidden by a strap.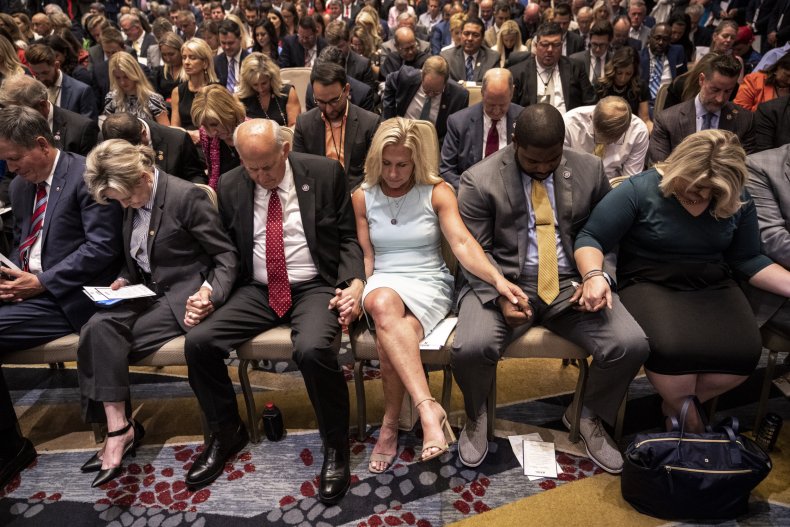 But as evidenced by older pictures and videos, both her right foot and her left foot have five toes each.
While this type of misinformation may appear harmless, especially when targeting public figures that are always under media scrutiny, it can have dangerous (even if unintended) repercussions in real life.
Just this week Greene claimed that she was assaulted at a restaurant by a woman and her son, who she said were "completely out of control."
Democrats, Republicans, non-partisan state and government officials, and justices have in recent years been targets of threats and abuse not just on social media, but in their daily lives in what has become an increasingly toxic and hyperpartisan political environment across the U.S.
A spokesman for Greene confirmed to Newsweek via email that the image is "absolutely fake."