McCarthy Fundraising for GOP Reps Who Impeached Trump Despite Ex-President's Opposition
While former President Donald Trump has begun endorsing primary challengers to Republican House members that voted in favor of his January impeachment, GOP House Minority Leader Kevin McCarthy and his leadership team have been working to fundraise large amounts of cash for several of these incumbents ahead of the 2022 midterms.
Ten House Republicans voted with Democrats to impeach Trump for inciting his supporters to attack the U.S. Capitol on January 6 in an apparent effort to prevent the formal certification of President Joe Biden's election win. McCarthy and his leadership team's PAC—Take Back the House 2022—has helped five of those Republicans raise about $100,000 each in the first half of 2021, CNN reported on Friday. Additionally, McCarthy's Majority Committee PAC donated $10,000 to the campaign of another of the anti-Trump Republicans in late March.
Representatives David Valadao of California, Jaime Herrera Beutler of Washington state, John Katko of New York, Fred Upton of Michigan and Peter Meijer of Michigan all have garnered about $100,000 in donations through the fundraising efforts of Take Back the House 2022, according to CNN. Representative Anthony Gonzalez of Ohio received the $10,000 contribution from McCarthy's group. In addition to the six GOP lawmakers, Republican Representatives Liz Cheney of Wyoming, Adam Kinzinger of Illinois, Dan Newhouse of Washington and Tom Rice of South Carolina also voted to impeach Trump, but have not received fundraising support from McCarthy.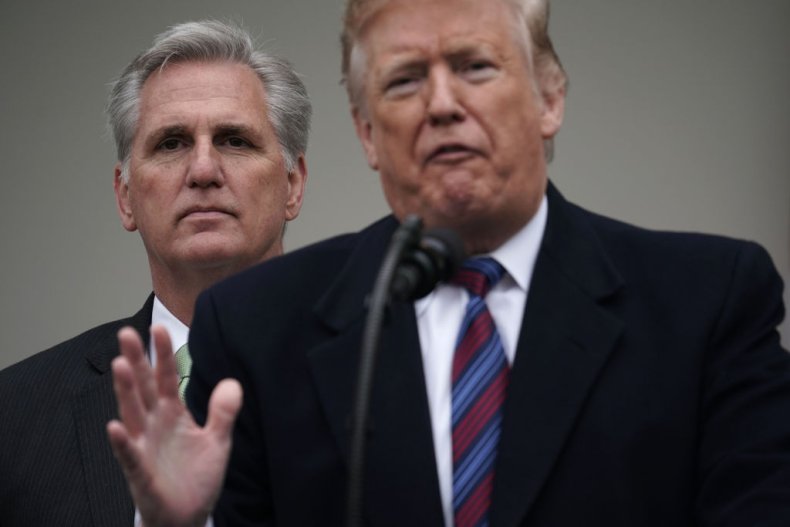 Trump has condemned the House Republicans who backed his impeachment and the seven GOP senators who voted to convict him during his February Senate trial. Although Trump's second impeachment votes were the most bipartisan in history, the former president was acquitted by the Senate as the 57 votes in support of conviction fell short of the high constitutional threshold of a two-thirds majority required for a successful "guilty" verdict."
The former president has endorsed primary challengers against Upton, Herrera Beutler and Gonzalez as McCarthy's groups have been fundraising for the GOP candidates. Trump has suggested publicly that he will endorse primary challengers to the other Republicans who voted to impeach him. The former president has also endorsed a Cheney opponent, but McCarthy has clashed publicly with the GOP congresswoman and has not helped her fundraise.
While McCarthy fundraises for several anti-Trump Republican lawmakers, the House minority leader is facing backlash from rival factions within the Republican Party. Anti-Trump Republicans Kinzinger and Cheney have repeatedly criticized the GOP leader for refusing to cut ties with the former president in the wake of the violence of January 6. Meanwhile, pro-Trump Republicans have urged McCarthy to expel Kinzinger and Cheney from the Republican caucus as some have expressed dissatisfaction with his leadership.
"How can the GOP Conference trust him [McCarthy] to go beyond talking tough to Pelosi when he won't even stand up to @Liz_Cheney or @AdamKinzinger?" Representative Matt Gaetz, a Florida Republican who is staunchly supportive of Trump, asked in a Thursday morning tweet.
As McCarthy faces down the tensions from within the House Republican Conference—while also balancing ties with Trump—the GOP leader aims to become Speaker of the House following the 2022 midterms. "I'm looking forward to being Speaker in the next Congress," McCarthy told reporters in May, expressing his confidence not only in himself but also in Republicans winning big in the elections next year.
Recent historical precedent suggests that Republicans are well-positioned to retake control of the House after the midterms. The party of the president in the White House typically loses a significant number of House seats during the midterms of their first term. Considering Republicans already control 212 seats compared to 220 held by Democrats, GOP candidates only need to win a few more races to flip the legislative body.
Whether Republicans actually take control of the House remains to be seen. Even if they do, the backlash McCarthy faces on multiple fronts suggests the GOP leader may struggle to garner enough support to become speaker of the House.
Newsweek reached out to press representatives for McCarthy and Trump for further comment but did not immediately receive responses.