Meghan Accused of Using Hidden Recording Device in Wild Conspiracy Theory
Meghan Markle has become the subject of an outlandish conspiracy theory on social media, where a number of her detractors have accused her of wearing a hidden recording device while with the grieving royal family.
The Duchess of Sussex and her husband, Prince Harry, who are living in Meghan's native California after stepping down as senior royals, have been spending time with the family following the September 8 death of Queen Elizabeth II.
They were visiting Europe to attend a number of charity events when the queen's health became a cause for concern for her doctors. The couple did not have plans to visit the queen while in Britain, but Harry flew to be with his family at Scotland's Balmoral Castle after receiving news of her condition.
The announcement that the queen had died was made minutes before Harry's plane arrived at Aberdeen Airport.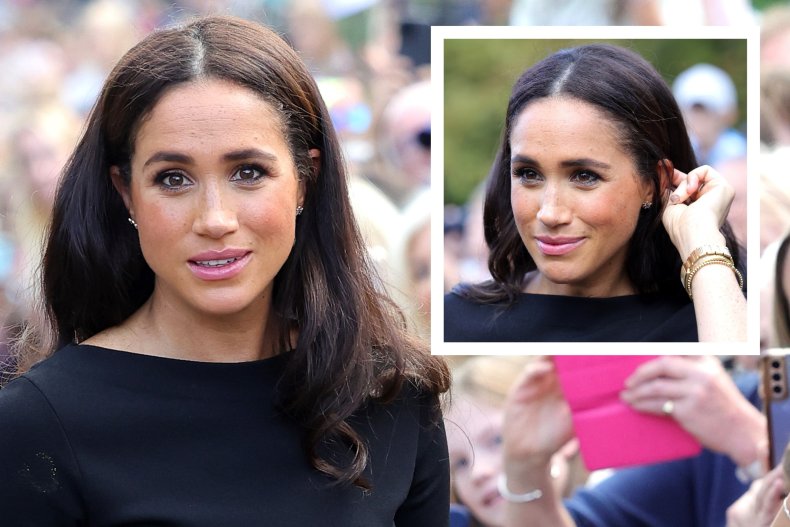 On Saturday, the couple made an unexpected joint appearance with Prince William and Kate Middleton, now the Prince and Princess of Wales, to view floral tributes to the queen left outside England's Windsor Castle.
The moment was of particular note because it marked the first time the couples were photographed together since Harry and Meghan's controversial interview with Oprah Winfrey was broadcast in March 2021. The duchess told Winfrey that Middleton made her cry before her wedding, while Harry described his relationship with William as "one of distance."
Amid discussions about a show of royal unity at a time of grief, a conspiracy theory has been spread by a group of Twitter users, who say Meghan was wearing a hidden wire while joining the other royals on the walkabout in Windsor.
Writer and journalist Andrew Scott, who uses the pen name Otto English, shared screenshots of a number of the comments. He tweeted: "Welcome to the Meghan Markle conspiracy theory—where believers think the Duchess is secretly wired up and filming and recording everything."
In the images, lumps in Meghan's form-fitting dress—including what appeared to be a bra strap—were highlighted by theorists as evidence of hidden recording equipment.
"She is a spy!" declared one Twitter user, who added in another tweet: "I'm surprised she hasn't worn a spy recording necklace. There are all kinds of styles. Even with [crosses]. Clip on keys and more."
In a futile effort to add credence to the unsubstantiated claim, another person even said Meghan's hair had a part in helping to conceal her purported scheme.
"Many people say she was fidgeting with her hair because of insecurity. I disagree," the user wrote. "She always made sure her hair would cover the shoulder on the same side, where that little box was. She was hiding a recording device."
The theory was met with widespread derision, with one person responding, "I believe that first picture is what we know in the trade as a 'bra strap.'"
"Aside from the sheer stupidity of these tweets," tweeted another, "why would she need to record everything, almost every move she makes and thing she says is recorded anyway, that's how they are able to zoom in on these pictures!"
Newsweek has reached out to representatives for Meghan and Harry for comment.
While the theory was largely mocked on Twitter, it stands as one of many unsubstantiated claims that have been made about Meghan, who faced relentless criticism and scrutiny from the British press before departing the U.K.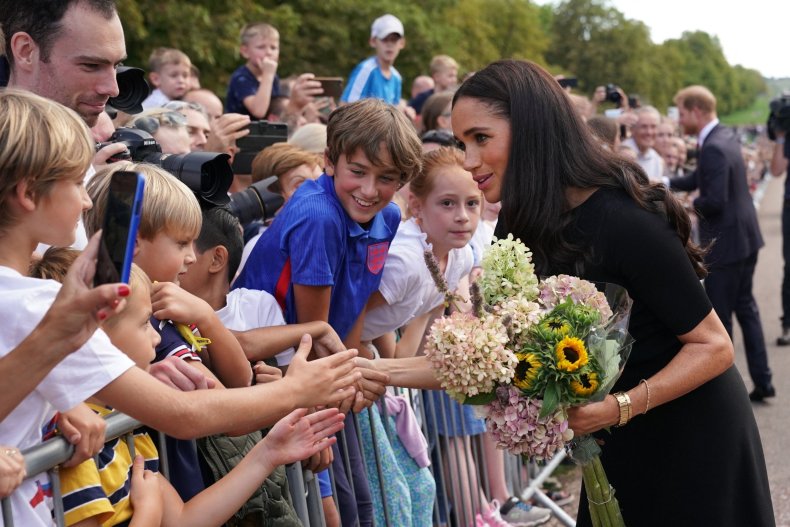 Christopher Bouzy, a founder of social media analytics platform Bot Sentinel who has monitored a calculated hate campaign against Meghan on Twitter and YouTube, weighed in on false claims that the duke and duchess were divorced.
"During the Jubilee, we observed inauthentic accounts spreading conspiracy theories about the Duke and Duchess of Sussex wearing microphones for a Netflix production," Bouzy told Newsweek. "However, the claim was so ridiculous it got little traction outside a small group of anti-Sussex trolls."
In 2022, Bot Sentinel published a detailed report revealing that Meghan had been the target of a monetized hate campaign, led by three YouTube channels, that generated as much as $494,729 through over 70 million views.
Though Meghan and Harry have not addressed this campaign directly, both have spoken about their treatment on social media and the negative impact it has had on their lives.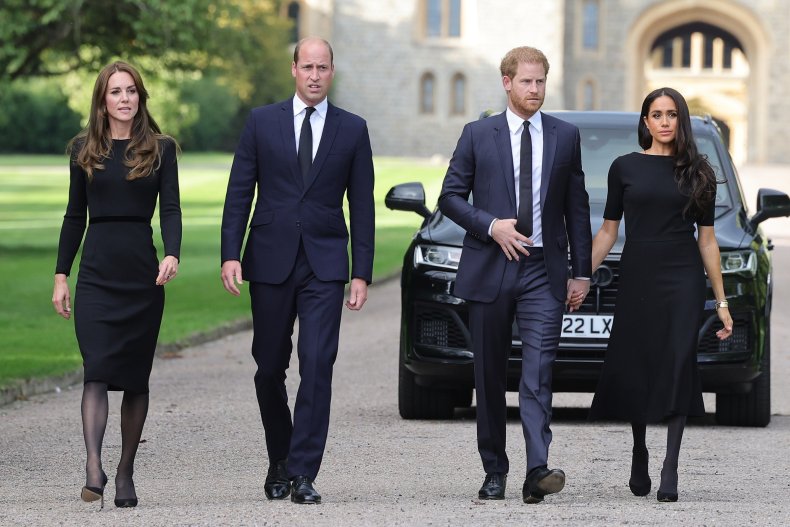 In 2020, Meghan said on The Teenager Therapy podcast: "I'm told that in 2019 I was the most trolled person in the entire world, male or female.... It's almost unsurvivable, that's so big. You can't think of what that feels like, because I don't care if you're 15 or 25, if people are saying things about you that aren't true, what that does to your mental and emotional health is so damaging."
She then revealed that she had decided to quit social media as a result of the negativity it produced during Fortune's Most Powerful Next Gen Summit.
"For my own self-preservation, I have not been on social media for a very long time," she said. "I've made a personal choice to not have any account, so I don't know what's out there, and many ways that's helpful for me."
Harry has also spoken out on the consequences of misinformation, saying during a January 2021 interview with Fast Company magazine after the U.S. Capitol riot that social media bosses are "running out of time" to turn things around.
"We have seen time and again what happens when the real-world cost of misinformation is disregarded," he said. "There is no way to downplay this. There was a literal attack on democracy in the United States, organized on social media, which is an issue of violent extremism."