Meghan Markle's Claim Not To Have Googled Harry 'Disingenuous'—Tina Brown
Meghan Markle's claim that she didn't google Prince Harry before marrying him given in her 2021 bombshell interview with Oprah Winfrey has been called "disingenuous" by author and former editor of Vanity Fair, Tina Brown.
Speaking on The New York Times' Sway podcast with Kara Swisher, Brown disputes the claim, going on to state that if it was indeed true then not researching her soon-to-be-husband and the role she would be taking on in becoming a member of the royal family was "reprehensible, quite honestly."
In a clip from the 2021 interview with Winfrey played on the Sway podcast, the billionaire television host told the duchess: "If you're going to marry a royal, then you would do research about what that would mean?"
To which Meghan replied: "Well, I didn't do any research about what that would mean ... I'd never looked up my husband online. I just didn't feel a need to because everything that I needed to know, he was sharing with me, right? Everything that we thought I needed to know, he was telling me."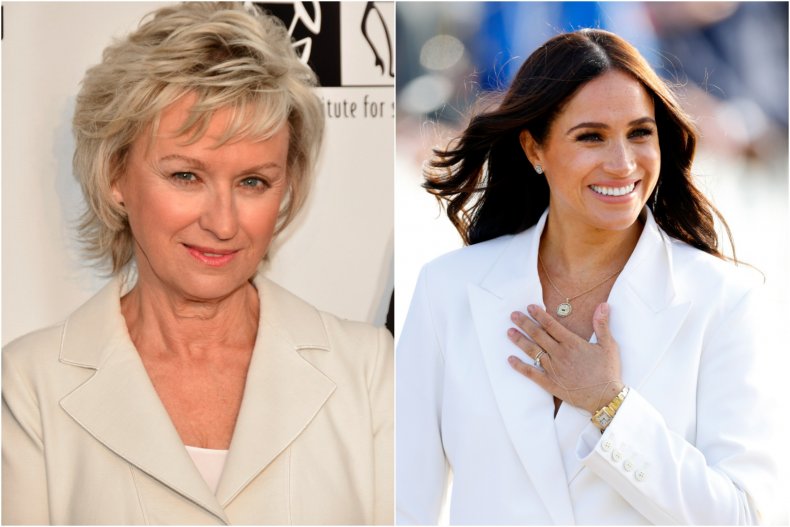 Brown told Swisher that she found this claim unbelievable given Meghan's canny nature, her keen eye for PR implications of her own movements and decisions, and also her proven capacity to thoroughly research roles for her work as an actress.
"I don't believe her on that one. Everybody Googles people," Brown stated. "That was very disingenuous, that clip that you played."
Swisher offered another take on the duchess' statement explaining to Brown that: "I think she was making a bigger point, is that she didn't know what she was getting into."
To which Brown voiced her confusion over Meghan's intention. "This is where I completely don't understand Meghan at all," she explained.
"When I talked to all the people she worked with at Suits, one thing that she was really known for was getting notes about her role. She wanted to know everything about what she had to do with that part. She was studying up. She really put a lot of thought and work into her role.
"Why would she take on the biggest role of her life, which had such incredible constitutional implications and such a kind of lifetime of, you know, very clear choices ahead of her, and not, as she said, spend any time researching what the role was?"
Brown then reaffirmed her belief that the comment was disingenuous and called into question Meghan's judgment if it were indeed true.
"That was disingenuous," she told Swisher. "It would seem to me if that's true, reprehensible, quite honestly. Because it's a serious thing to marry into that family. And if it is true, I find it puzzling."
She concluded the topic, adding of Meghan that: "One of her ex-colleagues told me that Meghan used to play three-dimensional chess, as he put it. She always knew the subtext of everything that was going on. So I don't get that."
Brown's appearance on the Sway podcast coincided with the release of her new book The Palace Papers: Inside the House of Windsor the Truth and the Turmoil in which she charts the highs and lows of the British royal family over the past three decades.
On her examination of Meghan's role in royal family dramas over the past four years, Brown has claimed she's been criticized for being too empathetic. "I think in England, where they hate Meghan—they think that I've been way too empathetic to Meghan," she told Swisher. "I understand how she found it so darn difficult and how maddening she found it."
The author provides detailed analysis of the break in relations between the once close Prince William and brother Harry, which she claims traces back to the time where Harry left the army "unsure of who he was."
Her efforts to uncover the complexities go as far as analyzing Princess Diana's role in the upbringing of both princes and how they came to relate to her in return.
"Prince Harry idolized Diana more and understood her less," she wrote, adding that in contrast William, "understood Diana more but idealized her less."
Over the course of writing the book Brown claims to have become "very empathetic to Meghan," but expressed her disappointment at how things have turned out.
Meghan's sister-in-law Kate Middleton fares better in the author's estimations.
"I also came to admire Kate very much, too," she told Swisher. "Kate looked at the situation, and she said, I can do this. I will do it. I'm going to devote myself to it. Essentially, it's kind of like the secular version, or the royal version, of taking the veil. It really is. It's about saying, I will do this. And she has, actually."
Her most glowing praise is reserved for Queen Elzabeth II who is celebrating her Platinum Jubilee marking 70 years on the throne in 2022.
"[The queen] is kind of the last person who knows how to behave in the British Isles," Brown told Sway podcast listeners, going on to call her "a really skillful C.E.O."
"I just came to love the Queen at the end of this. I just find her sense of humor so tart, so funny. She's so sort of canny. She's so grown up. And there was something very moving as well about her commitment to duty. I mean, she has done what she said she would do. All the days of my life, as she vowed, has served the British people. But she's done it without any sort of self-righteous, you know, look at me. She just did it. And so, yeah, she is my favorite, I have to say."