Meghan Markle and Kate Middleton's Perfect Hat Moments
They're a part of every working royal woman's wardrobe and have been for centuries, but what makes the perfect hat for a princess?
Both Kate Middleton and Meghan Markle have learned which styles of hats work best from them—never letting themselves be overpowered by the staple fashion accessory.
The royals have adopted the traditional ceremonial uniform when attending functions such as weddings and Trooping the Colour, which demand a beautiful array of hats. From large statement hats to elegant and chic berets, the royal sisters-in-law have styled them all.
Newsweek rounds up a selection of Meghan and Kate's perfect hat moments.
Ascot Hats
Perhaps the most famous occasion in the royal diary each year, when a hat is an absolute necessity, is Royal Ascot, Queen Elizabeth II's favorite week-long horse racing event.
So vital are hats to the overall aesthetic appeal of the event, that the wearing of one is regulated in an official style guide released each year and if the correct dress code isn't adhered to then racegoers aren't admitted to certain areas. The 2022 style guide states that ladies wishing to attend the races in the prestigious royal enclosure (closest to the queen's box) must wear a hat made of a "solid base of 4 inches or more in diameter... fascinators are not permitted."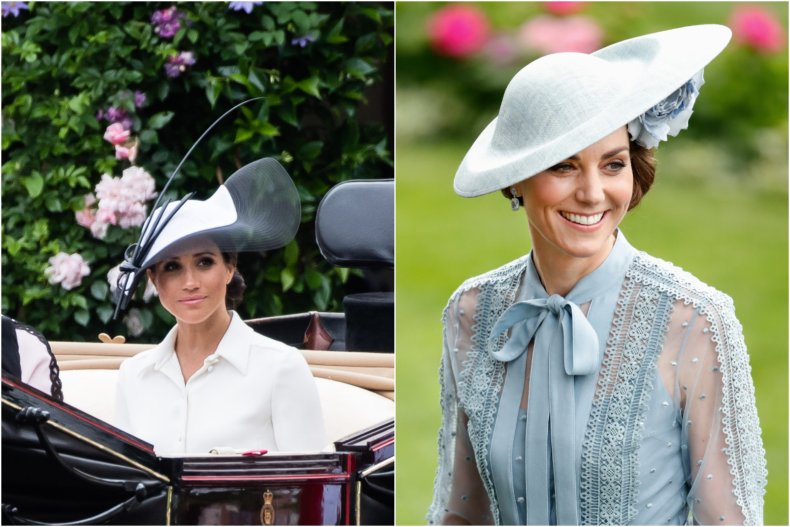 The royals have no problems following these rules as they take their style cues from the queen herself. At her first (and to date only) appearance at Royal Ascot in 2018, Meghan wore a Givenchy shirt dress with an elegant hat by one of Britain's most famous milliners, Philip Treacy.
Kate has appeared many times at royal ascot but perhaps her most triumphant year stylistically was in 2019 where she appeared in a pale blue dress by Elie Saab with silver accessories. Her chic structured hat was by Philip Treacy and was in a style which she also owns in a cream colorway.
Wedding Guest Tradition
British weddings are known around the world for the tradition of guests wearing elaborate hats and for royalty this is no different. The hats worn to both Meghan and Kate's own weddings caused considerable comment from the fashion press, with Princess Beatrice's "pretzel" hat in 2011 the most notable example.
For the wedding of Princess Eugenie in 2018 Meghan and Kate wore stunning hats in varying styles which complemented their outfits and personalities.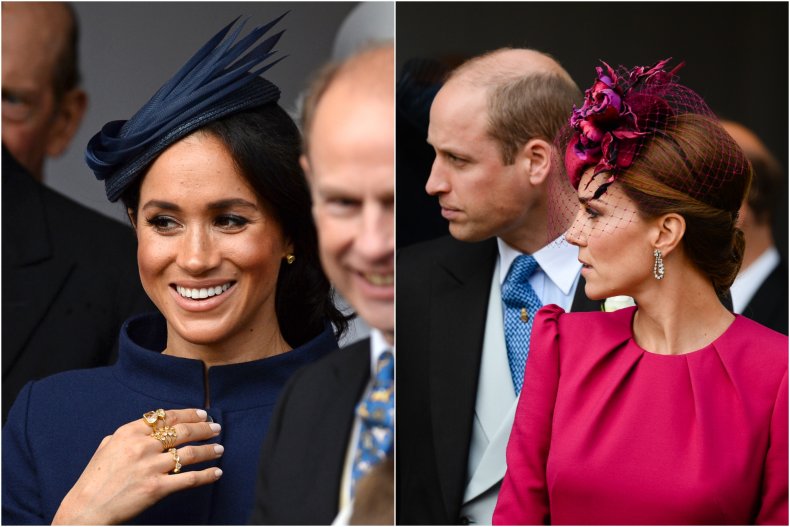 Meghan wore an all navy ensemble for her first public visit to St George's Chapel since her own wedding in May that same year. Her dress and coat had been designed by the house responsible for her wedding dress, Givenchy, and her chic small matching hat was by milliner Noel Stewart. The design of the hat was compact and architectural in the way that structured elements framed the duchess's face.
Kate also wore an outfit designed by the makers of her own wedding dress in 2011, Alexander McQueen. With the rich pink ensemble, Kate paired a Philip Treacy hat with floral rose embellishments, twisted foliage in matching pinks and a delicate veil.
Trooping the Colour
The annual Trooping the Colour ceremony is a military review held each year in central London to mark the queen's official birthday in June. It's traditional for members of the wider royal family to attend the ceremony and then appear on Buckingham Palace's balcony afterwards for a fly-past from the royal air force.
Hats are very much part of the working royal uniform for the trooping of the colour and both Kate and Meghan have worn fine examples when in attendance.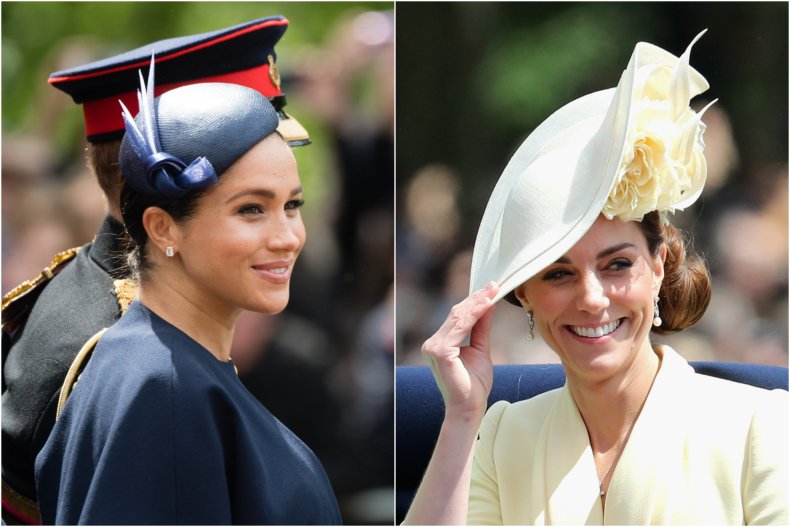 Just one month after giving birth to her first child, Archie Harrison Mountbatten-Windsor in 2019, Meghan delighted royal watchers by making a surprise appearance at the Trooping the Colour ceremony. The new mother wore a bespoke outfit from Givenchy with a small navy hat by Noel Stewart with tulle arranged to look like feathers.
To the ceremony that same year, Kate wore a primrose yellow dress by Alexander McQueen with a large matching floral hat designed in a wave formation framing the face by Philip Treacy. In what may have been a touching nod to Meghan or just a happy coincidence, Kate wore the same hat to the wedding of Harry and Meghan only the year before.
Hats for the Abbey
Services at Westminster Abbey are very often solemn occasions for members of the royal family and so hats are nearly always worn. Meghan, during her time as a full-time working member of the royal family, attended the annual commonwealth day service at the abbey in a succession of elegant headwear.
For the 2019 service, Meghan paired a printed Victoria Beckham dress and with a clean lined white coat and matching chic pillbox style hat.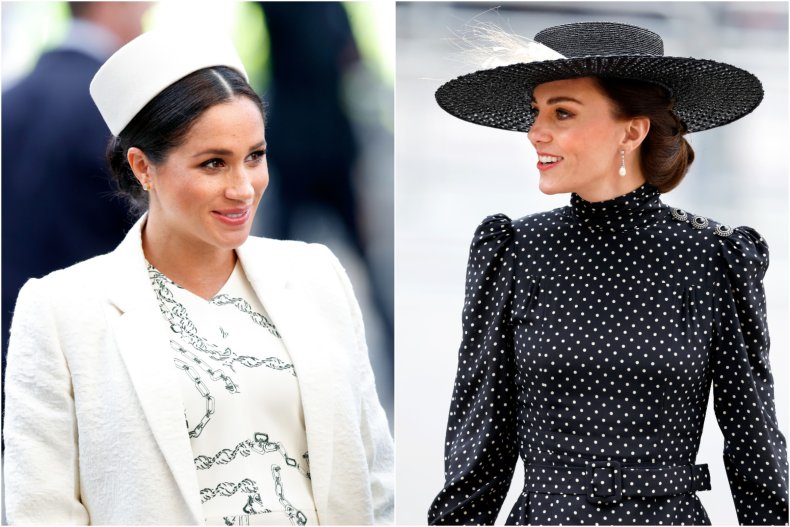 Kate Middleton has attended numerous services at Westminster Abbey during her years as a member of the royal family. The most recent occasion saw the debuting of a show-stopping black hat from the London-based hatters Lock & Co. The occasion was the service of thanksgiving for the life of Prince Philip, and Kate made a respectful appearance in a monochrome polka dot dress by Alessandra Rich.
Respectful Remembrance Day
Another solemn occasion in the diary of members of the royal family are events associated with Remembrance Day (Veterans Day in the U.S). Each November a remembrance service is held at London's Cenotaph war memorial, which is attended by members of the royal family, including at times both Kate and Meghan.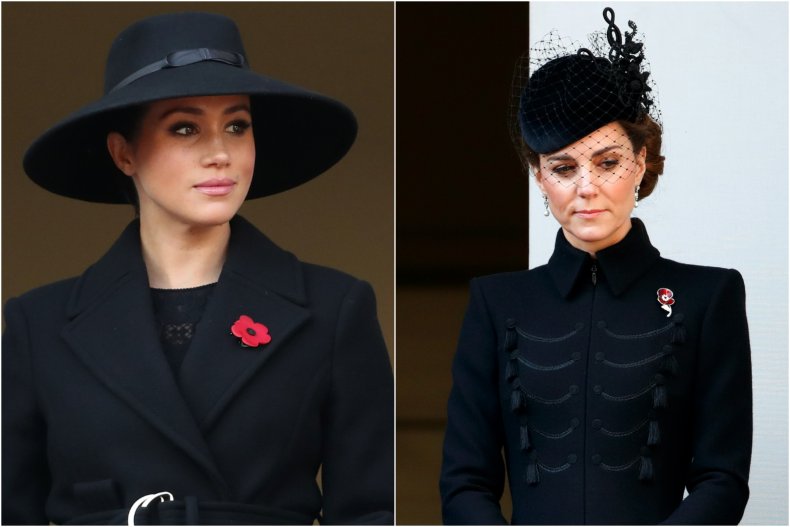 In 2019, Meghan attended the ceremony wearing a respectful ensemble of all black with a large wide brimmed hat by Stephen Jones, reminiscent of a style worn by Princess Diana to a Remembrance Day service in 1991.
To the ceremony that same year, Kate wore a military inspired coat dress from designer Catherine Walker & Co with a black velvet hat from Philip Treacy featuring an elegant black veil.
Royal Tour Wardrobe Essential
An essential element of any royal tour wardrobe is a hat and they are worn usually for official ceremonial occasions during the course of the visit.
For her arrival in Fiji, as part of a royal tour of the South Pacific islands with Prince Harry in 2018, Meghan wore a white dress by the label Zimmerman with a hat by British designer Stephen Jones.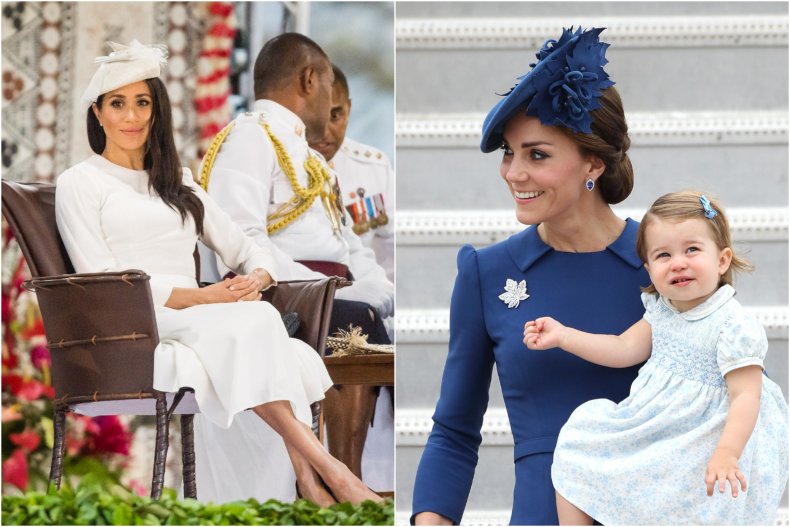 Kate Middleton also wears hats on her royal tours, very often using them to pay tribute to her host nation. When on a visit to the west coast of Canada in 2016, Kate opened the tour in an elegant outfit by Jenny Packham with a bespoke blue hat from Sylvia Fletcher for Lock & Co. Closer inspection of the hat's embellishments revealed that it contained felt maple leaves, a national Canadian symbol.