Meghan and Harry Viewed Unsympathetically by 65 Percent of Brits
Nearly two-thirds of Britons are unsympathetic towards Meghan Markle and Prince Harry, according to recent polling undertaken by global opinion and data company YouGov.
When asked "From what you have read and heard, how much sympathy, if any, do you have for Prince Harry and Meghan Markle," 43 percent of the 2,627 British adults surveyed answered that they felt "none at all" with a further 22 percent responding that they felt "not very much."
A combined 22 percent responded that they felt "a fair amount" or "a lot" of sympathy for the pair and 13 percent answered that they didn't know.
The survey, which was undertaken on Tuesday, came as the couple see a spike in press coverage in recent weeks owing to the release of Meghan's solo podcast Archetypes, her candid interview with The Cut and the announcement of a visit to Europe in the first week of September.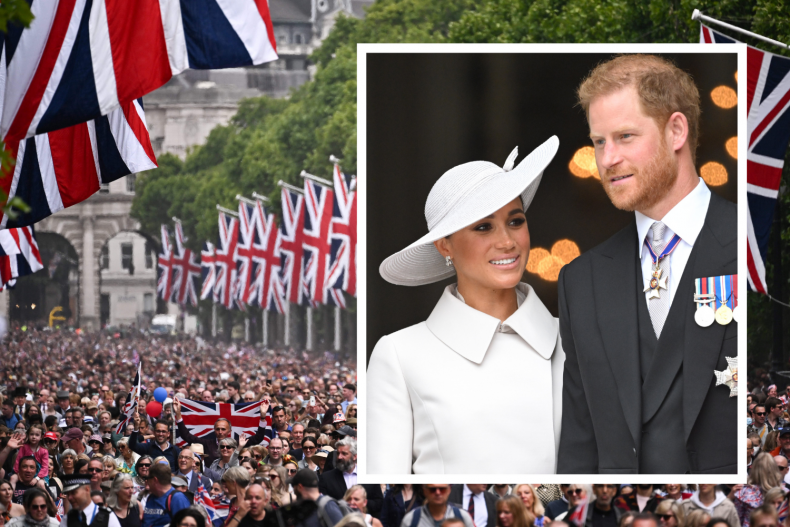 The couple's popularity in Britain was affected by the announcement of their intention to step down as working royals and move to the U.S., taking further hits with the release of their interview with Oprah Winfrey in March 2021 and the announcement of Harry's memoir that same year.
Poll data provided by YouGov shows that Harry and Meghan hit their lowest levels of public support in the prince's home country ahead of Queen Elizabeth II's Platinum Jubilee celebrations in June, which saw Meghan return to the U.K. for the first time publicly since her royal retirement.
In a survey conducted between May 18 and 19, 65 percent of respondents said they viewed Meghan negatively. This was contrasted by 23 percent who responded that they viewed the duchess positively and 11 percent that "didn't know", making for a total net positive score of -42. This was her lowest ever rating.
Harry did not fare much better. The prince, who once eclipsed his grandmother the Queen at the time of his engagement to Meghan with an 81 percent positive response rating in November 2017, saw this plummet to 32 percent in May 2022.
The Sussexes appear to have a more positive response rate in the U.S., where YouGov America polling in February of this saw them sit in fifth and sixth place in the list of most favorably viewed British royals.
Princess Diana remains the most popular royal among Americans with the queen coming in second followed by Prince William and Kate Middleton, then Harry and Meghan.
The couple have increased their media output over the past eight months with Harry undertaking a series of interviews referencing his personal life in the lead-up to the Invictus Games in April, and Meghan's recent podcast venture promoted by an in-depth interview with The Cut.
While these ventures have won praise online among the Sussexes' established supporters, they have also been criticized in the mainstream media, particularly the British tabloids which both Harry and Meghan have been vocal in their distrust of.
With Meghan's Archetypes podcast on a weekly release schedule through production partner Spotify, with whom the couple signed a multi-million dollar content creation agreement in 2020, and with Harry's memoir due for publication before the end of the year, the couple show no sign of curbing their output despite low polling numbers.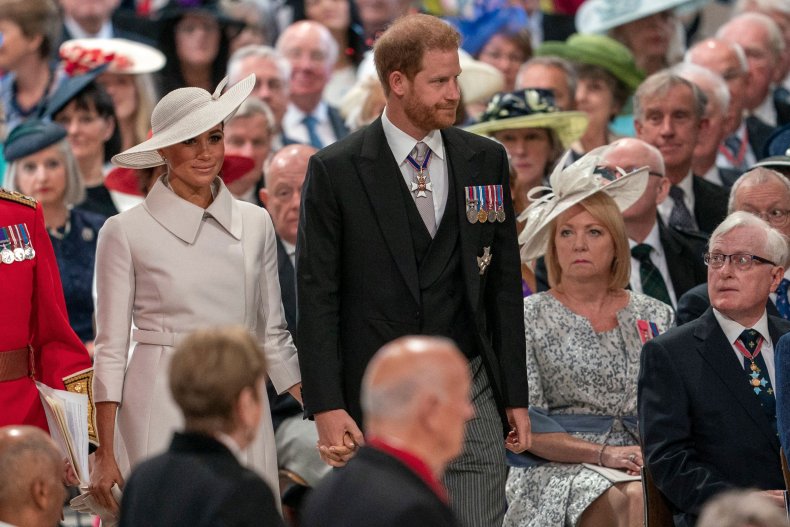 In her interview with The Cut released on Monday, the duchess revealed that she may have much more to say about her time as a working royal. She told journalist Allison P. Davis she kept a diary during British residency and didn't sign a non-disclosure agreement that would prevent her from future disclosures.
"It's interesting, I've never had to sign anything that restricts me from talking," she said. "I can talk about my whole experience and make a choice not to."
When asked why she doesn't talk, Meghan responded that she was "Still healing," before later adding:
"I have a lot to say until I don't. Do you like that? Sometimes, as they say, the silent part is still part of the song."
Newsweek approached representatives of Meghan Markle and Prince Harry for comment.