From Creepy Rooms to Masterpieces, 11 Mysterious Discoveries Homeowners Made This Year
The trend for DIY shows no sign of slowing down, with ordinary people arming themselves with tools to rip out, re-paint and restore their homes.
And along the way they've found a few hidden gems, from boarded-up windows dating back to the Victorian era, to original tiled flooring and even massive basements.
With homeowners sharing their discoveries on social media, notably TikTok, fans have been lapping up their finds, with videos racking up millions of views a-piece.
As the year draws to a close, we've rounded up the most shocking finds of the year, hiding right under people's noses.
1. Woman Finds Hidden Masterpiece in Her Childhood Home After Ripping up Old Carpet
We've all stared at horrible flooring, covered in stains, and dreamed of replacing it, but one woman got more than she bargained for when she finally took the plunge.
Grace Benavente moved back to her childhood home in Portland, Oregon, which her parents bought in 1988, as an adult.
She finally pulled up a cream carpet after getting started on some renovations, but discovered a tiled masterpiece dating from the era the house was first built, in 1972.
"When we began removing the thick white carpet we immediately discovered this groovy 70s carpet beneath!" she told Newsweek.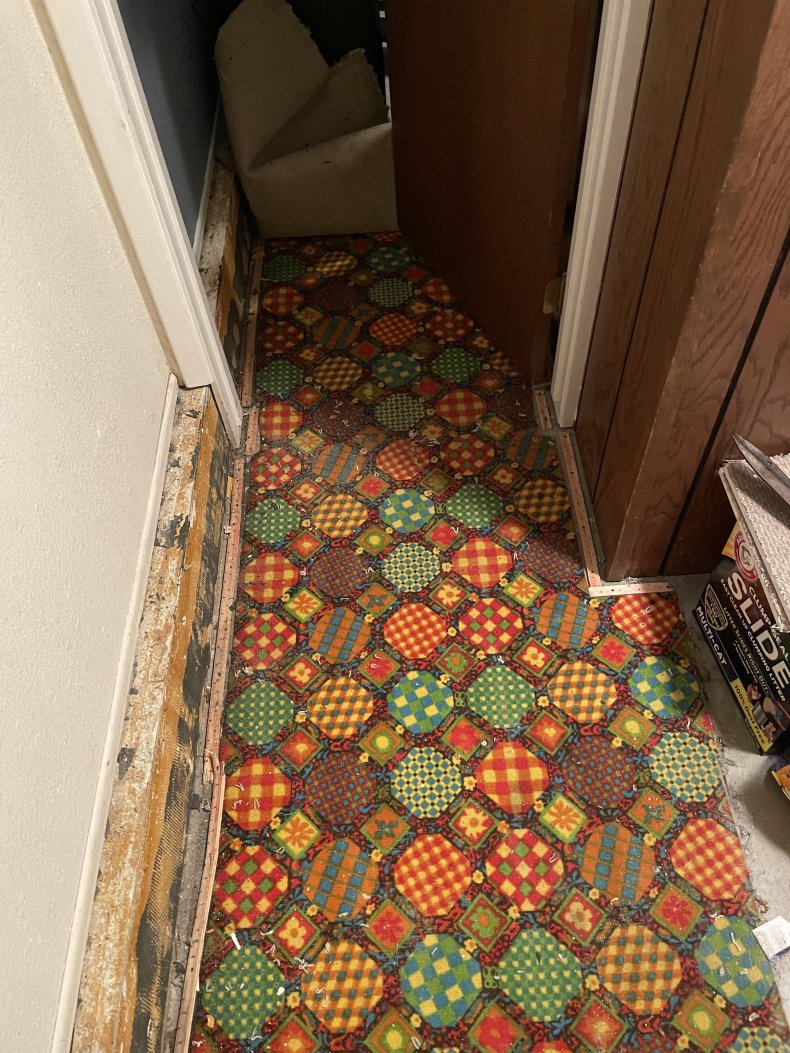 2. Woman Finds Tunnel System of Crawl Spaces and a Secret Room in 'Creepy' Home
This woman's rental was compared to something straight of Coraline, after the tenant, who calls herself JKay on TikTok revealed the odd tunnel system she lives with.
In a series of clips she explained the house was built in 1959, and featured an inter-connected system of crawl-spaces, as well as a bizarre empty room off a staircase, only accessible through a window.
"I moved cross country and rented it sight unseen. The listing didn't mention a tunnel system," she said in one clip. Her most popular video amassed more than 8 million views.
3. Couple Find Massive Basement Behind a Hatch After Buying 1904 House
Buying any new home is exciting, as you redecorate and make plans for each space, putting your own twist on things.
One couple, Katie and Robin, from the U.K., were busy restoring their semi-detached property, originally built in 1904, when a hatch piqued their interest.
Robin unscrewed it and decided to investigate, shockingly finding a vast basement spanning the length of their "double living room."
The clip of the find, from September, amassed more than half a million views, as Robin asked: "There is another hole which goes even further. What would you do with this space?"
4. Man Finds Secret Window Hidden Behind Wallpaper in 19th-Century Home
One homeowner, named Alex Howard, was removing the popcorn-style wallpaper in his home, in Edinburgh, Scotland.
He filmed himself up a ladder armed with a wallpaper scraper, when he realized there was something lurking behind the hardwood.
To his surprise, he uncovered a pair of Victorian-era windows, as he explained to Newsweek the two-bedroom apartment was built around 1890.
He said: "The fact that there was then a layer of woodchip on top of that, suggests that it was done at least as far back as the 70s."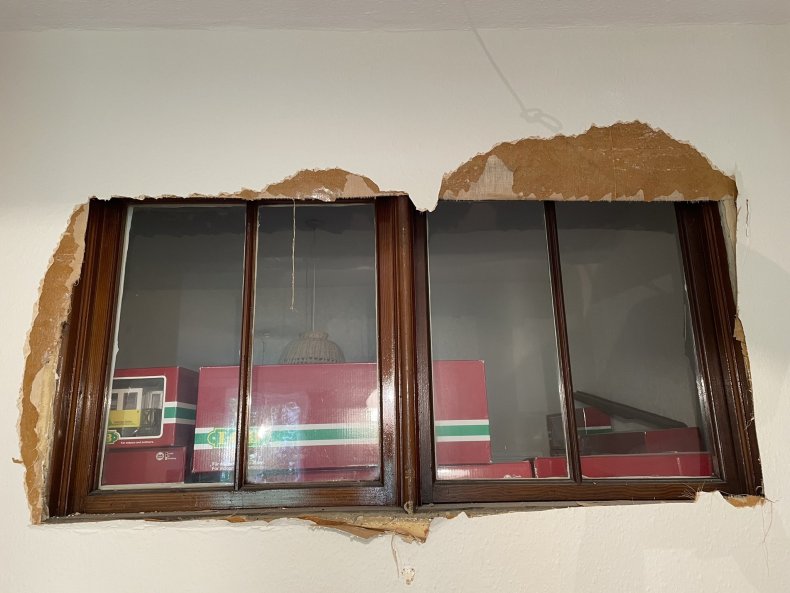 5. Couple Find 'Secret Room' With Windows After Buying a House Without Seeing It
This next couple also found a window, but theirs was in the wall of a room they had no idea was attached to their house, which they bought without viewing.
Raine, who goes by Sissyhankshaw online, gave followers a tour of the 1,110 sq ft home they bought in the midwest.
In a TikTok clip, the 27-year-old said: "It has a window, it's a real room with a locking window... We're finally entering our attic, or secret room."
The TikTok video, posted in April, was seen 16 million times.
6. Man Finds 'Secret Room' Hidden Behind a Fake Wall in His Pantry
Another room was discovered, this time by a renter, thought to be in West Virginia, named Logan Hunter, posting under @loganhunter_p.
After becoming curious about loose panelling in his pantry, he grabbed some tools and prised it off, revealing a set of stairs going up to a huge attic.
Hunter's clip, shared in October, amassed 2.2 million views, as he said: "I literally just think I discovered a hidden room in my apartment."
7. Woman Finds Stairs Inside Her Cupboard Leading to Secret Basement
A woman also found a set of stairs in her house, but these led down, to a huge basement.
Posting under the TikTok name Abi, the woman, thought to be from the U.K., revealed she found the staircase underneath a fake floor in one of her cupboards.
"We usually put the hoover in that spot over the stairs and it sounded hollow," she said.
They filmed the vast space which is tall enough to stand in, which had remnants of old posters on the walls, and even some shelves still up.
The video, from May, was seen 2.4 million times.
8. Woman Finds Abandoned 1900s Cellar Beneath Her New Apartment Filled With Food
Kira Wennerstrom also found a basement in her new apartment, but hers was filled with decades-old food.
Wennerstrom, from South Colorado, lifted up old flooring as she renovated, and found a trap door.
She captioned a TikTok clip, from July, which was seen 16 million times, saying: "We lifted up the carpet in my fixer-upper apartment and... should I go inside?"
Wennerstrom not only explored the cellar, but even ate some of the old food she found down there, including beef heart.
9. Couple Find 19th-Century Masterpiece Hidden Beneath 'Hideous' Carpet
DIY enthusiasts Annika and her wife, Rachel, bought a a four-bedroom house, complete with cellar and coal bunker, in the U.K., and shared their transformation online on their account @victorianadventure.
The pair reckon their home was built at the end of the 19th century, and found what they suspect are the original tiles under the modern flooring.
"Under this hideous carpet we found these damaged and dirty 1875 Minton tiles," Annika said in a TikTok clip.
Posted in September, it amassed nearly half a million views.
10. Couple Finds Secret Bathroom Hidden Behind Wall While Renovating Their Home
As we know, houses can sometimes be hiding numerous secrets, as another first-time buyer, Mia Bug, discovered.
In a TikTok clip, Bug explained the home, in Oklahoma, had a boarded-up drain, but when they removed the stud wall, they found a full bathroom instead.
The video, from April, shows the moment they see the fully tiled walk-in shower, which even has the caddy and soap dish still attached to the wall.
Bug captioned the clip, seen 2.8 million times: "Renovation finds... why."
11. Couple Discover Tiled Masterpiece Hiding Beneath Carpet in Their 1830s House
Carpets hide many secrets, as new owners, named Kathryn and Phil, found out as they restored a sprawling manor in England.
They've been sharing the restoration of their 1,200 square foot property—and grounds—online, but one find in particular stood out.
Kathryn discovered intricately tiled flooring beneath red carpet, which they spent years painstakingly restoring.
A montage of their efforts, posted to Instagram in July, was captioned "What was hiding under the red carpet," and was liked 151,000 times.