Our Favorite Documentaries of 2016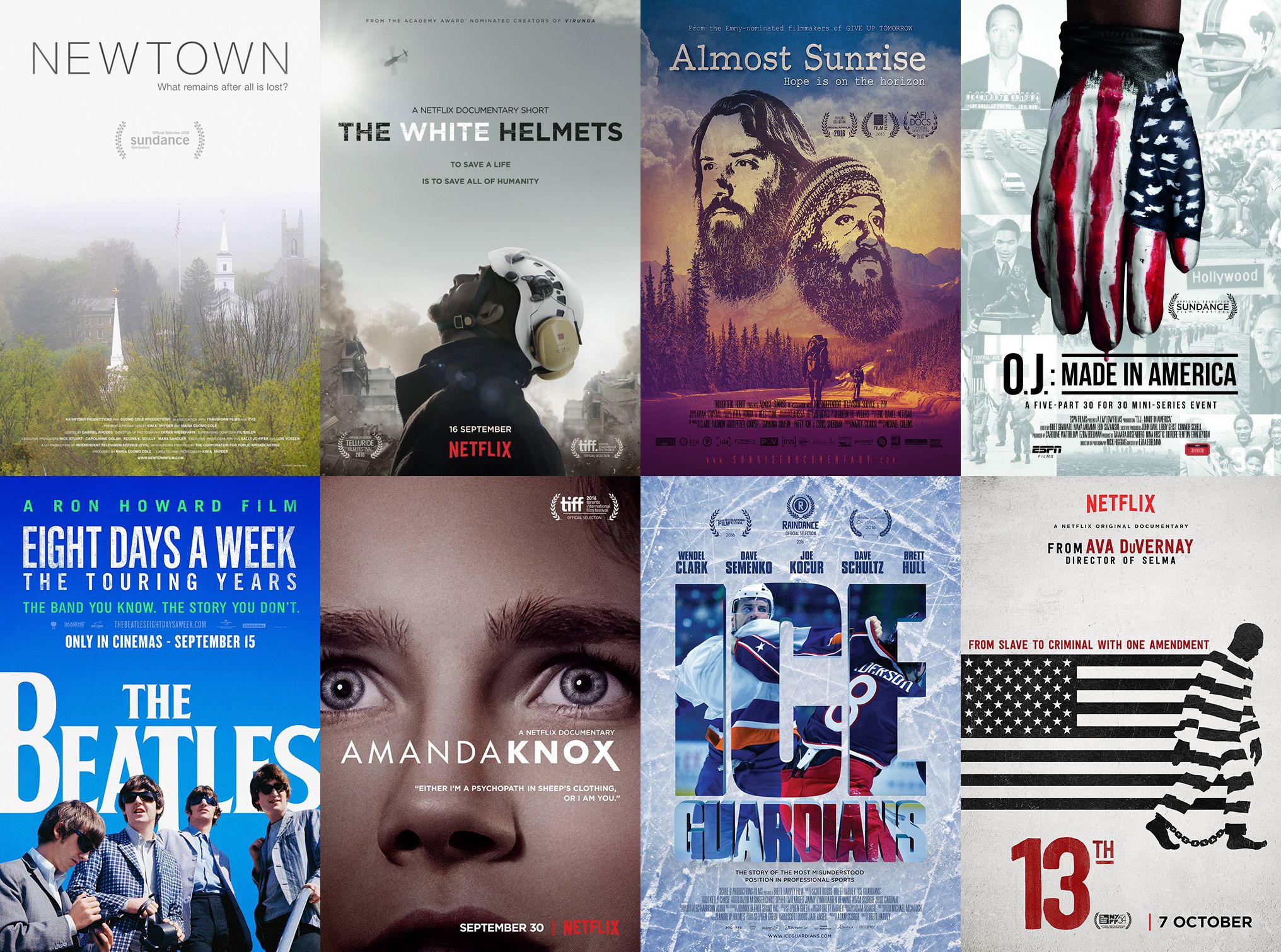 If 2016 has cemented any truth, it's that truth is drowning in a vast swamp of falsehoods. But in the midst of all that—perhaps in spite of it—there are still filmmakers committed to telling real stories. Newsweek staff members are sharing some of our favorite documentaries released this year.
Related: Our favorite TV shows of 2016
We've loved films that take deep dives into crimes and the investigations and trials that follow, like in the cases of O.J. Simpson and Amanda Knox; that reveal more about a piece of art or a favorite artist, like Merrily We Roll Along, Frank Zappa and the Beatles; that tackle serious issues like race and the criminal justice system; that take us places too dangerous to visit ourselves, like the war zone in Syria; and that tell us more about people from all walks of life, whether they are disgraced politicians like Anthony Weiner, hockey enforcers, a veteran dealing with post-traumatic stress disorder or the parents of children killed in a school shooting.
As news cycles move faster and include more fake items, these thoughtful, in-depth nonfiction works will play an increasingly important role. In July, we shared our favorite documentaries released during the first half of 2016. We still believe those are some of the best of the year, but we've added some new titles to the list (and reiterated or allowed other staffers to weigh in on titles that appeared previously).
White Helmets
This short documentary dives viewers into the dust, debris and darkness of northern Syria. It details the day-to-day lives of Syrian Civil Defense volunteers who work through the night to save victims—young and old—from the aftermath of death-dealing bombing raids. Following a former builder, a former blacksmith and a former tailor, who work together in the besieged city of Aleppo, the documentary shows their training in southern Turkey, capturing intimate moments between the team and their anxiety about loved ones across the border. They could flee and never return to the war zone, but they do.
The pace shifts from somber hotel room conversations, to the crashes and thunders of munitions, to the cheers and cries of the volunteers after rescuing a breathing baby from a building's rubble. It is free of narration, allowing the footage to tell its own harrowing story. As a result, White Helmets is 40 minutes of moving, powerful filmmaking that will stand as a piece of history about the sacrifices of these volunteers. It shows them in circumstances that most people could not, and will never be able to, comprehend, all the while deftly treating the subject with a neutrality reflected in the White Helmets's charter. A must-watch to understand the horrors of the Syrian conflict. —Jack Moore
The Best Worst Thing That Ever Could Have Happened
Over a 10-year period in the 1970s, Stephen Sondheim and Hal Prince had five critical successes on Broadway. Their one flop makes for a really good documentary. Lonny Price's Best Worst Thing That Ever Could Have Happened recounts the story of Merrily We Roll Along, the 1981 musical by Stephen Sondheim, George Furth and Hal Prince that closed after 16 performances. It also tells the story of those involved in the show and how their lives were affected by it. It is a "Making of" and a "Where Are They Now?," but here the sum is greater than the parts. It's a must-see for any theater fan, but anyone who might have experienced a major disappointment will also find a lot in it to enjoy. —Joe Westerfield
Almost Sunrise
The 2,700-mile walk from Milwaukee to Los Angeles was supposed to help Iraq War veteran Tom Voss with his PTSD. But when the trek, chronicled in this documentary, ended, he knew the healing process wasn't really over. It wasn't until Voss attended a meditation workshop in Aspen, Colorado, that he began to see results: a decrease in anxiety, stress, anger and depression. For many of the roughly 300,000 service members living with PTSD, medication doesn't treat it or the related malady of "moral injury." Alternative therapies, like yoga, meditation and acupuncture, are the other options. Not just a beautiful story of healing and a journey through the vast American West, Almost Sunrise also reminds us how vital it is to just breathe. —Lucy Westcott
Related: Veterans use meditation to soothe wounds to the soul in 'Almost Sunrise'
Weiner
You know the feeling of secondhand embarrassment? When you see someone puke on the subway or bomb the staff talent show? That is the sensation that courses through Weiner, Josh Kriegman and Elyse Steinberg's remarkable documentary about Anthony Weiner's New York mayoral campaign meltdown in 2013. The resurfacing of Weiner's tumultuous online sexual exploits felled the campaign but turns this documentary into a Shakespearean tragedy. It is not something you want to look at, and not something you can look away from. —Zach Schonfeld
O.J.: Made in America
The O.J. Simpson case isn't exactly an under-covered event in American culture. The White Ford Bronco is part of the lexicon and even a band name. Its trial captivated a nation and exposed racial fault lines to be even more deep and jagged than we imagined. Last year's FX series, based on Jeffrey Toobin's book and starring, among others, Sarah Paulson, won accolades and Emmys. This documentary series is even better. Mixing interviews and historic footage, it traces Simpson's life, from the projects of Potrero Hill in San Francisco through his stardom at USC to a superlative career in the NFL and then a pitchman and sportscaster. The film doesn't leave any doubt that he did it, and dispiriting interviews with his jurors make it clear that some were determined to find him innocent. The film doesn't leave any doubt that Simpson was a monster, prone to fits of rage and jealousy that were indulged by the many (mostly male) groupies who wanted to be in his orbit. But the exploration also elicits empathy for a man trying to fit into a white world. Such nuance marks a great documentary. —Matthew Cooper
The Beatles: Eight Days a Week—The Touring Years
Perhaps best remembered as supremely creative masters of the recording studio, the Beatles were no slouches onstage either, as Ron Howard's Eight Days a Week—The Touring Years makes gloriously clear in this revelatory chronicle of the band's days on the road. Fab Four fanatics will recognize only some of the footage here (storming America to appear on The Ed Sullivan Show in '64, the groundbreaking Shea Stadium concert in '65), compared with the abundance of little-seen concert clips and astonishing scenes of female fans' ecstatic hysteria. OK, as a live act they weren't Cream, and they never got the chance to become as great onstage as the Stones and the Who were by the decade's end. But during their performing years they could more than hold their own against the best of the '60s bands. Howard's film portrays Beatlemania's highs and lows, with no narration needed: The Beatles tell the story themselves, and Paul McCartney and Ringo Starr were freshly interviewed. Why the band had to stop performing by 1966 is revealed as both sad and unavoidable, as the madness and even danger surrounding their tours became intolerable. Thankfully, the studio beckoned. —Bruce Janicke
Amanda Knox
This year, the 9-year-old murder trial of American student abroad Amanda Knox made headlines again. But this time, those dark days in Perugia, Italy, were told, for the first time, through Knox's perspective. In this chilling Netflix documentary, filmmakers Brian McGinn and Rod Blackhurst fill in the mysterious crime story's gaps by telling it through the firsthand accounts of Knox, Daily Mail journalist Nick Pisa, Italian prosecutor Giuliano Mignini and Knox's former lover Raffaele Sollecito. The film offers an exclusive inside look that presents new facts while still leaving the ending—whether she was guilty or not—to viewers' speculation. At the beginning of the film, Knox says, "Either I'm a psychopath in sheep's clothing or I am you." —Yasaman Khorsandi
Ice Guardians
Ice Guardians asks viewers to accept this premise: Hockey enforcers—players known for fighting opponents and defending their teammates—are good for the game. Not only that but they help prevent cheap shots and dangerous plays that do more damage than fisticuffs. The reason: If players know they will have to face off with a fearsome fighter, they will be less likely to play dirty.
While I may not be 100 percent convinced of that claim, this doc itself is very well done and makes a forceful case. It certainly made me see enforcers in a different light, as underdogs willing to do a very difficult job to support their teammates, one for which they certainly suffer. Whether or not you agree with the premise, there's much more to digest here. In examining the role of enforcers, one cannot help but question basic concepts such as character, loyalty and fairness. Highly recommended viewing for any hockey or sports fan. —Douglas Main
Newtown
"Although sadly we've had so many mass shootings before and since, there was something about that age"—of the 20 first-graders who were killed at Sandy Hook Elementary School on December 14, 2012, along with six adults—"that did grab the world by its throat and say, 'If this doesn't get us to reconsider what's happening, what will?'" says Kim Snyder. The director of the exceptional and devastating film Newtown, she spent three years in Newtown, Connecticut, with parents and families of victims, first responders and doctors, interfaith leaders, neighbors, teachers and friends, and the result is a riveting, poignant account of personal and communal grief as it evolves over time. Viewers get to know Mark Barden, Nicole Hockley and David Wheeler—who lost their sons Daniel, Dylan and Ben—and hear from people like Sergeant Bill Cario, who was one of the first to arrive on the scene that tragic winter day. The film goes back in time to introduce viewers to those who were murdered, moves forward to contend with the myriad fluctuating narratives of the aftermath, and pauses on the day of the shooting—just enough to make it all cohere. It's an incredibly painful, emotionally draining experience. But it's an absolutely stunning film, made with patience, intelligence and sensitivity. And until America figures out how to eradicate gun violence and mass shootings, it's also a necessary one. —Stav Ziv
Related: 'Newtown' is a devastating, necessary film
Eat That Question: Frank Zappa in His Own Words
Frank Zappa was a rocker, a satirist, a classical composer, a vulgarian, a guitar solo obsessive, a visionary and a filmmaker—not necessarily in that order. After his 1993 death from prostate cancer, the iconoclast left behind a bevy of brilliant quotes and interview moments stemming from his tortured relationship with the press. (Music journalism, Zappa once remarked, consists of "people who can't write interviewing people who can't talk for people who can't read.") You don't have time to sort through the Zappa archives, but director Thorsten Schütte did, and he organized the most revealing moments into this fascinating, imperfect portrait of a fascinating, imperfect figure. Don't miss the part where Zappa talks about having a column rejected by Newsweek. —Zach Schonfeld
13th
Despite this year's tragic and difficult times—including the continuing Syrian crisis and escalating tensions between nations and neighbors on immigration and trade—13th offers a forceful reminder of why honest-to-god facts must be taken into consideration when reading today's headlines. It isn't enough to read what's news today. We must read it with an understanding of the context: how all people were treated in the past. The absurdities thrown at champions of equal rights for black Americans pile up so high that it can be difficult to, one by one, remove each to see the horizon again. 13th is a horizon maker, a fact checker, a remover of falsities. It is detox for the post-factual mind. A killer of lies and a light in the dark. It should be required viewing for every child; perhaps new generations will take more of a liking to facts and human rights than many of our world leaders seem to. —Margarita Noriega
Read more from Newsweek.com:
- The very best documentaries of 2016 so far
- Our favorite albums of 2016
- Our favorite books of 2016