Over 50 Florida Hospitals Run Out of ICU Beds for COVID Patients
As coronavirus cases in Florida surge, 51 hospitals in Florida have run out of beds in their intensive care units (ICUs), the wards where patients with the most severe COVID-19 symptoms are treated.
According to the Agency for Health Care Administration (AHCA), the entire state has only about 1,000 total ICU beds available for treating newly admitted coronavirus patients. It's a slight improvement over the 971 ICU beds that were available on July 16.
On July 7, Florida's Republican Governor Ron DeSantis pledged to acquire 100 nurses to help the hospital system of the state's largest and hardest-hit county, Miami-Dade, the Jackson Health System, because of the county's surge in coronavirus cases. The county may need more as case numbers remain high.
With over 473,000 total cases since the start of the pandemic, Florida ranks second amongst U.S. states with the highest overall number of confirmed COVID-19 cases as of July 29. The state has also had over 10 percent of the nation's total number of COVID-19 cases and a total of 6,332 total coronavirus-related deaths statewide.
The state began its phased reopening on May 5. Around mid-June, several bars in the state were closed again after patrons tested positive.
On June 23, DeSantis said he thought the state's case numbers might be inflated by testing errors. He also thought the same of Florida's COVID-19 death toll and suggested that coroners sometimes miscategorize as COVID-19 deaths the dying of people who had previously tested positive for coronavirus, including a man who had actually died in a motorcycle crash.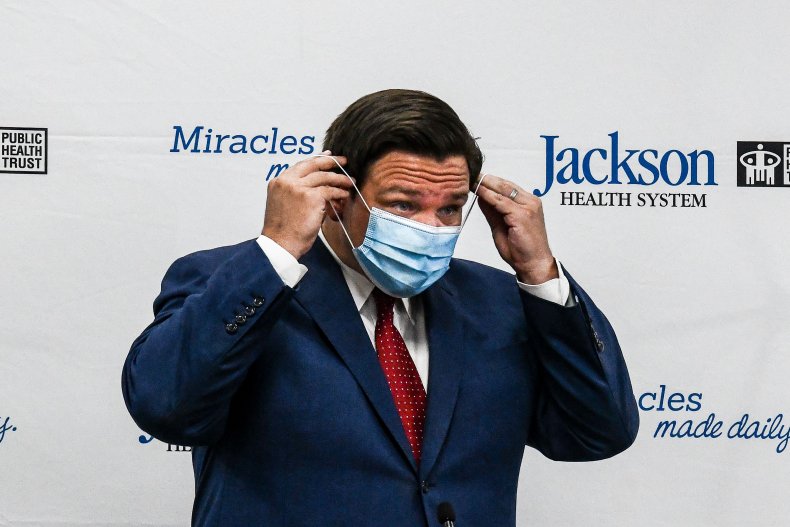 Nevertheless, in July, DeSantis extended Florida's state of emergency following a surge in cases. While the state of emergency is expected to be lifted in September, DeSantis and other officials have ordered the reopening of the state's public schools in August.
In protest, Florida's largest teaching union, the Florida Education Association (FEA), is suing the state. "Gov. DeSantis needs a reality check, and we are attempting to provide one," FEA President Fedrick Ingram in a statement.
Newsweek contacted DeSantis' office for comment.
Republican President Donald Trump had planned on holding the Republican National Convention in Jacksonville, Florida in August against the wishes of local police and city council, but Trump eventually canceled, citing worsening COVID-19 case numbers.
As several of the hardest-hit counties have instated mandatory mask orders, state Republican State House Representative Anthony Sabatini announced his intention to sue Broward County, the second most infected county, for requiring all residents to wear masks in public. Sabatini said he believes mask mandates violate the Fourth Amendment.
Florida is just one of 21 states across the nation that have been identified as viral "red zones" with an average of at least 100 new daily cases per 100,000 residents over the past week.