Prince Harry's Bombshell Memoir Could Address Unanswered Questions on Royal Feuds
Prince Harry's memoir already looks set to be the hotly anticipated autobiography of 2022 after sparking global headlines.
The Duke of Sussex promised a "wholly truthful" account of the "highs and lows" of his royal life, including the "mistakes."
He said: "I'm writing this not as the prince I was born but as the man I have become. I've worn many hats over the years, both literally and figuratively, and my hope is that in telling my story—the highs and lows, the mistakes, the lessons learned—I can help show that no matter where we come from, we have more in common than we think.
"I'm deeply grateful for the opportunity to share what I've learned over the course of my life so far and excited for people to read a first hand account of my life that's accurate and wholly truthful."
The couple have already said more than most about their own lives, with their CBS prime-time tell-all extended to cram more in.
However, there are still unanswered questions that royal fans may be keen for more information on.
Prince Harry and Meghan Markle's Interview
The most incendiary aspect of Harry and Meghan's Oprah Winfrey interview proved to be the allegation that a member of the royal family "expressed concern" about how dark the couple's unborn child's skin might be.
Meghan told Oprah: "In those months when I was pregnant, all around this same time, so we have in tandem the conversation of he won't be given security, he's not going to be given a title, and also concerns and conversations about how dark his skin might be when he's born."
Oprah later said the couple confirmed off-camera that neither Queen Elizabeth II nor Prince Philip were responsible.
Gayle King said on CBS This Morning a week later that she had spoken to the couple and they had shared some frustrations with her.
The host said on air: "No one in the royal family has talked to Meghan yet at this particular time and I think it's frustrating for them to see that it's a racial conversation about the royal family when all they wanted all along was for the royals to intervene and tell the press to stop with the unfair, inaccurate, false stories that definitely have a racial slant."
However, British newspapers also pointed out a difference in how Prince Harry and Meghan described the notorious conversation.
The duchess said it took place while she was pregnant with Archie, with the announcement she was expecting in Fall 2018 ahead of his birth in May 2019.
However, Prince Harry said it was much earlier, "right at the start," with their relationship being made public in October 2016 and their engagement announcement in November 2017.
He told Oprah: "That conversation, I'm never going to share. But at the time, it was awkward. I was a bit shocked.
"That was right at the beginning when she wasn't going to get security, when members of my family were suggesting that she carries on acting because there's not enough money to pay for her, and all this sort of stuff."
The biography could be an opportunity for the couple to iron out exactly what happens—and to potentially review their original decision not to name the person who made the comment.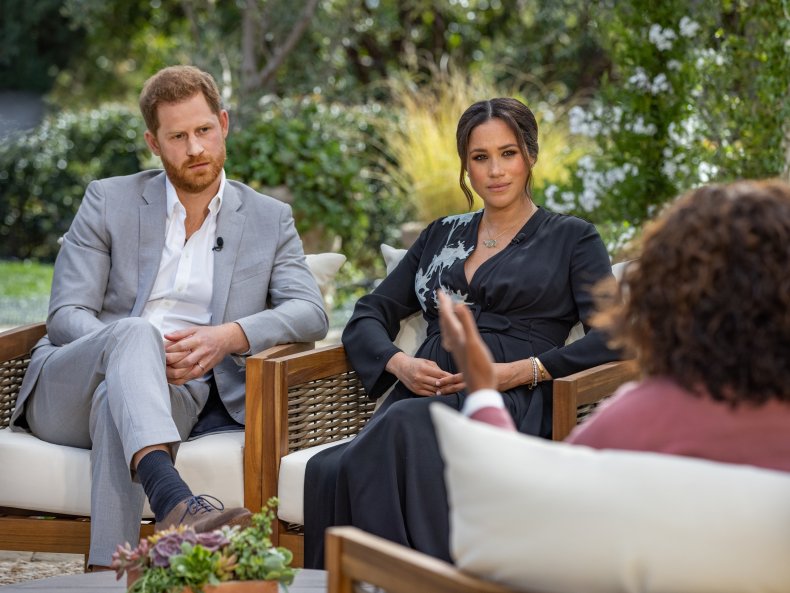 Meghan Markle and Piers Morgan
One of the couple's most repeated critics is Piers Morgan, the former host of ITV's Good Morning Britain, who chimes in almost every time there's a major story about the couple.
Morgan had a face-to-face meeting with Meghan on a visit to London shortly before she met Harry for the first time.
The presenter has mentioned it a number of times but Harry and Meghan have not mentioned him publicly.
The Duchess of Sussex did, however, play a role in Morgan quitting GMB after refusing the network's demands that he apologize.
The walk-out came after Meghan lodged a formal complaint with ITV over comments he made doubting her account of feeling suicidal.
Harry and Meghan have never given the full story on how they toppled their biggest critic and fans may want to hear more in the book.
Prince Harry, Prince William and Bullying Accusations
Prince Harry's rift with his older brother is famous enough that historian Robert Lacey wrote a biography about it titled Battle of Brothers.
The duke has mentioned it publicly, including for the first time during an interview with ITV in Fall 2019 while on a tour of southern Africa.
However, he has never fully engaged with the claims and counterclaims that have appeared in the media.
Lacey describes in his book how tensions between the brothers date back to an incident from Harry's youth when pictures of him dressed in a Nazi fancy dress costume were published on the front page of The Sun in January 2005.
William had been there when he hired the costume but shared none of blame when the image sent shockwaves through Britain.
The historian then charted how there were tensions from early in Harry's relationship with Meghan which then blew up when staff at Kensington Palace accused her of bullying.
Battle of Brothers quotes a friend of William who says the older royal kicked Harry out of the shared household at Kensington Palace, leaving him to set up a new office at Buckingham Palace.
Lacey wrote: "William, for his part, felt just as strongly about Meghan and the need for her subversive 'agenda' to be removed from the operations of the British monarchy, which she did not appear to understand or respect.
"He certainly wanted Meghan removed, for a start, from the hitherto harmonious joint household that he and his brother had operated together for the best part of a decade. William simply did not want her or Harry around anymore."
Harry could use his memoir to give his own account of disagreements with William over the bullying allegations.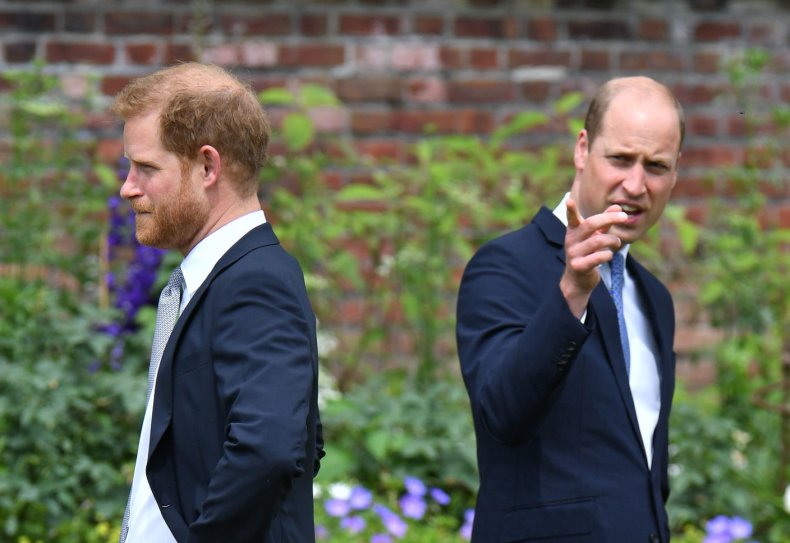 Prince Harry's Military Career
The duke's book will cover his time in the British Armed Forces including his two tours of Afghanistan, publisher Penguin Random House confirmed.
Harry has not shared many anecdotes of real life events on the front line, though he told the BBC in 2013 he had fired on the enemy in Helmand Province.
However, there may be more to tell as he also hinted that at least one of his experiences may have had a profound emotional effect.
The duke told the Armchair Expert Podcast in May: "Helplessness, that is my biggest Achilles heel.
"There were three major times that I felt completely helpless, one when I was a kid in the back of a car with my mum being chased by paparazzi, two was in Afghanistan in an Apache helicopter and then the third one was with my wife."
However, there is another aspect of his military career that may attract attention if he chooses to write about it.
Prince Harry filmed himself describing Pakistani cadet Ahmed Raza Khan as "our little P*** friend" while training at Sandhurst Military Academy.
The duke also said an English soldier wearing a headscarf "F*** me, you look like a raghead" in the 2006 footage, which was leaked to the News of the World three years later in 2009.
Since then, Prince Harry has been by Meghan's side as she experienced racism in Britain, including when a suspicious powder, which turned out to be harmless, was sent to them along with a racially abusive note.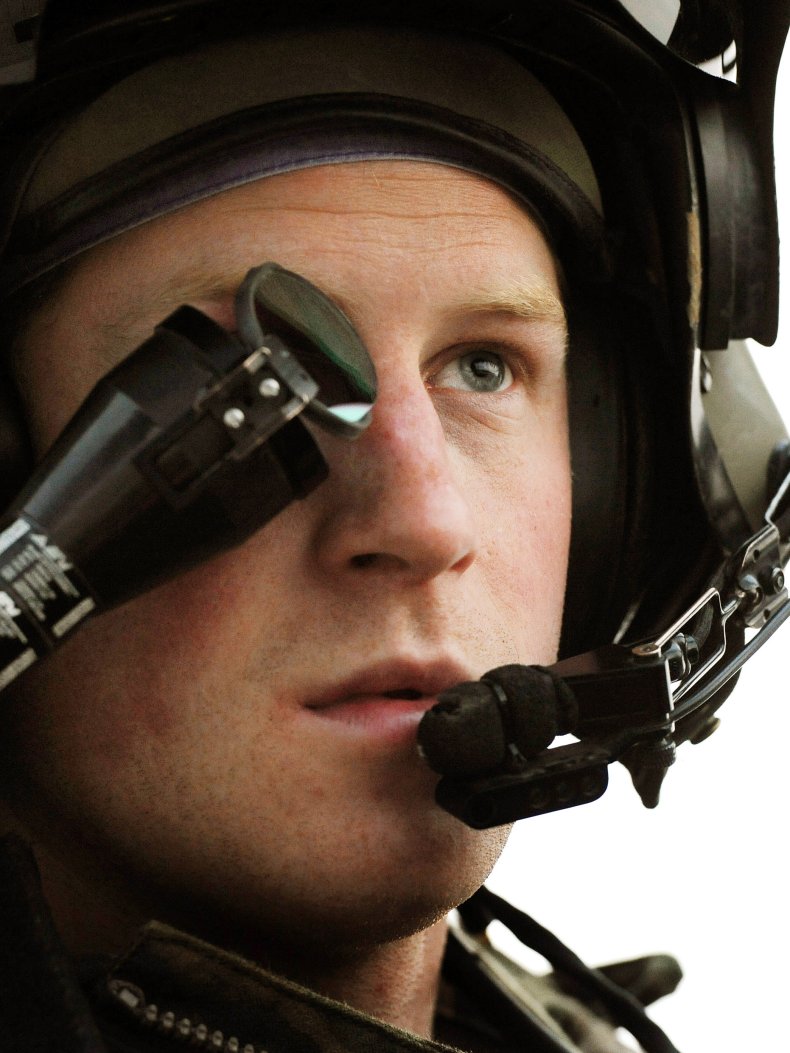 The duke has spoken about racism and unconscious bias several times but has never fully revisited his own past scandals.
Alongside that incident is the famous front page of The Sun newspaper showing the photograph of Harry dressed in a Nazi uniform at a fancy dress party.
The closest he has ever come to mentioning either incident since his awakening to the damage caused by racism was in his May appearance on the Armchair Expert podcast.
He said at the time: "I thought I understood life, especially bearing in mind most of the countries I was going to and the communities I was going to were people of color.
"I had to uncover and understand more about unconscious bias. I thought since I screwed up when I was younger and then did the work, I thought I then knew but I didn't.
"And I still don't fully know. It's a constant work in progress and every single one of us has it."