RNC Lineup Lays Bare Trump's Split From Republican Party's Past
A lack of party grandees appearing at the Republican National Convention (RNC) highlights the divide between President Donald Trump and the GOP's past, while offering a stark contrast to the Democratic event's lineup.
Former Democrat commanders-in-chief Barack Obama, Bill Clinton and Jimmy Carter delivered addresses at last week's Democratic National Convention (DNC), in which figures rallied around candidate Joe Biden to boost him in the run up to November.
The support of Obama, as well as former first lady Michelle Obama, garnered the spotlight given his harsh criticism of Trump in a pointed public attack on his successor.
Biden's predecessor as the Democratic presidential candidate Hillary Clinton also appeared at the DNC, as did fellow former Secretary of State John Kerry.
In contrast, George W. Bush, the only living former Republican president, is not listed to appear at the RNC to offer support to Trump.
He did not vote for Trump in 2016 and questions have been raised over whether he will do so in 2020, though he has not indicated publicly how he will cast his ballot.
At the 2012 RNC, he appeared alongside his father George H. W. Bush, who died in November 2018, advocating for then candidate Mitt Romney, who remains a Republican senator for Utah.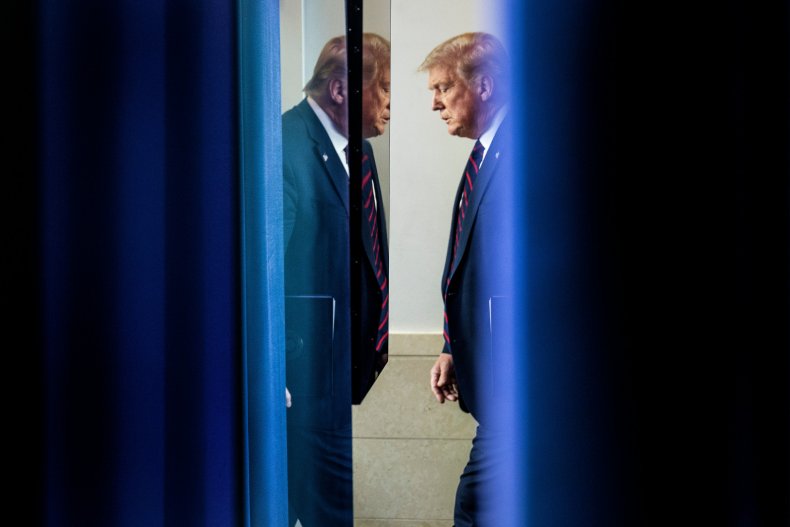 Romney, who lost to Obama in 2012, has clashed with Trump during his tenure and is predictably not among the RNC speakers this year—drawing his ire from the president after voting to convict him on one abuse of power charge at the end of his impeachment trial.
Romney has declined to explicitly say who he will be voting for. However, he has said he believes Trump will be reelected.
"I think a number of factors are in play here, one of which is that the traditional Republican party grandees don't necessarily reflect where the current GOP is at the moment (or at least its base)," Dr. Matthew Mokhefi-Ashton, a lecturer in politics and international relations at Nottingham Trent University, told Newsweek in an email, in regards to the lineup.
"Trump has dismissed many of them as RINOs or questioned their capability/loyalty, so I think in a way it's no surprise the convention speaking slots are mostly stacked with family members and ultra-loyalists."
Expanding on the contrast between the RNC and the DNC, he said: "I don't think many of the grandees are necessarily massively enthusiastic about Biden, however no one wants to be seen as not supporting him publicly in case Trump wins and they get the blame for it."
The president and members of his family are set to feature heavily throughout the RNC, with the Trump campaign stating the event will "honor the great American story, the American people that have written it, and how President Donald J. Trump's Make America Great Again agenda has empowered them to succeed."
A number of prominent Republicans currently in Congress, such as Senate Majority Leader Mitch McConnell (R-KY) and House Minority Leader Kevin McCarthy (R-CA), who both spoke at the 2016 RNC too, will also appear.
Dr. Mark Shanahan, associate professor and head of the department for politics and international relations at the University of Reading, said he thinks the list of speakers highlights a divide in the Republican party.
"The line-up—essentially the first family plus trusted conservatives—reflects the division that exists between the party and the president today," he told Newsweek.
"Trump demands a personal loyalty which does not reflect well with either Republican dynasties such as the Bush family, or with recent senior figures of standing in the GOP such as Ted Cruz or Mitt Romney. Many of the figures slated to speak have little national resonance—or, such as the McCloskeys, reflect the division in the nation the president seems keen to focus on."
Biden, on the other hand, painted a united picture of the Democratic party with the DNC, Shanahan said.
Trump meanwhile "arrives at the RNC unchallenged, but also seemingly pretty friendless," he added.
This situation, along with adviser Kellyanne Conway's departure from the White House, wounds Trump, though if he performs well at the convention he could still make it a success, Shanahan said.
"If he can make himself the story across the media, he can still make this Convention a success. If he can rouse his base, he remains competitive. If he can pull out a rabbit and swing some undecideds, he could still prevail in November," he said.
"The election won't be won this week, but it could be lost. If the RNC is as lacklustre as it looks from the outside, he's definitely in trouble."
Ken Farnaso, deputy national press secretary, told Newsweek the RNC would show a "stark contrast" to the DNC, while stating viewers will see "everyday Americans."
He said: "The RNC will showcase an uplifting and patriotic message that stands in stark contrast to doom and gloom portrayed at the Democrat convention. Viewers can expect to see everyday Americans—not just Hollywood elites and career politicians—sharing their stories about how President Trump's America First agenda is opening up opportunities and how Biden's socialist manifesto would roll back those changes."
Newsweek has contacted the Biden campaign and DNC organizers for comment.
While the RNC lineup could be interpreted to show the split against Trump, the president also faced a direct rebuke on Monday with more than two dozen former Republican members of Congress openly endorsing Biden.
This pushback has been swiftly rebuked by the Trump campaign, though, with those involved branded members of the so-called swamp—which the president has long spoken of rallying against.
"Joe Biden has been a failure in the Washington Swamp for a half century, so no one should be surprised when Swamp creatures gather to protect one of their own," Tim Murtaugh, the Trump campaign's director of communications, told Newsweek in an email.
While pushes against the president from within the Republican party's own ranks have grown, voters who usually align with the GOP but might have been considering voting for Biden have somewhat shifted over to Trump in recent times, according to polling.