Complementary Protection May Be at Hand With a COVID-19-Preventing Nasal Spray
Vaccinated citizens can still transmit the COVID-19 virus and its variants to other people. Salvacion USA Inc. is therefore excited to introduce the development of a complementary product, designed for adults 18 and older, it hopes could accompany COVID-19 vaccines to offer additional protection: a nasal spray to shield the nasal passages and prevent further viral transmission. (However, CDC guidelines should still be followed, and those who are eligible should receive the COVID-19 vaccination.)
COVID-19 vaccination numbers in the U.S. have now reached nearly 50 percent, and Americans are eager to resume life post-pandemic. However, as flu season approaches and the COVID-19 vaccines' efficacy and longevity have come under question, communities are increasingly concerned about the virus and its Delta and unknown variants—especially as children return to school this fall. Experts have also speculated this pandemic could become endemic, cycling from season to season. For these reasons, we must continue to stay ahead of the rapidly updating situation and arrive at innovative strategies.
Salvacion's new technology is gaining momentum among the scientific community. The National Cancer Institute–established Nanotechnology Characterization Laboratory (NCL) recently selected Salvacion USA Inc. as one of its Assay Cascade awardees for Salvacion's nasal spray, trade name: COVIXYL-V. The announcement appeared in NCL's June 2021 quarterly newsletter, in which Salvacion noted, "COVIXYL-V is intended to reduce SARS-CoV-2 in nasal passages, a main point of entry for the virus in humans. Our unique virus-blocking product, optimized in collaboration with NCL, contains agents which block the virus from attaching to tissue and reducing the viral load in the tissue milieu."
According to NCL's announcement, "Nanomedicines accepted into the program will undergo a rigorous evaluation that may include sterility and endotoxin testing, physicochemical characterization, in vitro hemato- and immunotoxicity, and in vivo studies to evaluate safety, efficacy and pharmacokinetics. The studies are tailored to each individual nanomedicine and are designed to promote the clinical translation of these novel therapies."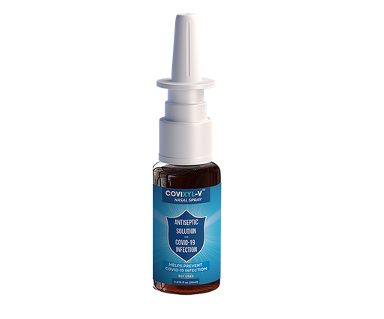 Among Nanotechnology Characterization Laboratory's's five awardees, Salvacion is the only one working on a product intended to avert the spread of COVID-19. As an Assay Cascade awardee, NCL commits to funding Salvacion studies free of charge.
Ryan Hwang, a Salvacion spokesman, said, "Our product is preventative and protects nasal passages, halting transmission. Vaccines are developed to protect against COVID-19, but they are not designed to stop transmission. Our strategy is complementary to the effectiveness of vaccines by deterring COVID-19 infection by blocking the transmission."
Salvacion's clinical human trials are currently underway. In vitro and in vivo testing performed thus far suggested that the nasal spray inhibited 99.99 percent of COVID-19. This spray effectively blocked COVID-19 activity in the nasal passages of hamsters, the prime entry points for the virus. One study, performed by an independent BSL-3 laboratory (which, according to Public Health Emergency, is a lab "used to study infectious agents or toxins that may be transmitted through the air and cause potentially lethal infections"), showed that COVID-19 was 99.99 percent inactivated post-spray, with no clinical symptoms experienced by Syrian hamsters from the treatment. No adverse reactions were reported in the hamsters following administration. The data developed in this study showed that the nasal spray product was effective in neutralizing the virus within low concentrations. An additional barrier effect animal study undertaken at an independent laboratory also assessed the COVID-19 blocking effects of the nasal spray. It concluded that the spray created a physical barrier to block the viral particles from taking hold on the surface of the nasal passages. The testing was to prove the mechanism of the nasal spray is capable of blocking the transmission of COVID-19 by creating a physical barrier. The next step is the conducting of a human clinical trial, which is now underway. Salvacion is currently seeking an Emergency Use Authorization (EAU) for its COVIXYL-V nasal spray from the FDA.
This nasal spray is made of ingredients listed as GRAS, or "Generally Recognized As Safe," by the FDA. Unlike other products based on isopropyl alcohol currently being tested, it appears Salvacion's nasal spray could offer a unique blocking system with enhanced effectiveness at a very low concentration. A worldwide patent has been filed for this technology.
"Our nasal spray product may well be the key to moving back to a world that some have thought lost forever to the 'new normalcy,'" said Abdul Gaffar, a Salvacion chemist and recipient of the American Chemistry Society's Heroes of Chemistry Award, who invented this nasal spray.
The contents of this article are for informational purposes only and do not constitute medical advice. It's important to consult with your medical providers and the CDC before making any medical decisions or changes to your health plan, particularly with regard to COVID-19 and its variants.