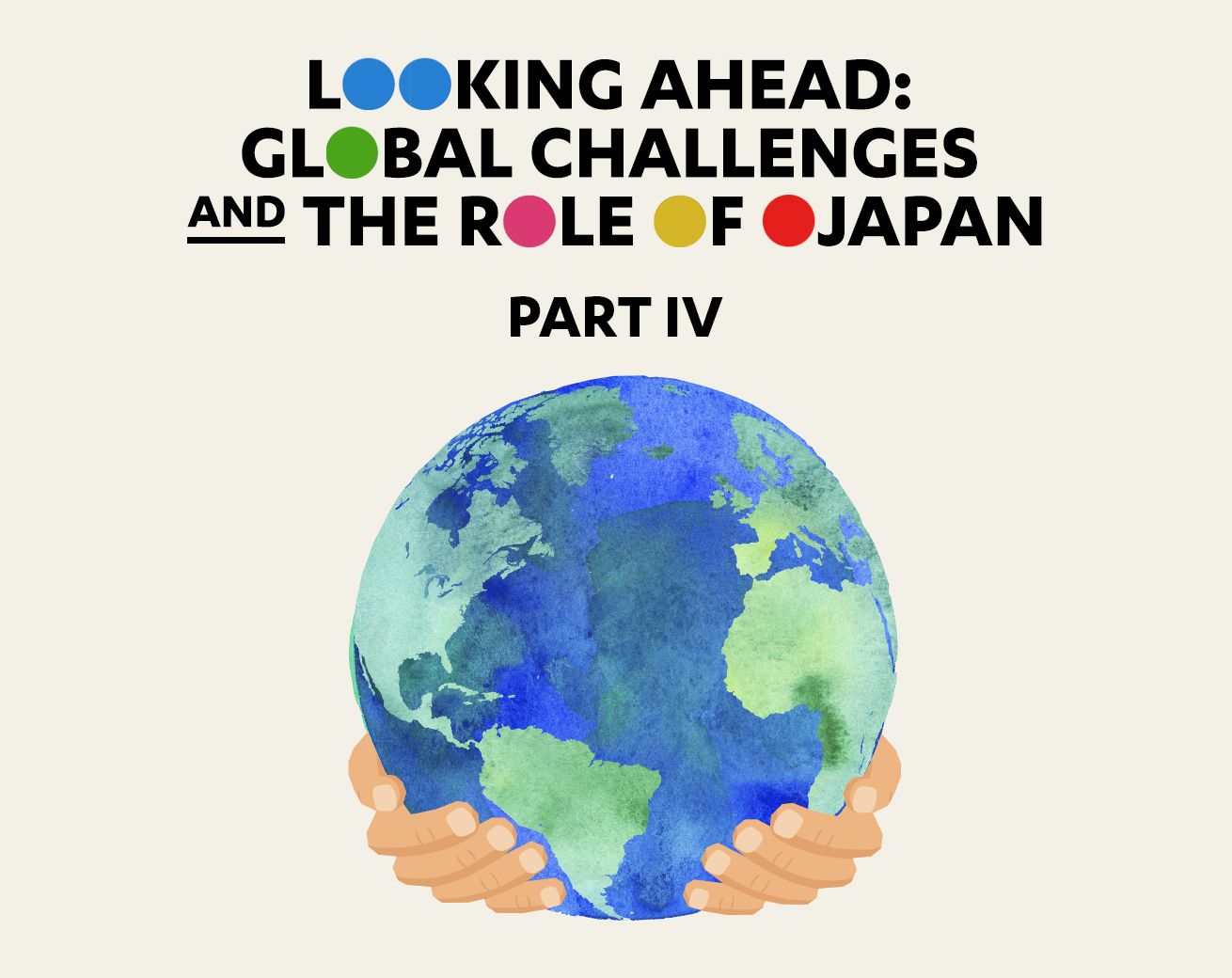 How Japan Is Committed to Education for All
Technological innovation and globalization have opened up seemingly limitless economic opportunity in every corner of the world. Yet the unprecedented pace of change has also created serious challenges, including environmental degradation, economic marginalization and the rise of extremism. In today's integrated world, these issues need to be addressed by all nations, both developed and developing, with all of society's stakeholders shaping the solutions. Members of the United Nations demonstrated the international community's resolve to address such challenges by adopting the Sustainable Development Goals (SDGs) in 2015.
In pursuing the 17 goals, all stakeholders—particularly women, the young, the elderly and people with disabilities—must be fully involved in key decisions for identifying their social and economic objectives, as well as articulating their approaches. Basic education for all is the first step in realizing this goal but there are over 264 million children who do not attend school regularly —more than half of them living in sub-Saharan Africa. Worldwide, 617 million children lack basic mathematics and literacy skills.
Japan's economic and social development has been spurred by human resources, not natural resources, so it understands the value of investing in the next generation and is dedicated to improving quality of life and access to education around the world.
Japan hosts the G20 summit in June and the 7th Tokyo International Conference on African Development in August. These opportunities will enable Japan to further cooperate with wide-ranging stakeholders involved in advancing universal education.
Education for All: Non-Formal Education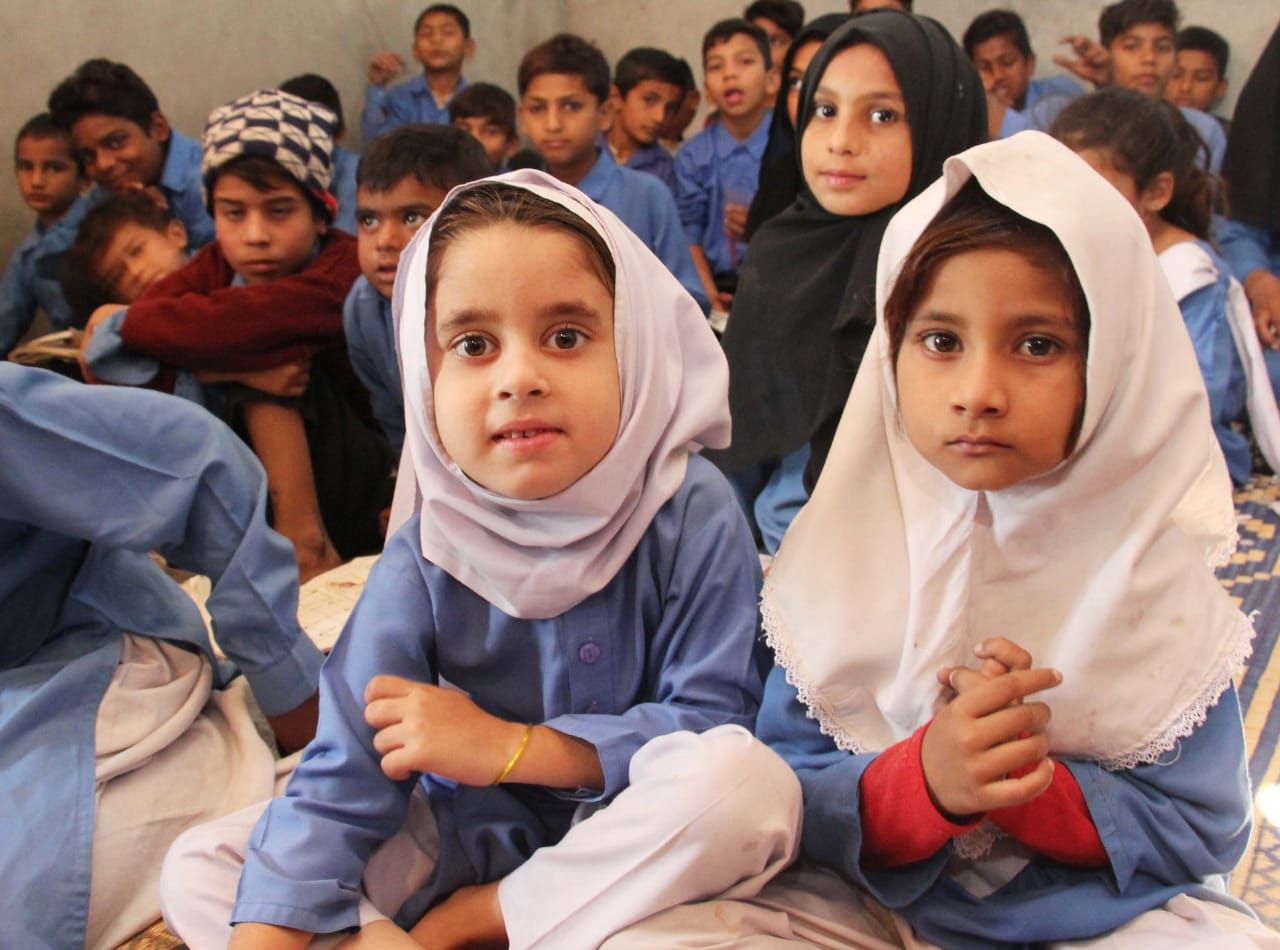 Pakistani children gathering to receive education
JICA
"Education for all" means going beyond formal education by considering varied needs, backgrounds and multi-grade teaching environments. Such efforts, often categorized as literacy and non-formal education, are rare opportunities for thousands to complete their primary education. They also broaden prospects for continuing education by getting learners reintegrated into formal education in secondary schools and technical and vocational institutes.
Japan has supported local efforts in non-formal education in developing countries. A prime example is Japan's work in Pakistan, which has a 58 percent literacy rate and is home to the second largest population of children not in school in the world. More than 22.8 million children ages 5 to 16 do not attend classes in Pakistan, 12.1 million of them girls.
Through the Japan International Cooperation Agency (JICA), Japan has supported the Pakistani government in developing an alternative system of non-formal education and adult literacy. Accelerated curricula, textbooks and standards and interactive teaching methods make it possible for unenrolled children to access a primary-school education at any age, in an informal learning environment with flexible hours. Through an accelerated program of study, learners can completes five years of academic development in just three years.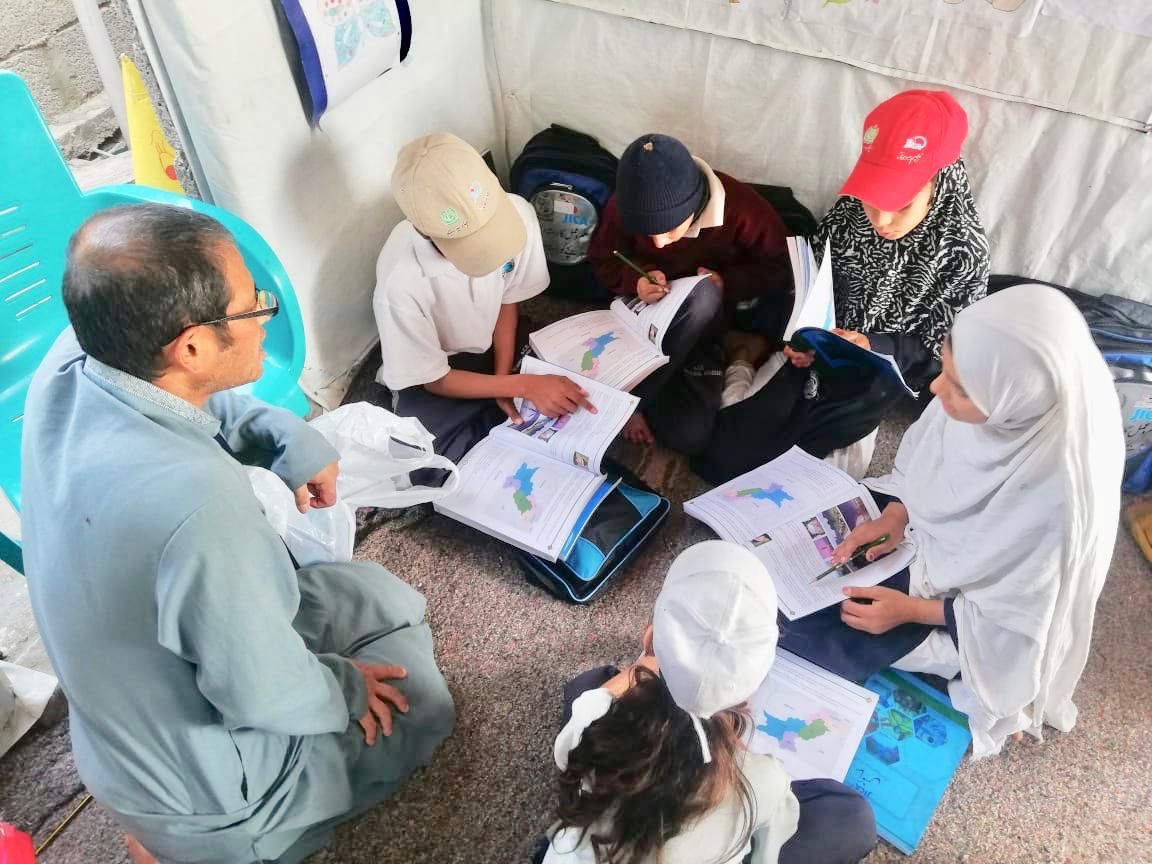 A Japanese expert with Pakistani children having non-formal education
JICA
The project has also developed close partnerships with federal and provincial governments, development partners and the private sector across Pakistan. Through these strategic partnerships 1,107 non-formal schools have been established nationwide. In these schools 35,000 girls and boys are currently enrolled and have made their way back to schools through accelerated non formal education.
"Access and quality of basic education are still predominant challenges in Pakistan," says Yasuhiro Tojo, Chief Representative of JICA Pakistan. "Non-formal education provides an opportunity to learn anytime, anywhere and at any age. It also gives an opportunity for social inclusion to poor and vulnerable communities, women, minorities, immigrants and those in remote areas."
One parent admitted he was initially not in favor of his daughter going to school. But when he saw she was able to read the electricity bill and spoke respectfully to her elders, he wanted his younger children to attend classes, as well.
Education for All: Education in Non-Electrified Areas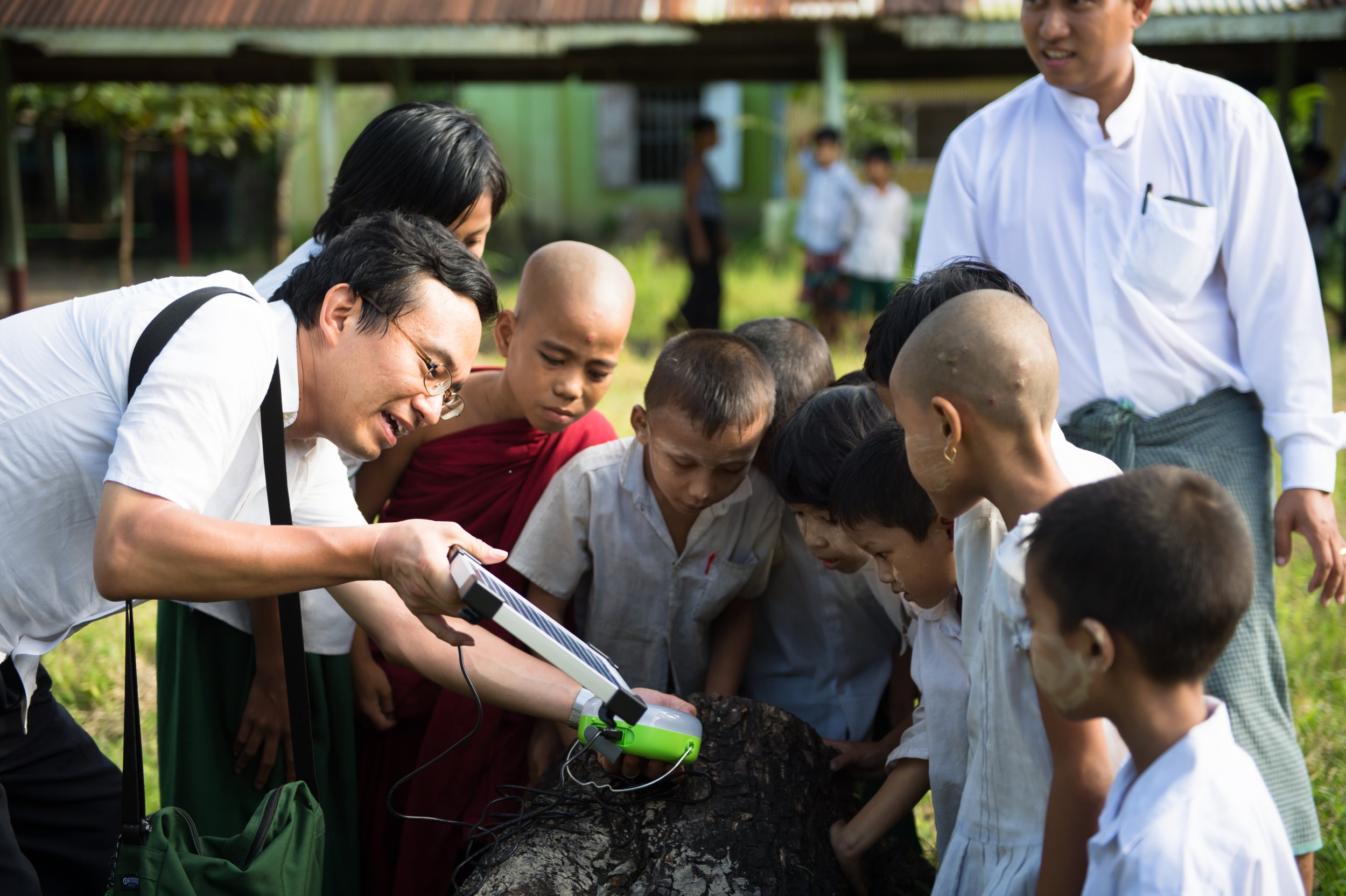 The children listened intently to the introduction on solar lanterns
Panasonic
Nearly one in six people around the world live without regular electricity, a major stumbling block to learning. Without power, students cannot study in the early morning, the evening—or even in bad weather. Panasonic, which specializes in energy storage technology, has developed a low-priced, high-quality solar lantern. From 2013 to 2018, the company donated more than 100,000 solar lanterns to 30 countries in Africa, Asia and Latin America. Thanks to this donation, people can study whenever and wherever they want and the learning environment has improved in many countries.
In the Philippines, enrollment in one primary school increased 12 percent after the solar lanterns arrived. In Cambodia, the lanterns are used in evening literacy classes for adults who farm during the day. In Myanmar, the rate of students who advanced to the next grade went from 57 percent to 100 percent.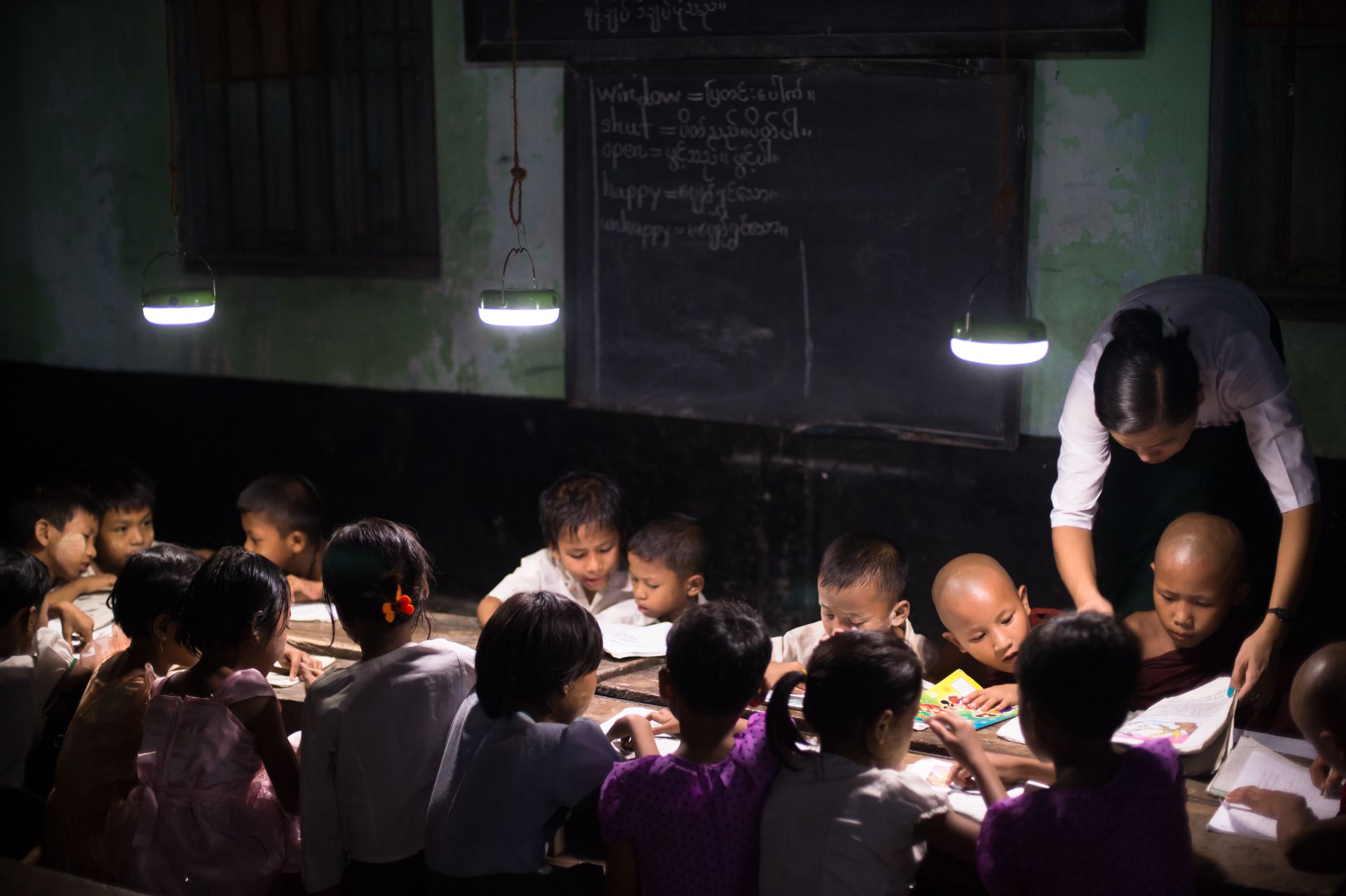 Three new solar lanterns hanged from the ceiling provided enough light to study
Panasonic
"A girl who loved to study was very excited that she could now study at night because a lantern was delivered to her home," said Panasonic representative Akiko Asano. "Her eyes sparkled as she read aloud from her textbook."
The lanterns are also useful for nighttime births: "Birthing assistants can use the lantern at night to get to the mother in time for the delivery," explained Asano. "In addition, giving birth at night was dangerous because it was completely in the dark… Delivery under the light of the lantern, though, is safe. We've received reports from the local people that the lamps helped to bring many new lives into the world."
Education for All: Education in Remote Areas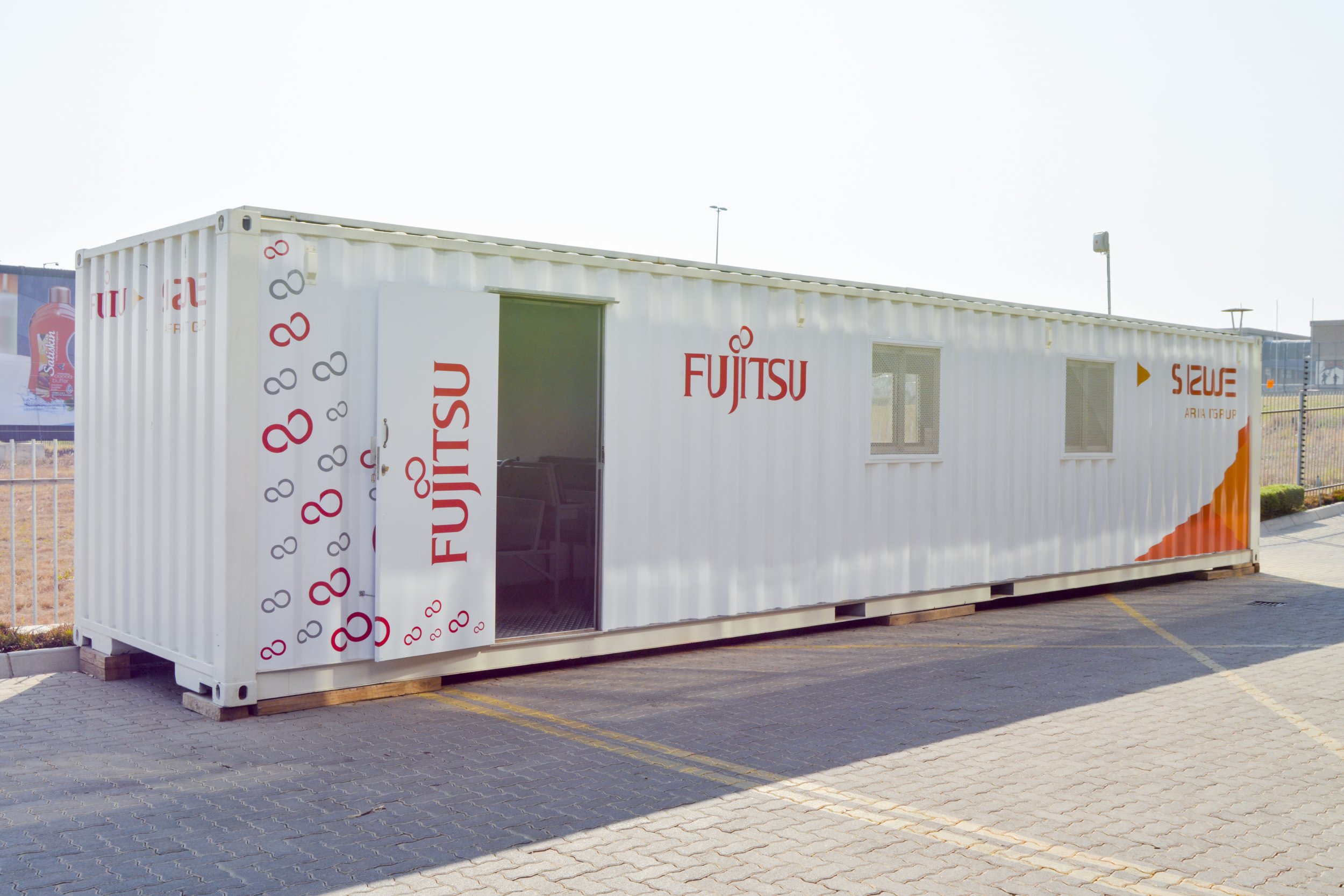 Movable container typed The Edu-Smart Green Centres with solar panel
Fujitsu
For people in remote areas, access to schools and teachers may be limited, especially in higher education. What if we could use the Internet and other advanced information and communication technologies to deliver higher education to these remote regions? What if a classroom was powered by renewable energy, like sunlight? Fujitsu, a leading Japanese ICT company, has made this possible by producing self-sufficient classroom labs in rural South Africa. Working with Sizwe Africa IT Group, Fujitsu has developed Edu-Smart Green Centers, standalone eco-friendly classrooms that are solar-powered and constructed like shipping containers. Teachers use a touchscreen whiteboard and the classroom's 27 seats are all outfitted with computers loaded with educational content. An Edu-Smart module can be delivered, built and fully functional in just 10 weeks.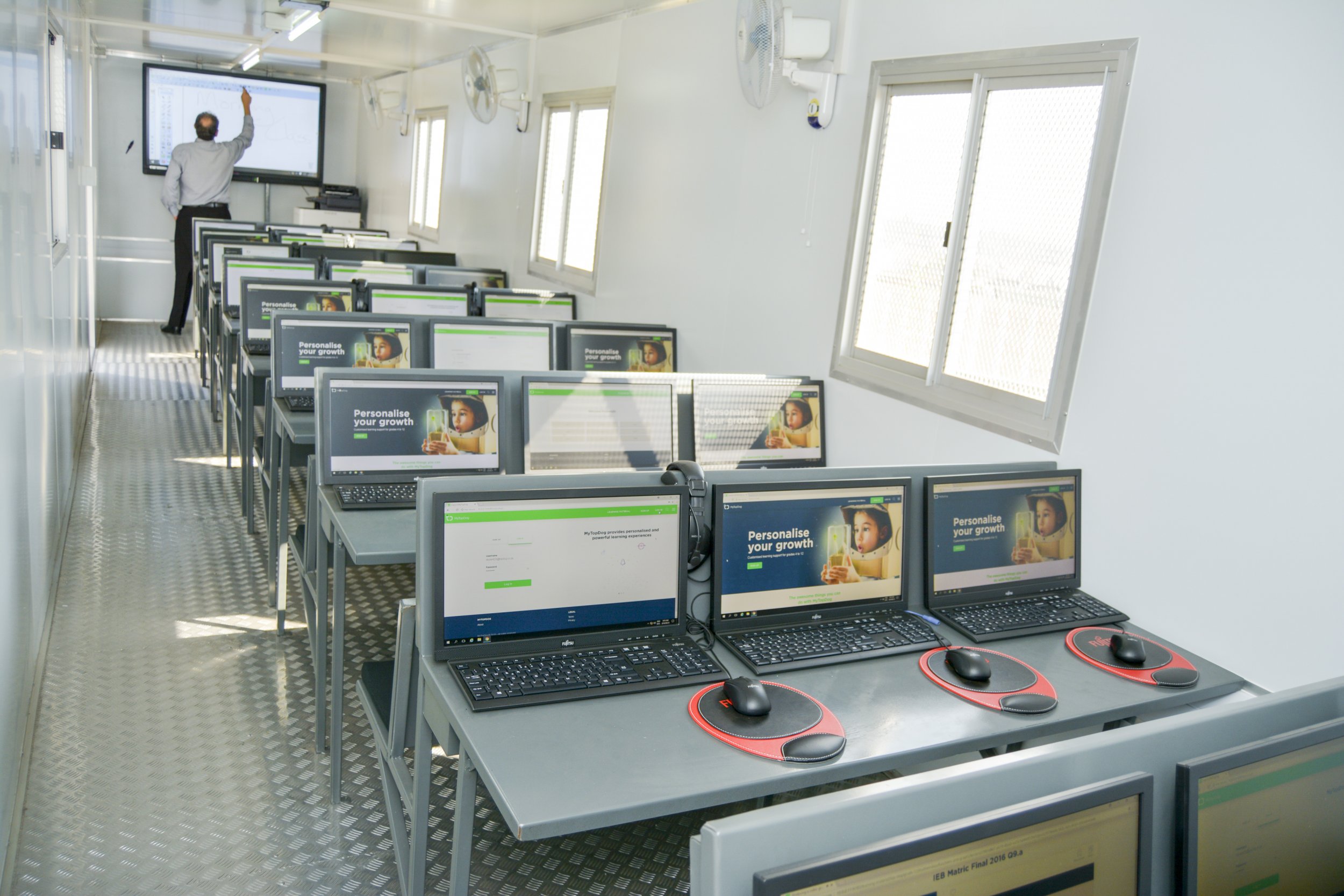 The Edu Smart Green Centres equipped with the latest digital learning devices
Fujitsu
"Education is in crisis is South Africa and the region as a whole," says Fujitsu South Africa managing director Hannes Burger. "In the Eastern Cape alone there are still over 400 mud structures used as schools. How do you bring technology to these areas? This is why the Edu-Smart Center was designed, to educate future generations and help empower youth through technology."
Fujitsu is already considering bringing the classrooms to neighboring countries like Namibia, Botswana and Zimbabwe.
Sustainable Education: Teaching How to Fish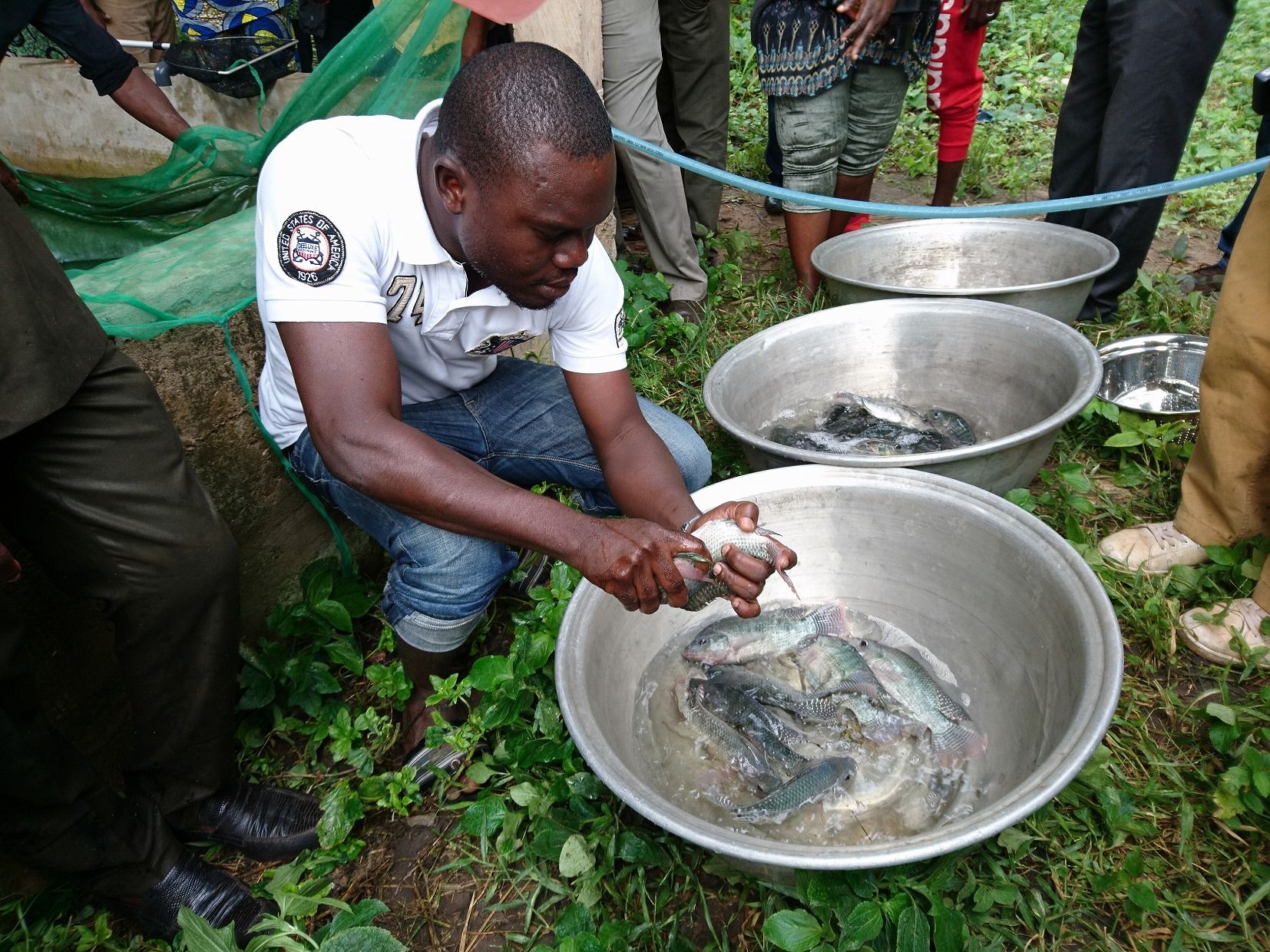 A project counterpart in Benin examining sex of tilapia parent fish
JICA
Education and human-resource development are the foundation of nation-building. In addition, any community needs to educate their next generation and improve human resources by themselves.
The Project for Extension Inland Aquaculture, a unique program supported by the Japanese government in Benin, symbolizes the well-known proverb, "Give a man a fish and you feed him for a day; teach a man to fish and you feed him for a lifetime."
The program does not simply disseminate aquaculture techniques to the local community, but also nurtures core fish farmers who can teach aquaculture techniques to others. The number of Japanese experts who can teach the method is limited, but if local fish farmers can spread aquaculture techniques in Benin it will be benefit future generations.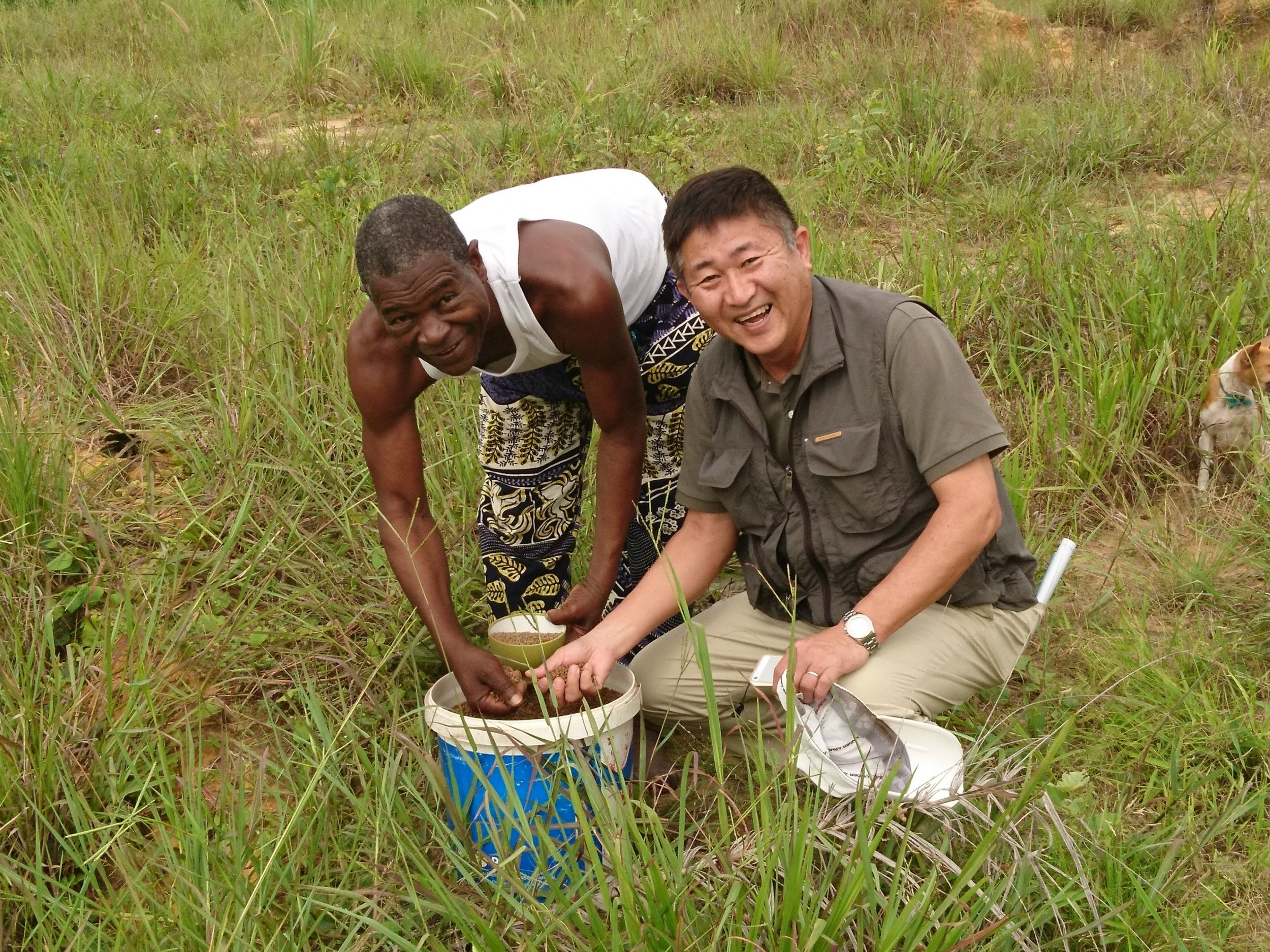 Dr. Doi summarizing technical guidance to aquaculture farmers
JICA
Developing human resources is critical for the successful of this project: In the first 4.5 years, 20 core fish farmers were trained and about 3,000 ordinary fish farmers participated in training courses. In the second phase, training programs will be improved to enhance the productivity and scale of existing fish farmers, as well as to increase the number of new fish farmers.
"After finishing Phase 1, some core fish farmers organized farmer-to-farmer trainings spontaneously," says project leader Dr. Masanori Doi. "It's now common for core fish farmers to provide quality fish seeds for other cooperation projects and act as trainers. The 'farmer-to-farmer' approach developed in Southeast Asia can be adopted in other developing countries. We have identified six neighboring African countries as technical exchange targets and are providing them with information."