Sponsored Article
Where to Buy the BinaxNow COVID-19 Test Online: Get Your Results in 15 Minutes
Test Yourself at Home for Only $49.99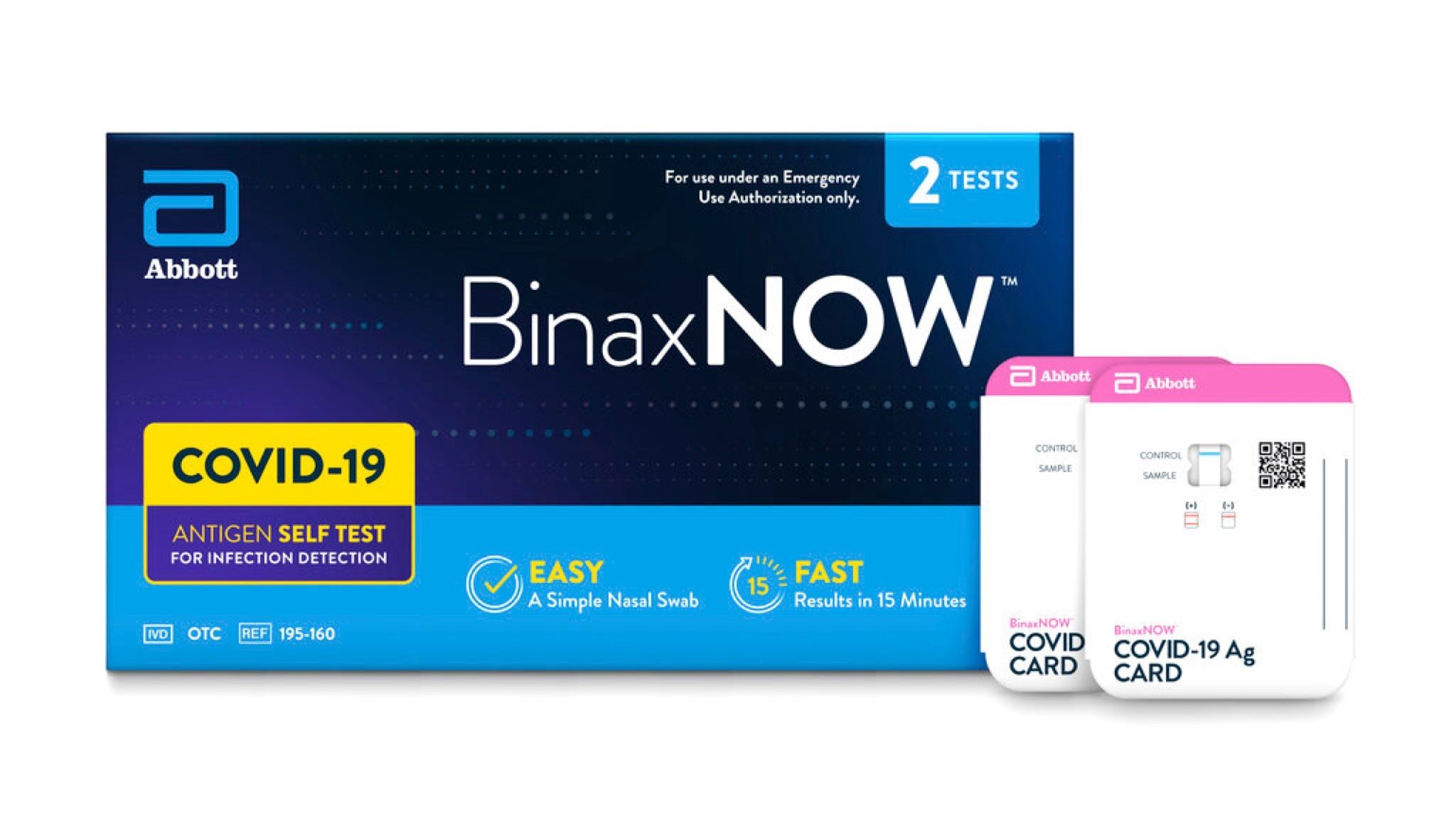 The contents of this article is for informational purposes only and does not constitute medical advice. It's important to consult with your medical providers and the CDC before making any medical decisions or changes to your health plan, particularly with regard to COVID-19 and its variants.
Throughout the first year of the pandemic, getting a COVID-19 test typically required visiting a city testing site, laboratory, or health care center. The process often involved scheduling appointments, long waits, long lines and slow results. Yet getting results fast and self-isolating sooner has been essential.
Now Americans can easily take rapid virus tests from the comfort of their own homes rather than going to a nearby pharmacy or health center. Many of these tests are affordable, available over the counter and return results in as fast as 15 minutes. In addition, you can get these at-home tests quickly from online retailers like DMB Supply.
The BinaxNow home antigen tests have been issued an emergency use authorization (EUA) by the U.S. Food and Drug Administration (but have not been FDA approved).
In recent months, the demand for at-home tests has surged due to schools and businesses reopening, and as newer Delta, Lambda, and Mu variants of the COVID-19 virus spread. As a result, it can be a challenge to find at-home tests at local retailers. So if you're looking for an at-home COVID-19 test, here's what you need to know, how they work, and where to buy the BinaxNow COVID test online for fast results.
How Accurate Are Rapid Antigen Tests?
At-home antigen tests may not be as accurate as a polymerase chain reaction (PCR) tests done in a lab. However, they're still highly effective at detection and may give you peace of mind if it the results are negative or get people to self-isolate sooner.
Rapid antigen tests are less sensitive than PCR tests. That said, many of the at-home antigen tests have an overall sensitivity of 85 percent, which means that they are catching roughly 85 percent of people who are infected with the virus (while missing 15 percent).
It's important to note that antigen tests are great at catching people who have high viral loads — and who are most likely to be actively transmitting the virus to others.
Where to Buy the BinaxNow COVID Test Online?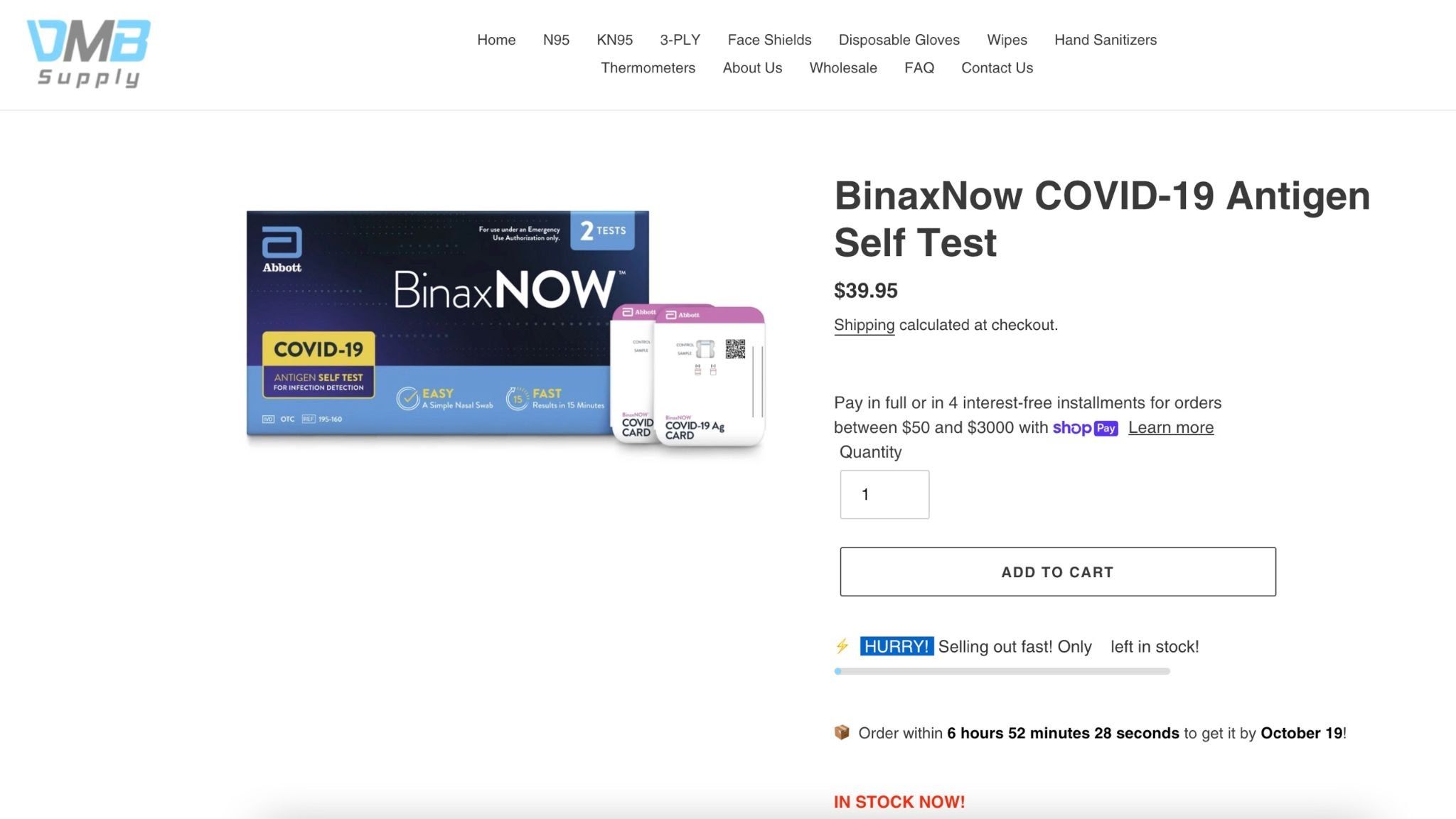 While several local stores started selling BinaxNow and other at-home tests when they first received emergency at-home use, it is almost impossible to find one today. DMB Supply is a company with plenty of stock, fast shipping, and fair prices.
Grab your own BinaxNow COVID-19 Antigen Self Test for only $49.99.
The online retailer also offers all sorts of products to help keep people safe, whether that's bulk 100-packs of KN95 masks, N95 masks, disinfectant wipes, antibacterial hand wipes, hand sanitizers, and more.
Who Can Use the BinaxNow COVID-19 Test?
The BinaxNow test can be administered by those ages 15 and older, and only takes about 15 minutes. Additionally, this test can be used on children as young as 2 years old when the process and samples are collected by an adult. According to the manufacturer, it's recommended for people with and without symptoms.
How to Use the BinaxNow COVID-19 Test at Home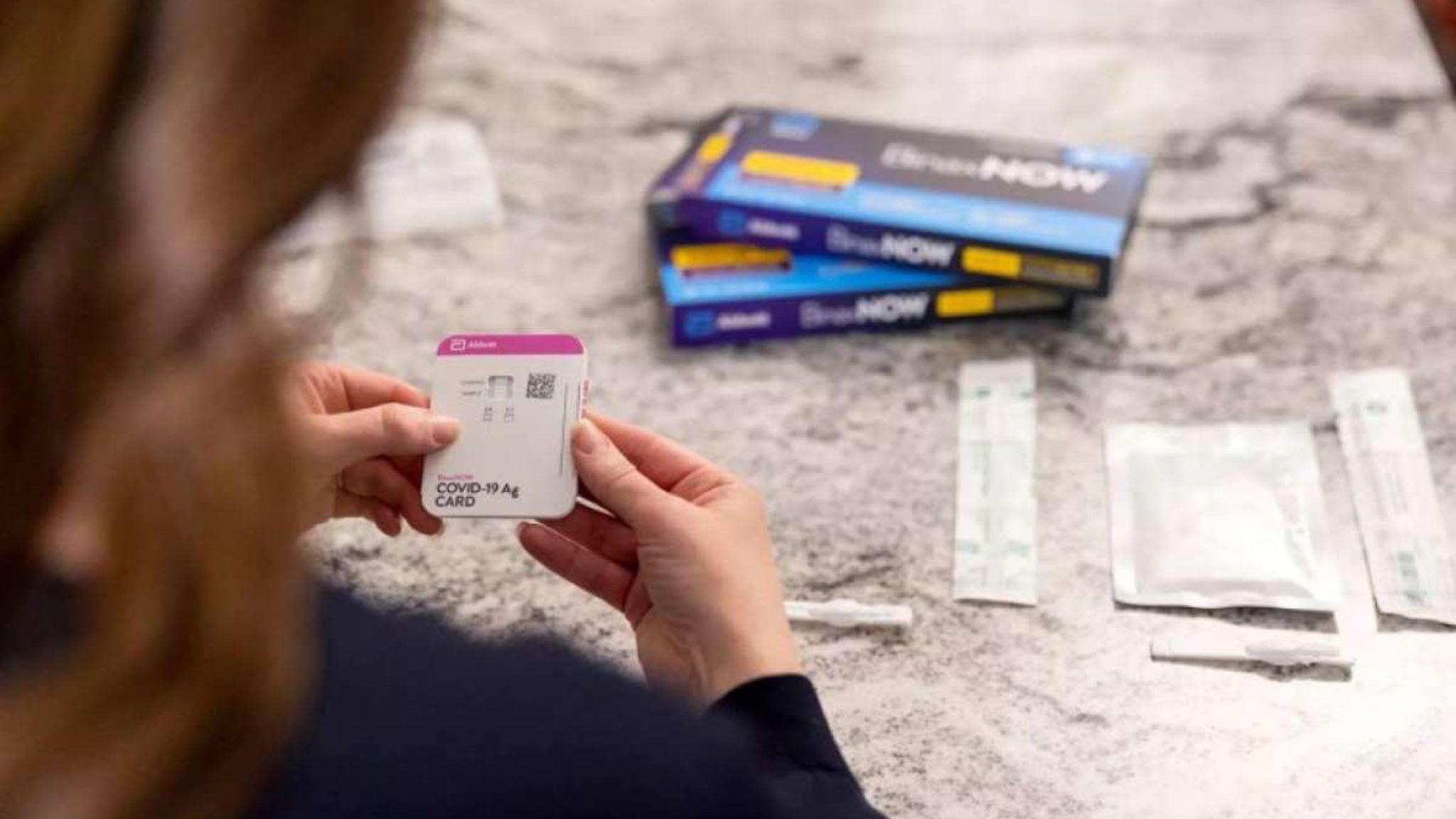 Parent company Abbott provides a helpful step-by-step guide on how to administer the BinaxNow at-home COVID test. (You can read it by clicking here.) Plus each test kit comes with an illustrated step-by-step guide to walk you through the simple process. Each box comes with two tests. The tests should be administered twice over three days, with at least 36 hours between tests for the best results.
Users of the test should read all of the instructions and set the kit out before beginning. You start by taking a shallow nasal swab, one that's not nearly as deep or as uncomfortable as PCR tests. The nasal swab is then placed into an analyzer that connects to a smartphone through Bluetooth.
Individuals can view their results in as little as 15 to 20 minutes by using the integrated smartphone app. The companion app only requires your zip code and date of birth, but users do have the option to add their name, email address, and more; this information can then be reported to public health officials when necessary. But, again, this is optional. However, reporting positive tests may help track the spread of COVID-19. Additionally, the app will let you easily share results with health care professionals to help you receive any appropriate treatment, if necessary.
Can I take an at-home test if I've been vaccinated?
The short answer is yes. Those who are vaccinated are still at risk of contracting COVID-19, and if you are experiencing symptoms or think you were exposed to someone with COVID-19, get a BinaxNow test from the link below.
Newsweek may earn a commission from links on this page, but we only recommend products we back. We participate in various affiliate marketing programs, which means we may get paid commissions on editorially chosen products purchased through our links to retailer sites.