Ted Cruz Mocks Kamala Harris for Going to a Bakery and Not the Border
Texas Republican Senator Ted Cruz mocked Vice President Kamala Harris on Wednesday for visiting a bakery during a trip to Chicago before going to the southern border to address immigration.
Cruz tweeted the word priorities above an article that describes White House press secretary Jen Psaki defending Harris' Chicago visit during a press briefing.
On Tuesday, Harris made a stop at a Black-owned bakery in Chicago called Brown Sugar Bakery while on her way to visit a COVID-19 vaccination site and discussed issues related to the pandemic.
That visit was later brought up during exchange between Psaki and New York Post reporter Steven Nelson, who asked whether Harris was still "working" to address immigration on Wednesday.
"Vice President Harris has been put in charge of addressing the root causes of the border crisis. Last Tuesday, she spoke with Guatemala's president, but she hasn't visited the border or Central America, or spoken to the leaders of El Salvador or Honduras," Nelson said.
"She was traveling this week, took time to visit a bakery in Chicago. I'm wondering, Is she still working on this? Can you address the perception that she's quietly backing off?"
In response, Psaki defended Harris and said that her visit to Chicago was focused on addressing vaccine hesitancy within communities and that she "absolutely" remains committed to addressing immigration.
"I would say the vice president was visiting Chicago actually to talk about COVID and the importance of communities getting the vaccine when it's available and accessible to them. And so, while she was there, like many Americans, she got a snack. I think she's allowed to do that," Psaki said.
"This is absolutely an issue that she is—remains committed to, is in the lead on," the press secretary added. "Being responsible in the lead on the Northern Triangle is working with these countries in the region, addressing the root causes, working with them on how we can address issues like long-term food insecurity, drought, the COVID-19 pandemic, hurricanes, etc. That's what she's focused on."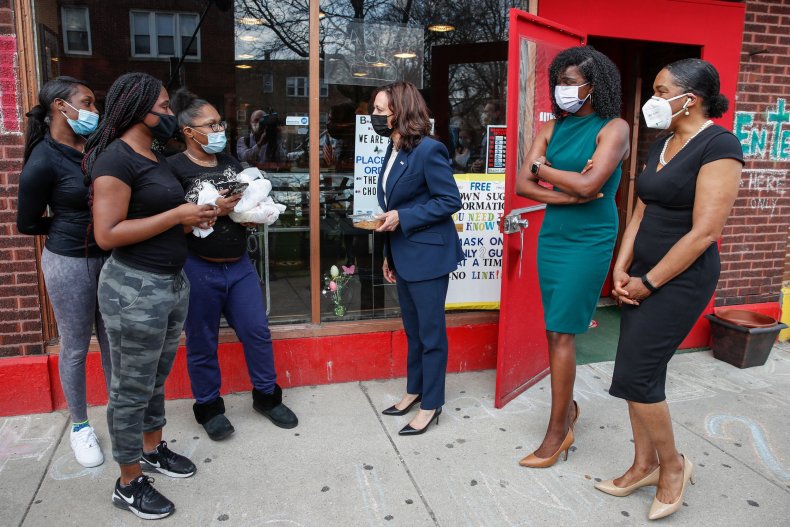 The exchange came after President Joe Biden said last month that Harris would be in charge of leading diplomatic efforts with Mexico and Central American countries to address migration and oversee the use of U.S. aid.
Both Harris and Biden have been criticized by Republican lawmakers for failing to visit the southern border amid reports that immigration is reaching its highest levels in 20 years.
According to U.S. Customs and Border Patrol, the influx of new migrants has included a rising number of unaccompanied children. In February alone, the number of unaccompanied minors attempting to cross the border rose by 63 percent from the month before. Leaked photos and reports have since shown that facilities at the border are overcrowded.
Republican lawmakers have largely blamed the rise in migration on Biden's immigration plans, which reversed a number of hard-line policies from former President Donald Trump. During a trip to the border in March, Cruz said immigration facilities were "inhumane" and accused the Biden administration of locking children in "cages."
But last month, Biden said the current surge in border arrivals is not unprecedented. He said that he's seen a 28 percent increase in children arriving at the border under his administration, compared with 31 percent in 2019 under Trump.
"I'd like to think it's because I'm a nice guy, but it's not. It's because of what's happened every year," the president said during a press briefing, adding that "nothing has changed."
Harris came under additional fire in March for laughing while taking questions from reporters about when she plans to visit the border. On Wednesday, Psaki said she could not confirm when the vice president will travel to the border.
"I don't have an update on when she'll travel. I'm sure it will be soon," she said.
Newsweek contacted the White House for additional comment but did not hear back in time for publication.