Video of Ted Lieu Reciting What Jesus 'Said About Homosexuality' Goes Viral
A clip of Democratic Congressman Ted Lieu standing in silence after he said he would recite what Jesus Christ "said about homosexuality" has gone viral.
The California lawmaker was giving a one-minute speech on the House floor on Wednesday, which he used to criticize the GOP for pushing through a number of bills targeting LGBTQ people.
During his speech, Lieu cited a story in The Washington Post with the headline GOP lawmakers push historic wave of bills targeting rights of LGBTQ teens, children and their families.
The article noted how Republicans have filed nearly 200 state bills relating to LGBTQ restrictions between January and March, including banning school books which discuss gay or trans issues or preventing transgender youth from playing competitive school sports in teams that align with their gender identity.
Lieu then cited another Washington Post article from April entitled Some Republicans fear party overreach on LGBT measures, in which GOP figures spoke out against the so-called "don't say gay" laws first introduced in Florida.
"I just thought I would now recite for you what Jesus Christ said about homosexuality," Lieu said before standing in silence for more than 20 seconds.
"I yield back" he then concluded.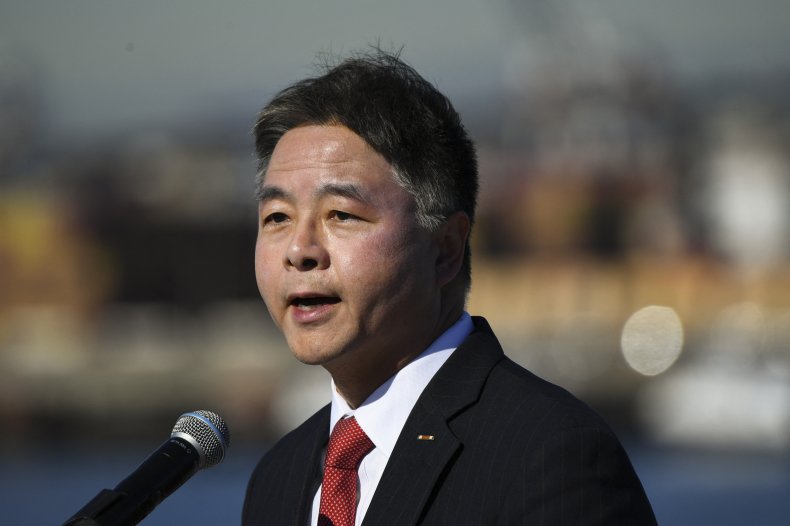 A clip of Lieu's speech was posted onto Twitter by user @Acyn, who frequently posts snippets of interviews and public comments from lawmakers. The footage of Lieu has been viewed more than 1.3 million times.
Lieu made a similar remark in a June 5 tweet in which he criticized baseballer Jason Adams and the other Tampa Bay players who refused to wear the rainbow flag logo on their uniforms over the weekend to commemorate the start of Pride month.
"Pitcher Jason Adam should read the New Testament. This is what Jesus said about homosexuality," Lieu tweeted before leaving a long gap in the post to represent silence.
"Jesus is about love, not about hating people who are different from you."
Speaking to The Washington Post for the April article Lieu cited in his speech on the House floor, Dan Eberhart, a prominent Republican donor with close ties to Florida Governor Ron DeSantis, said DeSantis may have gone "too far" with his feud with Disney.
Disney, who are the largest on-site employer in Florida with nearly 80,000 workers, publicly spoke out against HB 1557, a bill which would bans the discussion of sexual orientation and gender identity in Florida schools from kindergarten through to 3rd grade.
In response, DeSantis signed legislation in April that would dissolve the Reedy Creek Improvement District, the law which permitted Disney to essentially run as its own self-governing authority in the state of Florida, in April 2023.
In March, Florida state Representative Anna Eskamani, a Democrat, told The Post that the number of bills targeting the LQBTQ community in recent months had been "staggering."
"These painful state-level fights are proof positive that discrimination is still a very real threat that directly harms members of our most vulnerable communities, including and especially young people who are transgender," Eskamani said.
Newsweek reached out to Lieu for further comment.