Ten Times The British Royals Dazzled in Manhattan
Members of the British royal family have been visiting New York City since the 1800s, in both public and private capacities.
One member of the royal family who had a particularly soft spot for Manhattan was Princess Diana, who visited the area many times throughout her marriage and was rumored to be considering a move to the city following her divorce from Prince Charles in 1996.
Many of Queen Elizabeth II's children and grandchildren have paid visits to New York over the years, in particular Prince Harry and Meghan Markle, who since moving permanently to California in 2020 have been several times.
Whether it be to attend a charity gala or as a stopover as part of a wider royal tour, the British royals love New York and they pull out all the stops on their visits.
Here Newsweek rounds up just ten of the times that the royals have dazzled in Manhattan:
Princess Margaret, Royal Ballet, May 1974
Princess Margaret, Queen Elizabeth II's only sister, made regular visits to New York throughout her life to watch ballet performances. The princess had a passion for ballet and was a patron of many charities associated with the discipline. In 1974, with then husband Lord Snowdon, Margaret made a visit to Manhattan to attend a performance by the Royal Ballet at the Metropolitan Opera House. It so happened that the Duke and Duchess of Windsor were in New York at the same time and the estranged royals were reunited at the opera house on the evening of the performance.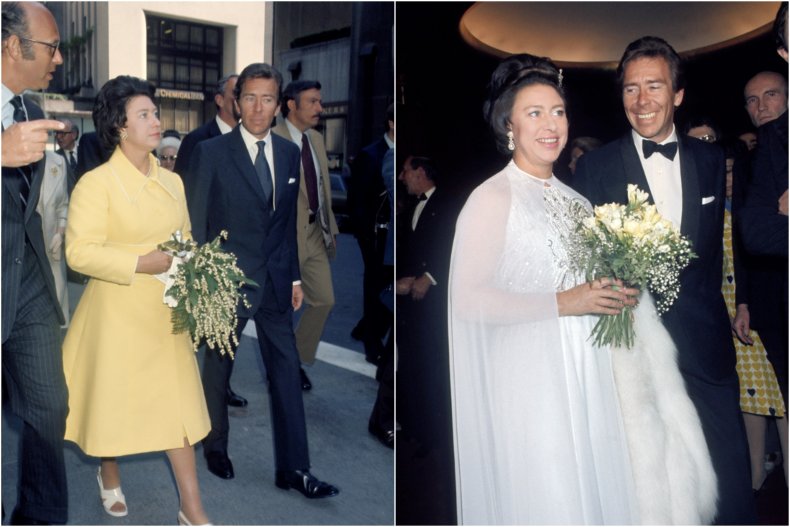 Princess Diana, Lincoln Center, January 1995
Princess Diana used a trip to Manhattan in 1995 to debut a daring new look. The royal was asked to present long-time friend and editor of Harper's Bazaar, Liz Tilbiris, with a gong at the Fashion Designer Awards hosted at Lincoln Center. Diana flew in especially and wore a sleek navy evening gown by designer, Catherine Walker with a new slicked back hairstyle and large sapphire, diamond and pearl necklace. Following her separation from Prince Charles in 1994, Diana was rumored to be looking to relocate to the U.S.—though this has been disputed by those close to her. During her speech this was acknowledged when a man from the crowd shouted "move to New York!" to which she gave a polite, embarrassed smile.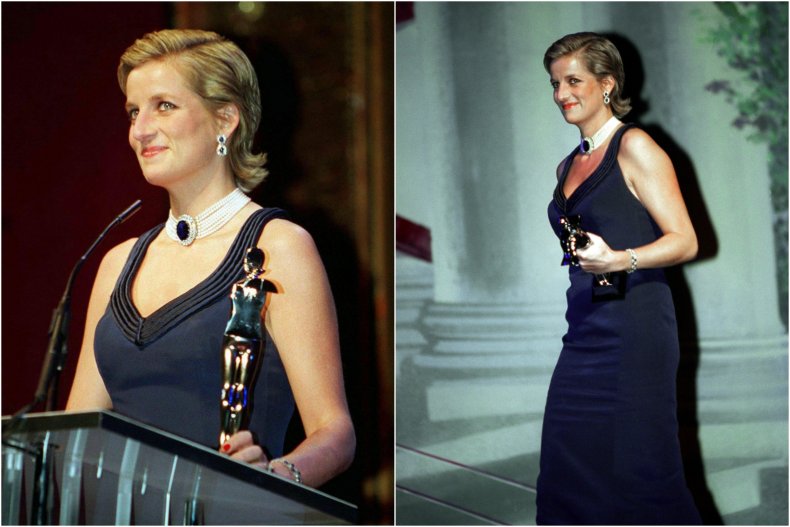 Princess Diana, Charity Gala, December 12, 1995
On another trip to New York to accept a humanitarian award, Diana dazzled again in a black floor-length evening gown by designer Jacques Azagury. The princess had flown to Manhattan for the ceremony following the transmission on television of her 1995 Panorama interview.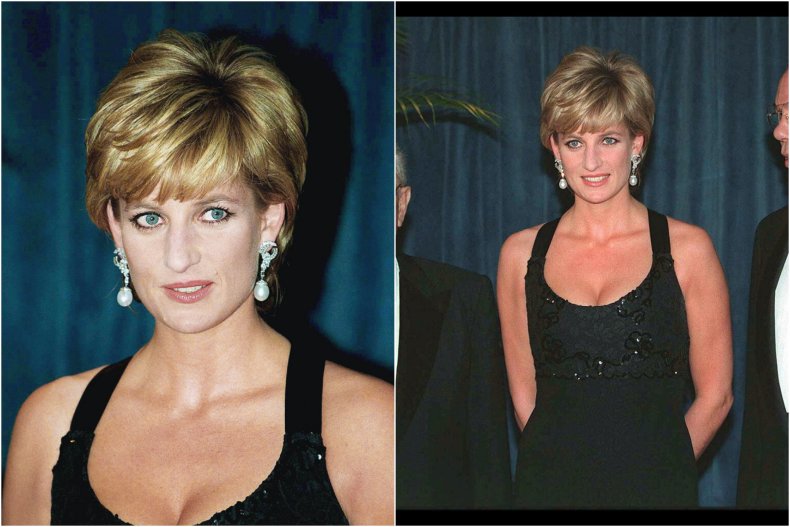 Princess Diana, Christie's Auction, June 1997
In 1997 Diana held an auction of her most famous dresses in order to raise money for her many charities—these included HIV/AIDS charities, ballet organizations and cancer charities. The auction was held in New York at Christie's and though the princess was not present for the sale she did attend a promotional pre-sale gala it. The sale was seen as part of Diana's transformation from member of the royal family to private citizen in the wake of her divorce the previous year. To the gala she wore a Catherine Walker dress in a delicate rose print. The sale raised $3.25 million, Diana tragically died only months after in a Paris car crash.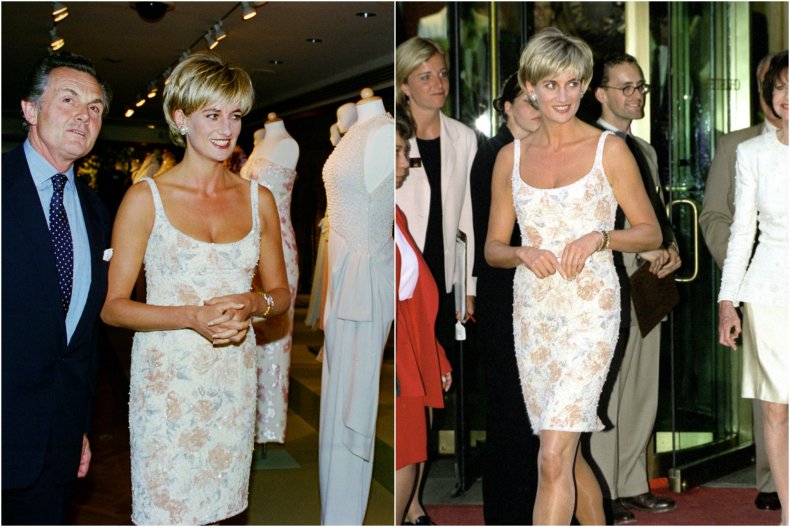 Charles and Camilla, MOMA, November 1, 2005
After their marriage in April 2005, Prince Charles and his new wife Camilla, Duchess of Cornwall paid an official visit to New York, undertaking a program that included laying a plaque at the British memorial garden dedicated to those who lost their lives in the September 11, 2001 terrorist attacks. One event on the itinerary was a reception hosted at the Museum of Modern Art (MOMA), during which Charles made a speech detailing the impression New York had left on him. He said:
"Now New York is indeed an extraordinary city full of original people, with original ideas. And if I may say so I've been so hugely impressed by the sheer scale of generosity and philanthropy you find in this city."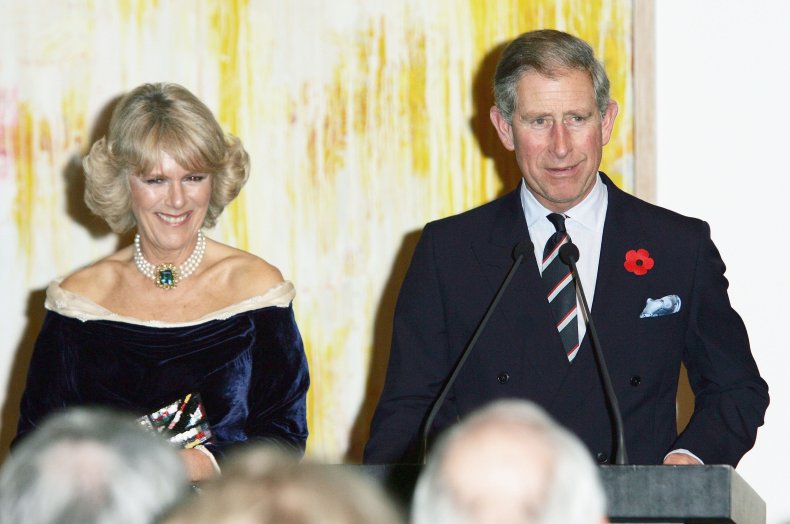 Queen Elizabeth II, U.N Speech, July 6, 2010
In 2010 Queen Elizabeth II paid an official state visit to the U.S. and this included a brief stop over in New York City. During her tour with Prince Philip, the Queen was shown around by Mayor Michael Bloomberg and laid a wreath at the memorial to those who died during the September 11 attacks. The highlight of the New York visit was the Queen's address to the United Nations which she had only done once before, 53 years previously.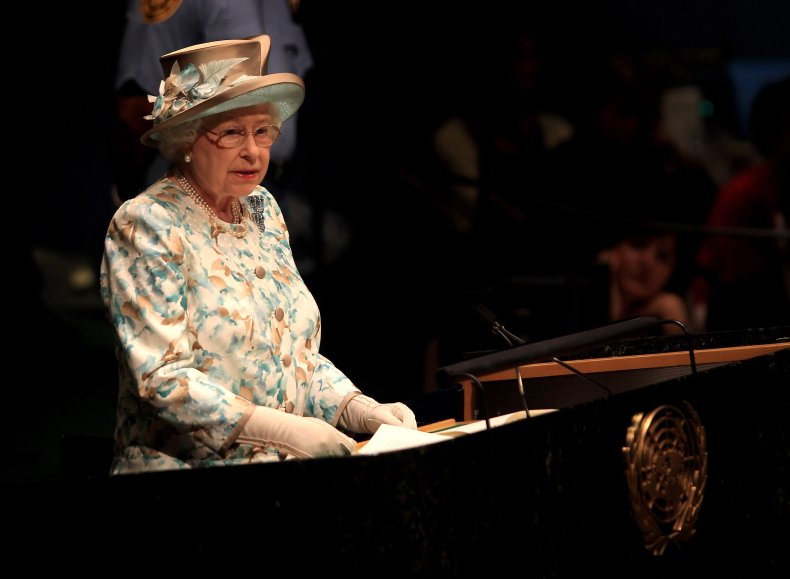 William and Kate, Metropolitan Museum of Art, December 9, 2014
When Prince William and Kate Middleton visited the U.S. in 2014, they made visits around New York and Washington, D.C.
On December 9, 2014 the couple attended a fundraising gala for their alma mater, St Andrews University hosted at the MOMA. The couple met during the course of their studies at the university and for the occasion Kate dazzled in a flowing draped evening gown and impressive diamond and emerald earrings.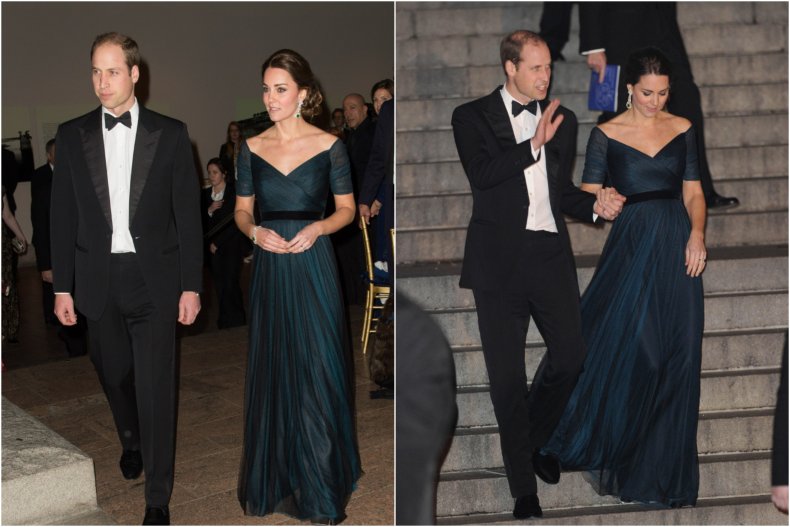 Meghan Baby Shower, February 19, 2019
Meghan Markle is no stranger to Manhattan having spent a lot of time there during the course of her career before meeting Harry. In 2019 Meghan was expecting her first child, Archie Harrison Mountbatten-Windsor, and she was thrown a special stateside baby shower at The Mark hotel by friend Serena Williams. The event drew a lot of attention, not all positive from the press who suggested it was overly extravagant for a member of the royal family. The guests at the shower included Gayle King, Serena Williams and Amal Clooney.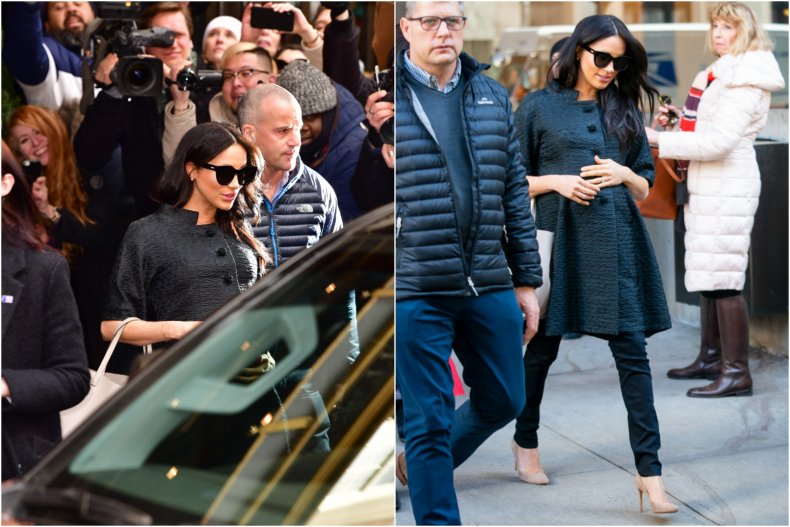 Meghan and Harry Global Citizen Live, September 25, 2021
Since the outbreak of the COVID-19 pandemic Harry and Meghan have been vocal advocates for vaccine equality. In September 2021 the couple attended the Global Citizen Live event in New York during which Harry made the impassioned plea, "Look at us all here, 60,000 strong in New York City... Are we prepared to do what's necessary to end this pandemic?" Meghan dazzled the crowd in a white embellished Valentino midi dress as she too spoke passionately about equal access to COVID treatments and personal protective equipment.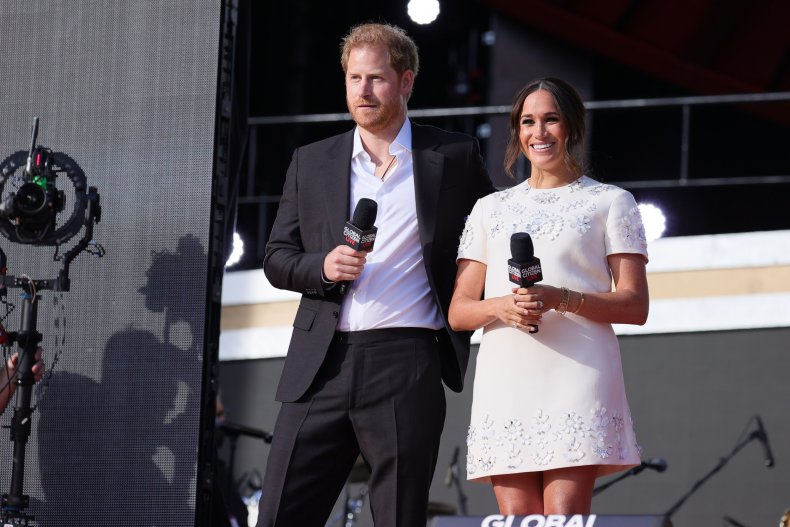 Meghan and Harry Salute to Freedom Gala, November 10, 2021
Before Veterans Day in 2021, Harry and Meghan made an appearance at the Salute to Freedom Gala in Manhattan. Meghan wore a statement red dress by one of her favorite designers, Carolina Herrera, and Harry wore his military medals. The Veterans Day events of 2020 were overshadowed for Harry by reports that he was denied the privilege of having a wreath laid at the U.K national war memorial, The Cenotaph, in his name owing to his stepping down as a full-time working member of the royal family in 2020.