Trump and Obama Responded to Shootings With a Similar Approach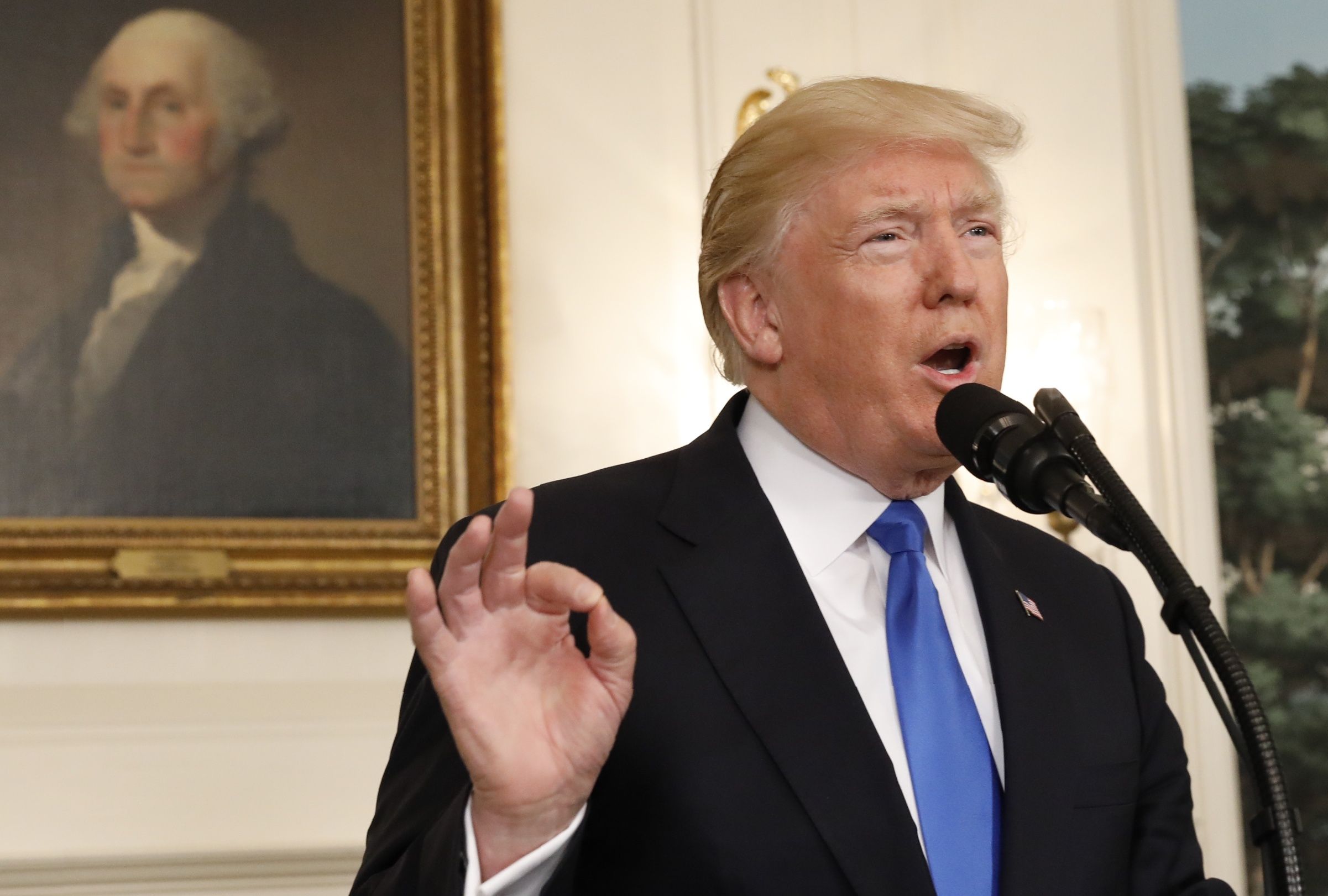 President Donald Trump addressed the nation from the White House Wednesday morning, about three and a half hours after a shooting at a congressional baseball practice in Alexandria, Virginia. Five people were injured, including House Majority Whip Steve Scalise, the country's third-ranking Republican.
Related: House to consider legislation on gun silencers
For the most part, Trump appeared to follow a teleprompter while delivering a thoughtful, moving call for unity. He spoke a little longer than four minutes, beginning by providing details about the shooting, which was reported shortly before 8 a.m. EDT, and then announcing that the assailant had died from injuries and that the FBI, which took over the investigation, would provide updates as they became available.
Trump commended the heroic actions of the two officers from the U.S. Capitol Police who suffered injuries while stopping the gunman, as well as the local Alexandria officials who responded. "Melania and I," he said, referring to the first lady, "are grateful for their heroism and praying for the swift recovery of all victims."
He said that Washington, the country and the entire world were praying for the victims, and that he pledged his full support when he spoke with Scalise's wife and Capitol Police Chief Matthew Verderosa. Scalise is a friend of the president.
Before ending, Trump encouraged Americans to take time Wednesday to "cherish those you love."
"Our children deserve to grow up in a nation of safety and peace," he added. "We are strongest when we are unified and when we work together for the common good."
The speech was a stark contrast to others Trump has given in the past, especially on the campaign trail, where he often didn't use a teleprompter. But it also was the first address he has given as president following a high-profile shooting, coming shortly before the six-month mark of his time in office. How did his address compare to those given by his predecessor, Barack Obama?
Trump vs. Obama
Obama took his first oath of office in January 2009. Less than three months later, a gunman opened fire inside a community center in Binghamton, New York, killing 13 and wounding four. At the time, it was one of the deadliest mass shootings in the country. That afternoon, Obama issued a statement, saying he and the first lady, Michelle Obama, were "shocked" and "deeply saddened."
He continued, "Our thoughts and prayers go out to the victims, their families and the people of Binghamton" and promised Americans his administration was actively monitoring the situation.
Seven months later, on November 5, a gunman fatally shot 13 soldiers and injured dozens of others at the Fort Hood Army base in Texas. While speaking at the Interior Department in the immediate aftermath of the shooting, Obama promised "answers to every single question" about the shooting. He said he had spoken with Defense Secretary Robert Gates and would share updates as they received information.
Similar to Trump commending the Capitol Police officers on Wednesday, Obama thanked soldiers for their "selfless and courageous decision" to risk their lives for other Americans. At the time, he was criticized for not immediately calling the incident a terrorist attack carried out by a Muslim Army major.
Over the next seven years, Obama proceeded to give at least 15 other speeches following shootings in, among other places, Tucson, Arizona; Aurora, Colorado; Newtown, Connecticut; Charleston, South Carolina; San Bernardino, California; and Orlando, Florida. Sometimes, he spoke at memorial services; other times, from the White House. Obama called for stricter gun laws and condemned both hate crimes and terrorist attacks. After the massacre at the Orlando nightclub in June 2016, he mentioned all three.
Early on, Obama's remarks solely focused on the details about the event, his thoughts and prayers for the victims and their families and an offering of help from federal law enforcement—all of which were touched on during Trump's address Wednesday.
Later on, mostly in Obama's second term, many of the shootings often provoked partisan debate over gun control. The December 2012 shooting at Newtown's Sandy Hook Elementary School was arguably the beginning of that conversation, when Obama delivered a four-minute statement during which he grew emotional, wiping away tears as he spoke about the 20 first-graders and six educators who died at their school. "They had their entire lives ahead of them," he said.
And two years ago, after the massacre at the historic church in Charleston, he led a rendition of "Amazing Grace" during a memorial service for the victims, which included his friend the Reverend Clementa Pinckney.
Toward the end of his second term, Obama admitted that his speeches, the reporting and the discussion surrounding each shooting had become "routine" and that the country had become "numb" to such events.
On Wednesday, Trump did not once mention guns or the debate around the issue, besides saying "a gunman opened fire on members of Congress and their staff." The Sandy Hook Elementary shooting arguably was the turning point for Obama, after which he launched a wide public relations campaign for stricter gun laws at the federal level.
But a measure to strengthen gun background checks died in the Senate four months following the Connecticut massacre. With each shooting after Sandy Hook, Obama's irritation grew more apparent in his speeches. It remains to be seen whether Trump will also evolve on the issue.