Rumors of an indictment surrounding former President Donald Trump in an alleged hush money scheme involving adult film actress Stormy Daniels may be the least of his legal worries, multiple legal experts told Newsweek.
Aside from the hush money investigation led by Manhattan District Attorney Alvin Bragg, Trump faces potential legal peril due to serious criminal investigations pertaining the Department of Justice (DOJ), his involvement in the January 6 Capitol riot, whether or not he pushed for 2020 election results to be overturned in Georgia, and his alleged mishandling of classified documents discovered at his Mar-A-Lago residence.
Trump himself propped up the possibility that he would be indicted Tuesday as part of Bragg's investigation into whether Trump paid Daniels $130,000 to hide their alleged affair prior to the 2016 election.
Bragg has been the target of Trump's verbal vitriol in the past two weeks. He has been referred to by Trump as a "racist" who only cares about "getting" Trump, with the former president saying Bragg "should be held accountable for the crime of interference in a presidential election."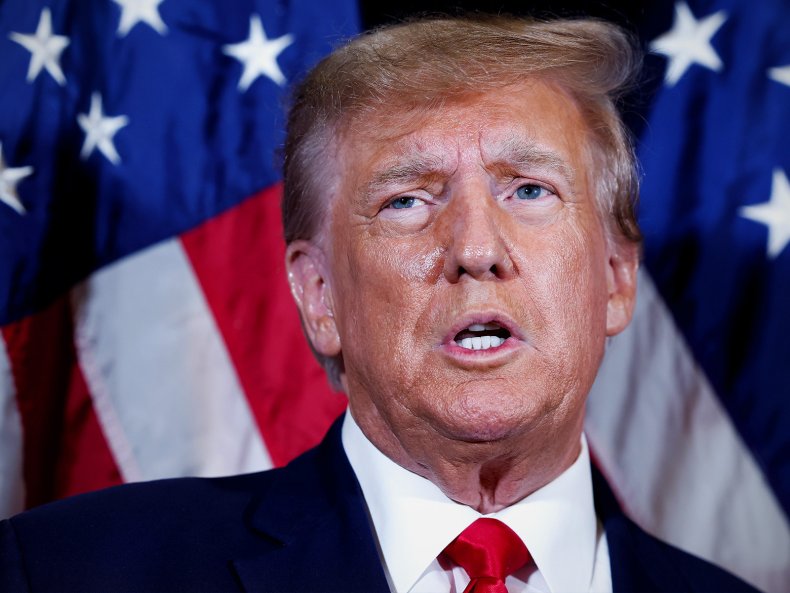 The district attorney has been chided by Trump and other Republicans for his affiliation with billionaire progressive philanthropist George Soros, who through his Color of Change PAC provided $500,000 to Bragg's 2021 campaign.
Trump called Bragg a "Soros-backed radical left prosecutor." Trump's potential GOP presidential rival, Florida Governor Ron DeSantis, referred to Bragg as a "Soros-funded prosecutor."
Bragg has been criticized by some for his approach to the job. Shortly after taking office in January 2022, he told prosecutors to avoid seeking jail time for offenders in all but the most serious crimes. In February that year he apologized for the "confusion," and said prosecutors should use their judgment when dealing with individual cases.
Manhattan Case an Uphill Battle for Prosecutors
Clark Cunningham, a law professor at Georgia State University, told Newsweek via phone that indictments coming out of the several other pending investigations into Trump "would almost certainly be more important than an indictment in the Manhattan case."
That is due to those cases relating to the safety, security and stability of the country, he said, while the accusations pertaining to Daniels occurred seven years ago and before Trump was ever elected.
He said accusations against Trump as part of the Fulton County, Georgia, probe is "probably the most serious possible thing he can be accused of." Over 70 witnesses have testified as part of that probe.
"If the former president is indicted in Georgia by a Fulton County grand jury, the indictment would likely allege that Trump was directly involved, perhaps as the mastermind, in a wide range of actions intended to prevent Georgia's vote in the electoral college from going to [President Joe] Biden," Cunningham said via phone.
Florida-based attorney Bradford Cohen told Newsweek that the prosecution faces "several large obstacles" in charging Trump.
"Strategically, charging him for what most consider a minor crime, seven years after the allegations, with questionable witnesses, is probably not the route most prosecutors would take in looking at the big picture," Cohen said via email.
He referred to New York state campaign laws, federal election laws, and the prosecution in his view facing an uphill battle to reach the burden of proof required to show that Trump, without exception and beyond a reasonable doubt, participated in the money transfer to Daniels for the sole purpose of his campaign.
He also questions Trump's former attorney and "fixer" Michael Cohen, who has spoken with Manhattan prosecutors 18 times according to his attorney, Lanny Davis.
"Relying on individuals with credibility problems and bias issues [is also problematic]," he said. "Although they can try and use extrinsic evidence to bolster their testimony, they make very poor witnesses considering their past statements and charges."
Jack Smith Back in the Spotlight
The classified documents investigation recently took a drastic turn that could put the case back in the spotlight.
Now-former District of Columbia Chief Judge Beryl A. Howell not only permitted the DOJ to question Trump's personal attorney, Evan Corcoran, but notes between Corcoran and Trump were handed over to prosecutors, according to The Daily Beast.
Cunningham cited the January 6 Committee's attempts to access documents between Trump and his hired attorney John Eastman, argued by Eastman to be protected by attorney-client privilege.
"If Chief Judge Howell decided that the crime-fraud exception applied to DOJ questioning former Trump lawyer Evan Corcoran about his communications with Trump, we can assume that she found it was likely that Trump communicated with Corcoran in relation to commission of a crime, and that those communications were related to and in furtherance of the crime," Cunningham said.
A charge potentially emanating from correspondence between Trump and Corcoran would likely be obstruction of justice—a federal felony punishable by up to 10 years in prison.
Cunningham said such a charge would be based on false statements made to the FBI, allegedly by Corcoran, that on behalf of Trump he was handing over all the documents marked classified that had been subpoenaed by a federal grand jury—even though a subsequent search turned up numerous more documents marked classified at Mar-a-Lago.
Indictments involving January 6 might allege a conspiracy "that affected the entire nation and the basic constitutional principle of a lawful transition of power based on democratic elections," he added.
That also gives more power to special counsel Jack Smith, who is heading investigations into Trump's purported role in the January 6 and classified documents cases.
"Special counsel Jack Smith is a real danger to Trump's freedom because he not only has the ability to question Trump's personal attorney, Evan Corcoran, about the classified documents scandal, but more importantly, he has, in his possession, Corcoran's private communications with Trump," attorney Andrew Lieb told Newsweek via email.
He added: "That all said, you can't really separate Trump's legal problems at this point because the smartest legal strategy would be for all prosecutors to indict him everywhere at once, like dominos falling where he doesn't even know which side is up in defending his freedom."
National security lawyer Bradley Moss heeded caution, telling Newsweek via email that none of the existing cases are "easy."
"All have pitfalls and risks," he said. "The federal cases certainly are most likely to result in significant prison time if, and only if, Mr. Trump were convicted. Everyone spinning their wheels over if a 'stronger' case should go first needs to just let the process play out."
Correction 03/22/23, 2:45 p.m. ET: This story was updated to correct a comment made by Clark Cunningham regarding a potential indictment related to January 6.