Trump Wants to Put China's Flag on Jets to 'Bomb the Sh*t' Out of Russia
Former President Donald Trump suggested that the U.S. should simply disguise fighter jets with a Chinese flag and attack Russia—saying this would lead the two nations to fight each other.
Russia launched an internationally condemned invasion of Ukraine on February 24. Just ahead of Moscow's full-scale assault on its Eastern European neighbor, Trump praised Russia's President Vladimir Putin, calling him a "genius." The former president has drawn widespread backlash from Democrats and some prominent Republicans for the remarks.
During a speech to donors in New Orleans, Louisiana, on Saturday evening, Trump again addressed the ongoing war between Russia and Ukraine. The former president floated the idea of attempting to turn Moscow and Beijing against each other—suggesting that the U.S. could disguise F-22 fighter jets with Chinese flags "and bomb the sh*t out" out of Russia, according to audio reported by Washington Post journalist Josh Dawsey.
"And then we say, China did it, we didn't do, China did it, and then they start fighting with each other and we sit back and watch," Trump mused to the crowd of Republican donors.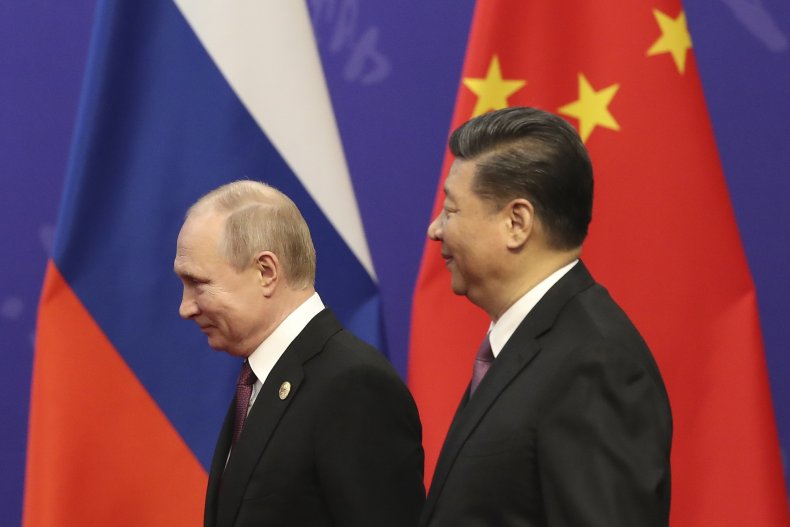 It would seem unlikely that disguising U.S. aircraft with a Chinese flag would be enough to trick the Russians. China and Russia maintain close relations, with Beijing reportedly asking Putin to postpone his invasion of Ukraine until after the winter Olympics held in Beijing this year. China's President Xi Jinping previously called Putin his "best, most intimate friend" in June 2018 as he presented him with a special honor during a summit.
In other foreign policy advice, Trump reiterated his praise for North Korea's leader Kim Jong Un during his Saturday remarks. "Seriously tough, he's absolutely the leader of that country," the former president said, according to Dawsey. Trump praised how the dictator's advisers and generals "cowered" and "stood up so fast" when Kim spoke to them.
"I want my people to act like that," Trump quipped.
Trump has long praised Putin and Kim—drawing criticism from Democrats and some Republicans as well. During his White House tenure, he held multiple face-to-face meetings with both U.S. adversaries and regularly praised how they led their nations. In September 2019, Trump joked that he and Kim "fell in love," and has spoken about the "beautiful" letters they've exchanged.
"I went in yesterday and there was a television screen, and I said, 'This is genius.' Putin declares a big portion of the Ukraine—of Ukraine—Putin declares it as independent. Oh, that's wonderful," Trump said in a radio interview with The Clay Travis and Buck Sexton Show on February 22. "He used the word 'independent' and 'we're gonna go out and we're gonna go in and we're gonna help keep peace.' You gotta say that's pretty savvy."
Senator Lindsey Graham, a South Carolina Republican, described Trump's remarks as a "mistake" and suggested they were taken out of context.
"I think that was a mistake. I think I know what he was trying to say, you know, going into the Donbas [region of Ukraine]. But, no. Let's just make it clear, Putin's not a genius, he's a war criminal," Graham, who is generally viewed as a Trump ally, said last Wednesday, CNN reported.
Former Vice President Mike Pence appeared to take aim at Trump's remarks in a speech to GOP donors in New Orleans on Friday.
"Ask yourself, where would our friends in Eastern Europe be today if they were not in NATO? Where would Russian tanks be today if NATO had not expanded the borders of freedom?" Pence asked. "There is no room in this party for apologists for Putin."
Newsweek reached out to Trump's spokesperson for comment, but did not immediately receive a response