U.S. Presses Ahead With Taiwan Trade Talks Amid Warnings From China
The United States pressed ahead with formal trade negotiations with Taiwan this month despite repeated opposition from China, which claims the island as its own.
Representatives from both governments met in New York City on November 8 and 9 for closed-door talks under the U.S.-Taiwan Initiative on 21st-Century Trade, a bilateral framework launched in June.
In the past months, the Biden administration has taken the first steps to address its lack of institutional trade engagement in the Asia-Pacific, where China enjoys the largest influence, while the negotiations with Taiwan could pull the island further away from Beijing's economic orbit.
The Office of the U.S. Trade Representative, which led an interagency American delegation, described the talks as "productive," noting in a statement that both sides had agreed to additional meetings in the near future.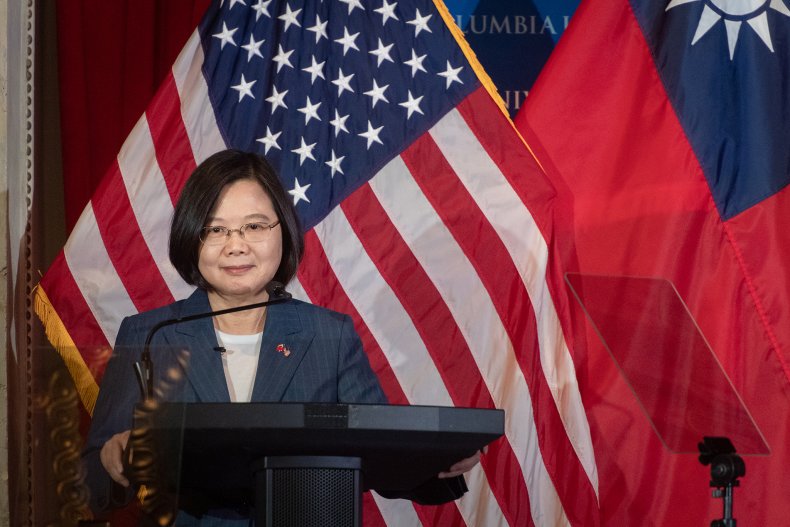 Taiwan, which also sent participants from a number of government departments, said the two-day negotiations yielded "positive and constructive" results, according to a statement by the Office of Trade Negotiations under its Executive Yuan, which comprises President Tsai Ing-wen's cabinet.
The OTN said Taiwanese and American interlocutors exchanged views on their respective regulatory systems, as well as policy approaches that would help maintain a favorable environment for businesses in both countries.
The office previously said it expected U.S.-Taiwan trade talks to be "in full swing" in the coming months.
In August, representatives from Washington and Taipei settled on a negotiating mandate covering 11 areas including regulatory practices, agricultural trade and jointly addressing non-market policies—a nod at Beijing's tendency to use trade dependency as economic leverage for political purposes.
Both countries believed the talks would help advance cooperation between American and Taiwanese industries.
Washington's discussions with Taipei are part of the Biden administration's wider attempts to put forward a credible trade agenda in Asia to balance out its traditional presence as a long-time security guarantor in the postwar era.
The U.S. also wants to reduce China's economic dominance in the region by offering an alternative market. Beijing remains by far the largest trading partner to those in its neighborhood.
During a visit to Tokyo in May, President Joe Biden launched a separate regional trade initiative known as the Indo-Pacific Economic Framework, signing on 13 nations, but excluding both China and Taiwan, despite Taipei's public interest in joining IPEF at the time.
Beijing criticized the trade pact for being deliberately exclusionary. It also warned Washington not to pursue trade talks with Taipei, suggesting that doing so would somehow embolden Taiwan to pursue formal independence from China—a move official U.S. policy doesn't endorse.
Wang Wenbin, a spokesperson for the Chinese Foreign Ministry, told a press briefing after U.S.-Taiwan negotiations in August: "China is always against any country negotiating economic and trade agreements of sovereign implication or official nature with China's Taiwan region."
"We urge the U.S. not to repeat its wrongdoing. China will act resolutely to defend its sovereignty and territorial integrity. We urge the U.S. not to miscalculate on this," said Wang.
Taiwan's Shrinking Space
Taiwan isn't officially recognized as a country by the U.S. or other major governments, but it does have a formal presence at the World Trade Organization as the Separate Customs Territory of Taiwan, Penghu, Kinmen and Matsu.
Taiwan and China, both backed by the U.S. at the time, joined the WTO at roughly the same time in late 2001.
Taiwan already has trade pacts with countries including Singapore and New Zealand. Both were inked in 2013 and, crucially, had Beijing's assent.
Taipei was then under the leadership of former President Ma Ying-jeou of the current opposition Kuomintang party, which Chinese interlocutors have found to be more amenable than Tsai's staunchly anti-unification Democratic Progressive Party.
During the Ma administration, from 2008 to 2016, Beijing also supported Taipei's participation in the World Health Organization, but Beijing reversed its position when the DPP took power in 2016, said William Chung, an analyst at the Institute for National Defense and Security Research, Taiwan's top military think tank.
"Beijing has politicalized, and objected accordingly, any improvement of Taiwan-U.S. relations under the DPP government, which is accused of 'depending on the U.S. to promote independence,'" Chung told Newsweek.
Tsai says Taiwan isn't ruled from Beijing, and therefore her government has no need to declare formal independence. She also rejects China's sovereignty claims.
Since coming into office in 2016, however, she has actively sought to wean the island's economy off the giant Chinese market next door, a double-edged sword that still accounted for 25.2 percent of Taiwan's total trade and 21.6 percent of its imports last year, according to the U.S. Commerce Department's International Trade Administration.
Tsai's trademark New Southbound Policy was another attempt to diversify Taiwan's trade in Southeast Asia, as well as towards new partners such as India, Australia and New Zealand.
As with Taipei's accession to the WTO and its free-trade agreements (FTAs) signed roughly a decade ago, Beijing typically never opposed economic relationships between Taiwan and other countries in the past.
However, President Xi Jinping's hard-line policies aimed at accelerating China's takeover of Taiwan have greatly reduced the prospect of a peaceful union across the Taiwan Strait.
As a result, Beijing has resorted to using political, military and economic coercion against the island, a tactic characterized by tightly squeezing Taiwan's international space and diplomatic interactions, economic or otherwise.
Deep Commercial Links
"Deepening economic relations with the U.S. is perhaps the No. 1 priority for President Tsai's government," said Roy Lee, deputy executive director of the Taiwan WTO & RTA Center at the Chung-Hua Institution for Economic Research in Taipei.
Taiwan has been among the U.S.'s top 10 trading partners for several years. The ITA placed it as America's eighth largest goods trading partner in 2021, worth $113.9 billion in two-way trade.
"Taiwan is much more important to the U.S., and vice versa, than the direct trade data shows," Lee told Newsweek. "Taiwan has evolved as a U.S. partner that focuses on professional contract manufacturing in the last 40 years."
"In addition to semiconductors, over 90 percent of U.S. companies' information and communications technology products, ranging from iPhones to laptops and servers, are made by Taiwanese contract manufacturers outside Taiwan (in China, Vietnam, Malaysia and Mexico)," he explained. "Made-in-China iPhones, for example, are 100 percent manufactured by Taiwan's Foxconn. The same structure also exists for sportswear, apparel and many other consumer products."
Direct trade between the U.S. and Taiwan declined as contract manufacturers shifted their production outside Taiwan. "But the actual commercial relationship remains very close, perhaps more important than Taiwan's economic relationship with China. Therefore, refining and deepening economic relations with the U.S. has always been a key priority," Lee said.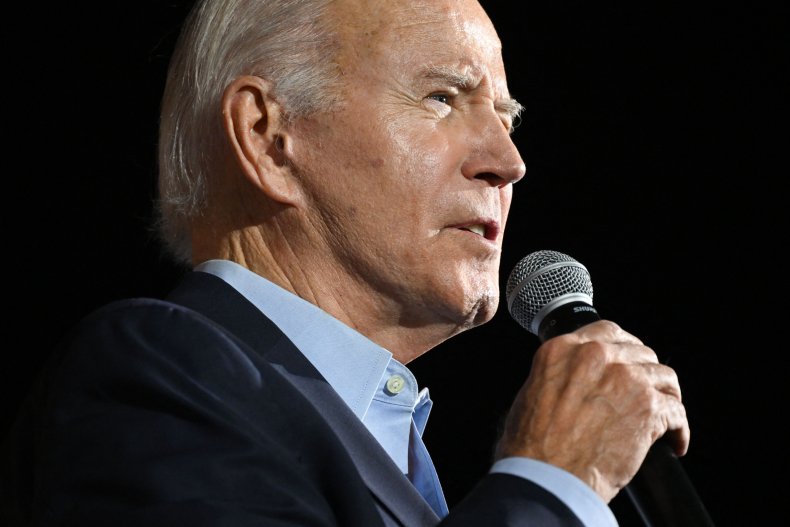 Since the U.S.-China trade war began in 2018, contract manufacturers of information and communications technology have moved part of their capacity out of China back to Taiwan, he said, leading to a significant growth in U.S.-Taiwan direct trade.
U.S. exports of goods and services to Taiwan rose by 18.8 percent to $47.3 billion last year, while imports from Taiwan were up 30.3 percent to $86.9 billion, according to the ITA data. The U.S. was Taiwan's second-largest trading partner last year, accounting for 12.6 percent of total trade and 10.2 percent of imports, the data showed.
"As the U.S.-China economic situation continues moving towards a downward spiral, the relocation of Taiwan's supply network back to Taiwan will also continue," said Lee.
"This is also highly consistent with the Taiwan government's policy to reduce concentration and reliance on China through diversification. Deepening economic relations with the U.S. will allow Taiwan to facilitate the supply network restructuring process," he said.
Economics and National Security
Support for a U.S.-Taiwan trade agreement is strong in Congress and among expert communities in Washington and Taipei. Most agree that a deal with Taiwan in its capacity as a separate customs territory under the WTO would be consistent with the U.S.'s "one China" policy of not recognizing Taiwanese statehood.
For Tsai, however, there's an additional, national security dimension to pursuing closer trade links with the Washington, which has been Taipei's strongest international backer for decades. She wants to make the island indispensable to America, its public and therefore its policymakers, by tying Taiwan's fate to America's own long-term economic security.
In many ways, it already is. The Biden administration roped Taiwan into the so-called "Chip 4" with Japan and South Korea before the U.S. cut off China from the world's most advanced semiconductors and technical know-how.
Taiwan is unlikely to be absent as the White House moves to onshore and "friend-shore" American chip-making capacity as it engages in a full-spectrum rivalry with Beijing over emerging technologies such as artificial intelligence and supercomputing, both of which have implications for U.S. national security.
The island's output fulfills roughly two-thirds of the world's semiconductor orders. When it comes to the most advanced chips, which are also found in fighter aircraft and precision-guided missiles, Taiwanese companies have a market share of some 90 percent. TSMC, the world's leading semiconductor foundry, is among several Taiwanese firms increasing their investment in the U.S.
"Taiwan's vital role in global supply chains, especially noted in semiconductors, makes Taiwan matter not only to the U.S., but to the international society that has accordingly and significantly internationalized Taiwan's security," Chung said. "This is why U.S. Secretary of State Antony Blinken said an attack on Taiwan could devastate the global economy."
"Furthermore, this bilateral economic framework can serve as a substitute to indirectly connect Taipei to IPEF, a vital agreement of the Biden administration's diplomatic-centered Indo-Pacific strategy, to which Washington has not invited Taiwan because of the China factor that might undermine some Indo-Pacific countries' willingness to join IPEF," he said.
Biden's "foreign policy for the middle class" largely precludes the bilateral or multilateral market access typical of FTAs. The new framework with Taiwan, which was mirrored on IPEF, focuses on trade facilitation instead.
"The U.S.-Taiwan Initiative on 21st-Century Trade is in fact a mini-FTA in nature," Lee said, calling it an "FTA without market access components."
"It is a product of compromise. At this moment, the U.S. doesn't support comprehensive FTAs. So the trade initiative is a kind of building-block approach: refining conditions for the areas covered, and preparing for future FTA negotiation," he said.
A U.S.-Taiwan trade deal, which could take years to negotiate, would bind both economies closer together, and Tsai has risked serious political capital to make it happen.
In 2020, Taiwan's first female president reversed her party's historical opposition to American pork and beef containing the leanness-enhancing drug ractopamine, long seen as an obstacle to a U.S.-Taiwan trade pact. Blinken, still secretary of state-designate at the time, welcomed the move.
After Taiwanese agricultural markets opened the door to more American meat products on January 1, 2021, Tsai's government went on to survive a December referendum that sought to reimpose the ban, boosting Washington's confidence in Taipei and leading to further calls for an FTA from members of Congress.
"First, deepening U.S.-Taiwan bilateral trade facilitates reducing Taiwan's interdependence with China to manage the risk of China weaponizing the relationship," Lee said. "Second, increasing bilateral investments can also increase the economic connection with wider stakeholders and commercial interests."
"Economic security is a matter of national security. Actually, Washington has no intention to counter Beijing alone in the Taiwan Strait," Chung said. "The more important Taiwan's economy is in global society, the more it suits Washington's strategy to internationalize the Taiwan issue, so as to create a favorable strategic context to deter Beijing's invasion against Taipei."