A Texas congresswoman said overcrowding of unaccompanied migrant children at border stations is "unacceptable" but that the Biden administration is doing a better job at taking care of asylum-seekers than previous administrations.
"I recall in 2019, the stories of families and children and Border Patrol agents running to a 7-Eleven to buy burritos they'd warm up in microwaves in their break rooms, and that was inadequate," Representative Veronica Escobar (D-Texas) said during an online panel Wednesday hosted by The Texas Tribune.
"This is still not acceptable; kids shouldn't be in Border Patrol custody very long, but at the very least, now they have clean clothes, showers, toiletries and hot food. It's far more humane than what we saw two years ago."
President Joe Biden has new policies on immigration, but the situation at the border isn't anything new, Escobar said.
A Department of Health and Human Services (HHS) spokesperson confirmed to Newsweek Escobar's claims that migrant children are provided showers, clean sleeping arrangements, meals, laundry, toiletries, access to medical services and COVID-19 testing.
But a key issue is that overcrowding in HHS facilities has forced hundreds of children to wait in Customs and Border Protection (CBP) facilities for days beyond legal limits on immigration custody. Once they arrive at packed into temporary HHS facilities, they still risk COVID-19 exposure and must wait for their claims to be processed.
Unlike former President Donald Trump, the Biden administration said it is not turning away any unaccompanied migrant children, although most single adults and families are expelled.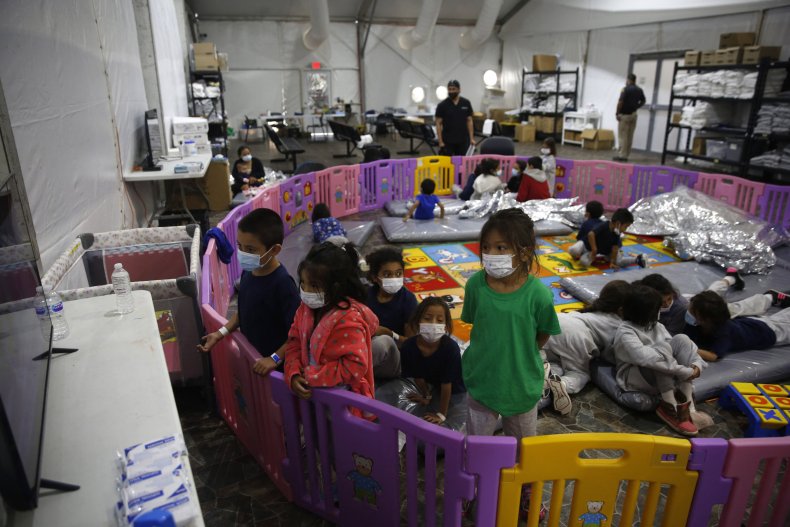 Biden repealed the Trump-era Migrant Protection Protocol, which required asylum-seekers to return to Mexico to await immigration court hearings and ended the "zero tolerance policy," which led to the separation of thousands of families at the border.
As a result, the country's immigration infrastructure has been overwhelmed by hundreds of children and families looking to enter U.S. immigration custody. Escobar said that despite the high number of arrivals, conditions under Biden for these asylum-seekers are "not as bad" as those under past presidents.
Escobar, who represents the border city of El Paso, added that communities such as hers have been "first responders," acting to provide essential services to migrants crossing into the U.S. from Mexico. But she emphasized that it has been "frustrating" for her to see the phenomena at the border framed as something new under Biden.
"Context of what's happened over the last decade and what hasn't happened is really, really important," Escobar said. "We have now had three different presidents facing the challenge at the border with regard to Central American migrants...Us here at the border have known this has been ongoing for a long time."
She added that Biden is the first president who "wants to tackle" the situation at the border in a "holistic" way, citing the immigration bill that Biden introduced on Inauguration Day and his selection of Vice President Kamala Harris to take on the root causes of the border influx.
Escobar blamed Trump for pushing the issue of migration "out of sight and out of mind" for the past four years by developing policy that forcing migrants to back Mexico.
"That did not mean that they stopped arriving," Escobar said of Trump's policy.
She added that the more difficult past administrations made it for migrants to legally enter the U.S., the more likely it was they took more dangerous steps to enter the country, such as enlisting traffickers or cartels.
"It doesn't mean people stop," Escobar said.
She was also critical of President Barack Obama for not "adequately" addressing the situation at the border.
Border patrol officials estimate more than one million migrant encounters can be expected for 2021—topping 2019's high of 977,509 encounters, according to CBP data.
"As we continue to see numbers grow, because this is not going to be a challenge that goes away, we've got to be able to do several things effectively," Escobar said.
She added that improvements should include more shelter facilities for migrant children and encountering people at the border in a "more human way."