What's Next for Syria? Russia Is Ready to Fight, Iran Wants U.S. Out, and Turkey Says No to New Battle
The heads of Russia, Iran and Turkey met Friday in Tehran in the latest attempt to find a solution to Syria's seven-year civil war, where they all have competing interests ahead of a potential major offensive.
Russian President Vladimir Putin and Iranian President Hassan Rouhani argued that the Syrian government, their ally, should press forward with a plan to forcefully retake Idlib, the final province under the control of an Islamist-led insurgency. Turkish President Recep Tayyip Erdogan warned that such a campaign could produce a humanitarian disaster, echoing Western concerns, and has called for a cease-fire between the military and rebels, some of which were backed by the Turks.
Following their meeting, the three leaders adopted a joint statement that did not explicitly lay out the next steps for Idlib, but they "took up the situation in Idlib de-escalation area and decided to address it in line" with principles outlined in the United Nations charter as well as "the spirit of cooperation that characterized the Astana format." The latter is the trilateral dialogue co-hosted by Russia, Iran and Turkey.
Friday's meeting also laid out the dynamics between the positions of the three world powers in Syria during a marked downturn in relations with the U.S., which is the traditional power broker for the region and has reportedly sought indefinite military support for its presence in Syria.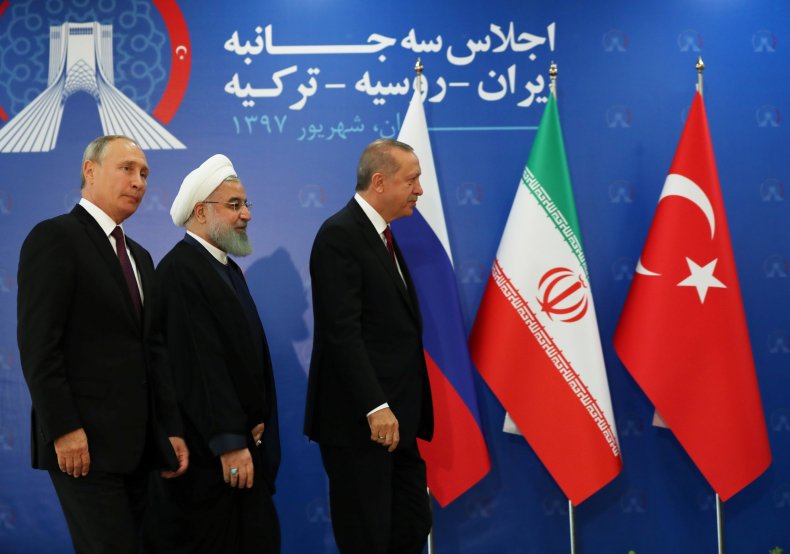 The U.S. and Turkey, along with Sunni monarchies such as Qatar and Saudi Arabia, were supporters of the 2011 uprising by rebels and jihadis that threatened the rule of Syrian President Bashar al-Assad, while Iran and Russia were among the countries that opposed it. Iran mobilized a number of its supportive Shiite militias across the region and some troops to help Syria's armed forces. In 2015, Russia intervened at Assad's request, shifting the momentum of the war in favor of the Syrian leader.
While the U.S. had switched its focus to battling the Islamic State militant group (ISIS) and began bombing it across Iraq and Syria in 2014, Russia's entrance the following year targeted both rebels and jihadis. ISIS has largely been defeated, and the insurgents have been ousted from all major cities in the years since. This has left most of the country back in the hands of the government; roughly a quarter of Syria under the control of the Syrian Democratic Forces, a mostly Kurdish group that is supported by a U.S.-led coalition and occasionally battles Turkey and its allies; and Idlib as the last bastion of opposition influence, surrounded by a dozen Turkish military observation posts.
The groups here include the dominant jihadi coalition of Hayat Tahrir al-Sham—considered a terrorist organization by most powers, including Russia and the U.S.—and other organizations such as the ultraconservative Ahrar al-Sham and the National Liberation Front, a recently formed merger of Islamists and the Turkey-backed Free Syrian Army that was once supported by the CIA. Russia, Iran and Turkey have all pledged to separate what they consider to be more moderate opposition fighters from their extremist counterparts, but Russia, Iran and the Syrian government have grown impatient with stalled negotiations on the ground.
Erdogan said that establishing a cease-fire "will be one of the most important steps of the summit and it will relieve the civilians," noting that he and his country never want Idlib to turn into a bloodbath," according to Turkey's official Anadolu Agency. A Turkish proposal included disbanding certain militant groups, empowering the Free Syrian Army in Idlib and establishing a new rebel group there to administer it, as Turkey did when ousting Kurds from Afrin, according to Turkish newspaper Sabah.
Putin, whose forces recently bombed an Ahrar al-Shams position in Idlib, reiterated his support for Syria regaining its territory through diplomacy or military action if necessary. "We hope that representatives of terrorist organizations will have the wisdom to cease resistance and lay down arms," he said, according to the state-run Tass news agency.
"We believe that an agreement will be reached and our call for a truce in the Idlib zone will be heard," Putin stressed after the summit, according to Tass. "We hope that representatives of terrorist organizations will have the wisdom to cease resistance and lay down arms."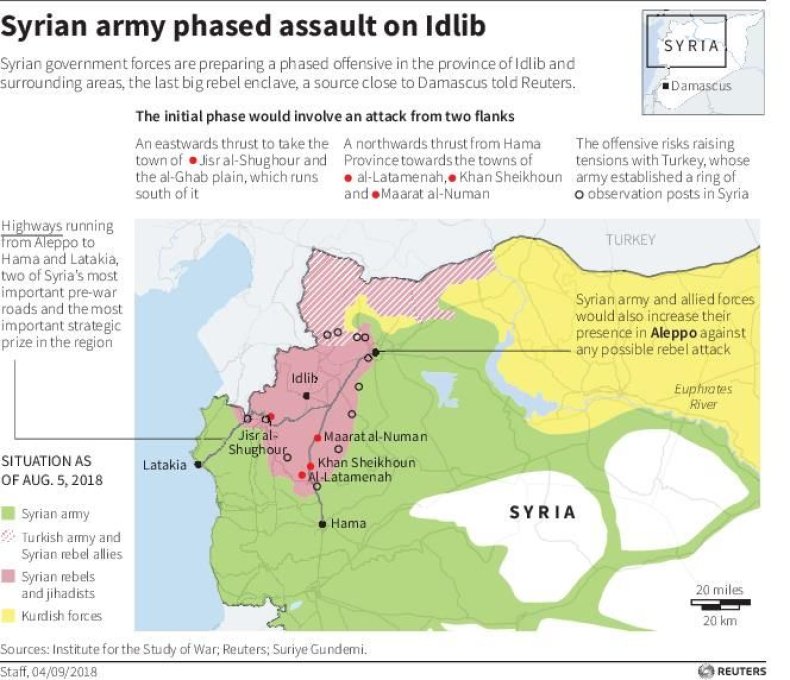 Rouhani expressed his support for continuing operations against insurgents in Idlib and taking measures to protect civilians, but he devoted part of his speech to call for the expulsion of foreign powers whose presence in Syria was not welcome by the government, especially the U.S. and Israel. Following President Donald Trump's decision to abandon the 2015 nuclear deal and reinstate sanctions against Tehran, ties between the U.S. and Iran have severely worsened. Also, Israel's targeting of Iranian and Iran-backed positions in Syria has accelerated in recent years; on Monday it was revealed that Israeli targets had bombed targets associated with Iran more than 200 times in the past two years.
"Obviously, we should not expect the U.S. government to play a positive and constructive role in this regard with its illegal presence in Syria and its acts of aggression and occupation, as well as its support for the Zionist apartheid regime," Rouhani said, according to the semiofficial Tasnim News Agency. "The U.S.'s illegal meddlesome measures in Syria are not consistent with any international regulation and increase the problems that already exist in the country and pose a serious challenge to achieving lasting peace in Syria."
While Trump himself has expressed an eagerness to leave Syria as the stated U.S. goal of defeating ISIS nears completion, countering a growing Iranian presence there has also become a leading interest for Washington. Trump, who is at odds with Turkey over its detainment of pastor Andrew Brunson, has cautioned Russia and Iran not to get involved in any Syrian military operation to retake Idlib and warned the Syrian government against civilian casualties, especially with the use of chemical weapons.
Trump has twice ordered military action against the Syrian government in response to allegations of poison gas attacks. But Russia, Iran and Syria have argued that the incidents were actually "false flag" events set up by local factions, possibly in cooperation with Western sponsors, seeking to attract foreign military intervention. As the U.S. threatened to take action against the use of chemical weapons, Russia has warned that another conspiracy was being arranged and launched large-scale military drills in the nearby Mediterranean Sea.