North Korea has suspended activity at its main nuclear site, according to recent satellite imagery and expert analysis that appeared to support Pyongyang's offers to solve the crisis on the Korean Peninsula diplomatically.
President Donald Trump's decision to accept an unprecedented invitation to meet North Korean supreme leader Kim Jong Un came after South Korean officials assured the Republican leader that Kim was willing to denuclearize in exchange for peace. As suspicions arose as to what North Korea's true intentions were, leading analysts Frank V. Pabian, Joseph S. Bermudez Jr. and Jack Liu found a major slowdown at the Punggye-ri nuclear test site in a report posted Friday to 38 North, a project of the U.S.-Korea Institute at the Johns Hopkins University's School of Advanced International Studies.
Related: What does North Korea's Kim Jong Un want from Trump? Three steps the U.S. can take to solve nuclear crisis
"Imagery from early March had shown signs of continued tunneling excavations at the West Portal, including mining carts and significant amounts of new spoil deposits. Large groups of personnel were also noted in the open support areas serving the nuclear test site's Command Center. However, imagery from March 17 showed no evidence of tunneling operations or the presence of any personnel or vehicles at any of the support areas including those near the Command Center," the report read.
"This is an important development given efforts to establish high-level meetings between the United States, South Korea and North Korea. However, whether this is just a temporary development or whether it will continue over time is unclear," it added.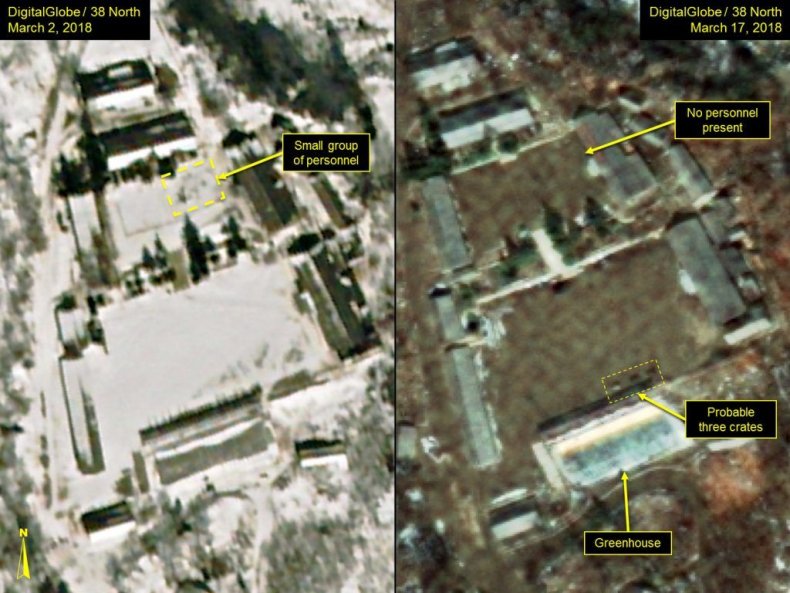 The Punggye-ri nuclear test site has been the venue of all six North Korean nuclear tests dating back to 2006. Located in the country's remote northeast, experts have used satellite imagery to carefully follow developments at the top-secret site, which most recently hosted a powerful hydrogen bomb test last September.
In the same New Year's speech that Kim indicated a willingness to restart dialogue with U.S.-backed South Korea, the young leader vowed to continue developing nuclear weapons and launching ballistic missiles, which were now capable of reaching the U.S. mainland. Neither Kim nor his various state-run media outlets have announced a change in this policy, but North Korea has long maintained its weapons were only necessary for self-defense.
Sets of photographs taken at three main areas on March 2 and March 17 showed substantial signs that Kim actually may be pausing his nuclear ambitions to pursue diplomacy with his sworn enemies. At the West and North Portals, drainage was significantly reduced and tunnel excavation appeared to have come to a halt. Personnel vanished entirely from the main administrative area and command center.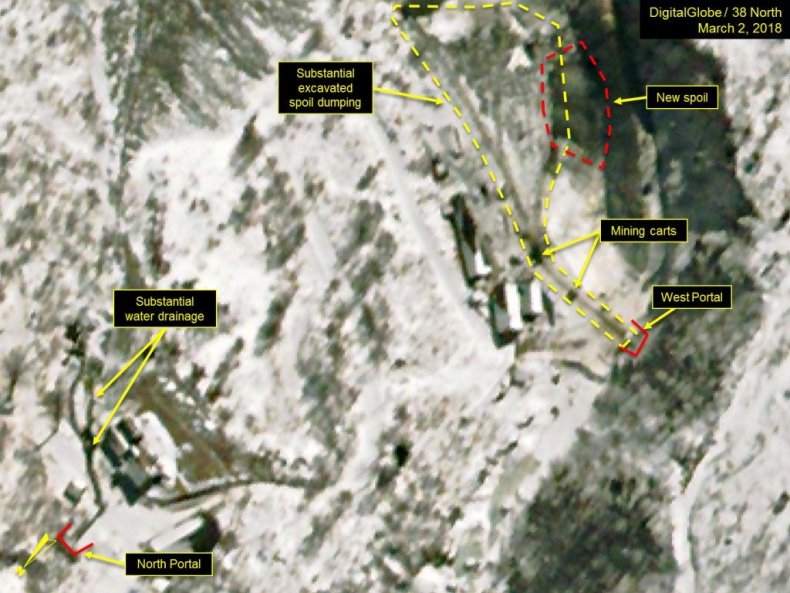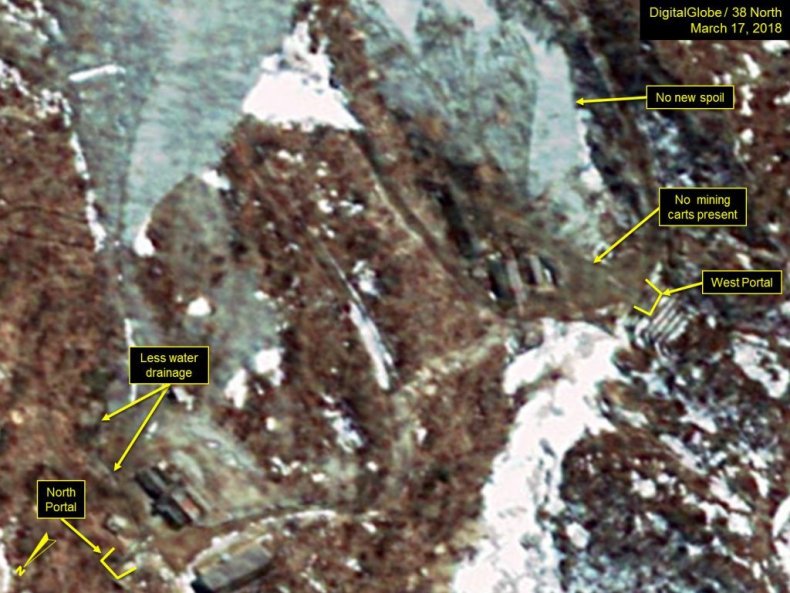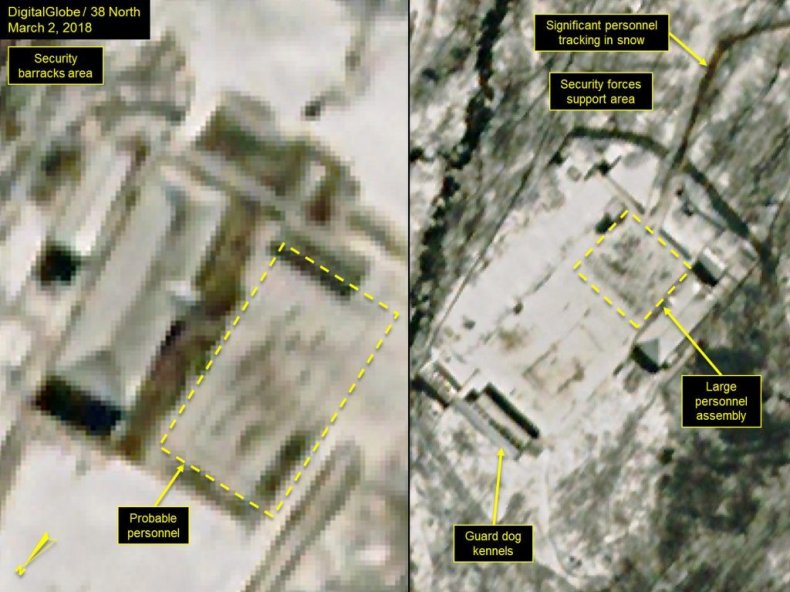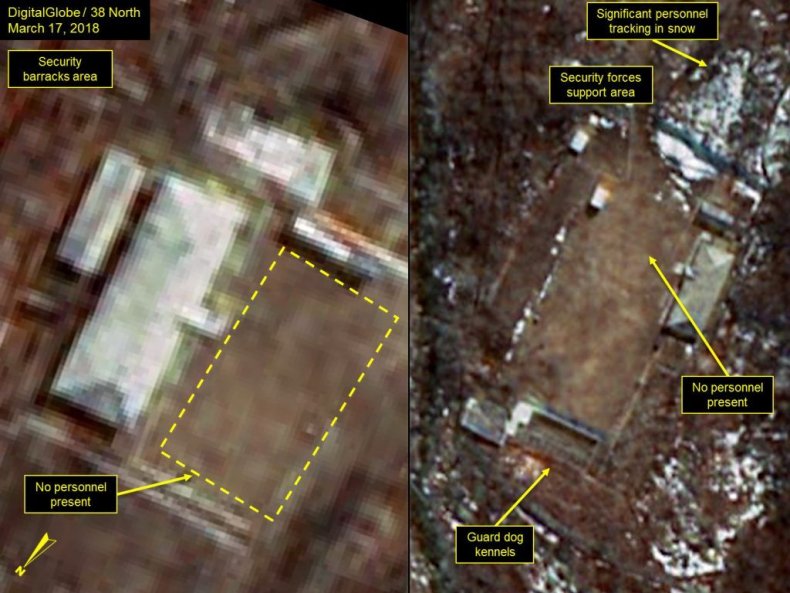 After meeting with Kim in Pyongyang, South Korean National Security Director Chung Eui-yong and his delegation flew to Washington on March 8 to meet his U.S. counterpart—whose recent dismissal has experts concerned—and to deliver a personal invitation from the North Korean leader to Trump. Standing in front of the White House, Chung said Trump had accepted the invitation to become the first sitting U.S. president to meet North Korea's supreme leader.
Last year saw a series of milestone military breakthroughs for North Korea, but the early months of 2018 have brought diplomatic firsts instead. The U.S. has yet to formally play a role in the ongoing inter-Korean dialogue, however, and neither Washington nor Pyongyang have announced any concessions. Upcoming joint U.S.-South Korea military drills would also be a test for Kim, who has considered the exercises a threat to his own security in the past.