Will Smith Gave Himself Permission at 50 to 'Do Whatever' He Wanted
Will Smith said he gave himself permission at 50 to "do whatever" he wanted to do in an interview with GQ from 2021.
The profile piece came out last September, but it has resurfaced after Smith slapped Chris Rock at last week's Oscars.
Presenter and comedian Chris Rock made a joke about Smith's wife, Jada Pinkett Smith, and her short haircut, which is due to the medical condition alopecia. Smith got up on stage and slapped Rock, and when he sat down, Smith shouted, "Keep my wife's name out your f**king mouth."
The altercation has caused widespread debate, as many have condemned Smith's actions and praised Rock's conduct following the slap.
The piece from GQ, titled "Introducing the Real Will Smith" by Wesley Lowery, details things about Smith's career and home life, including his memoir, which came out last November, and his role in the film King Richard, which won Smith the Academy Award after the incident with Rock.
In the article, Smith said he received sound advice from his friend, Denzel Washington, who told him to "bear with your 40s" and "wait till you hit the f**k-it 50s."
"And that's exactly what happened," Smith told Lowery. "It just became the f**k-it 50s, and I gave myself the freedom to do whatever I wanted to do."
Since the incident at the Oscars, Smith has issued an apology on social media, saying, "My behavior at last night's Academy Awards was unacceptable and inexcusable. Jokes at my expense are a part of the job, but a joke about Jada's medical condition was too much for me to bear and I reacted emotionally."
"I would like to publicly apologize to you, Chris," Smith wrote. "I was out of line and I was wrong. I am embarrassed and my actions were not indicative of the man I want to be."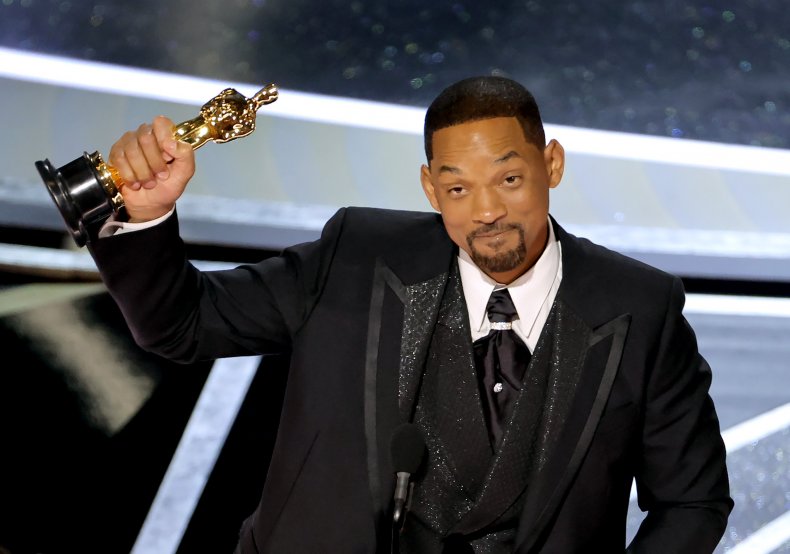 Last week, the Academy announced that Smith was asked to leave the Oscars, and while sources claimed that he was not, the Academy stated, "Things unfolded in a way we could not have anticipated. While we would like to clarify that Mr. Smith was asked to leave the ceremony and refused, we also recognize we could have handled the situation differently."
On Friday, Smith announced he was resigning from the Academy of Motion Picture Arts and Sciences, saying in a statement, "I will fully accept any and all consequences for my conduct. My actions at the 94th Academy Awards presentation were shocking, painful, and inexcusable."
After his resignation, the Academy decided that the scheduled hearing to decide on potential consequences against Smith was moved from April 18 to April 8. Academy president David Rubin said in a letter obtained by CNN that because Smith had resigned, "suspension or expulsion are no longer a possibility and the legally prescribed timetable no longer applies."
Newsweek has reached out to Smith's representative for further comment.