Is Xi Jinping Losing the Battle Against Zero COVID?
China's zero-tolerance approach to the coronavirus appears to have tamped down a once-alarming outbreak in Shanghai. But residents of Beijing fear a repeat of the port city's disorder as the Omicron variant breaches the capital once more.
For two weeks, 21 million people in China's political center have undergone mandatory citywide tests for the virus. Officials are implementing the central government's zero-COVID policy, a plan closely associated with the personal achievements of Chinese President Xi Jinping.
Between rounds of mass testing, there's been panic buying and calls for calm, followed by a partial suspension of Beijing's subway lines this week. Many have expressed hopes that the city has learned from the experiences of Shanghai and the local government's disjointed response, but the facts on the ground have observers sensing a move toward a total shutdown.
Shanghai, the world's busiest container port and home to 25 million people, was brought to a standstill at great economic and social costs. It required enforcement of zero COVID from the top down, involving besuited Chinese Communist Party (CCP) officials on one end and hazmat suit-wearing neighborhood staff on the other.
When local health workers enforced Xi's policy, they did so indiscriminately and at times cruelly, leaving under-resourced lower-level officials on the verge of a breaking point, too. Residents were locked in their apartments—their buildings fenced in and fitted with alarms and electronic sensors to deter any desire to go outside for any reason.
It led to chaos. Social media was awash with complaints about a lack of supplies. Isolated communities protested from their windows, only to be cautioned by drones carrying loudspeakers. Positive cases were hauled off to purpose-made centralized quarantine facilities, while others remained in their homes in China's strictest lockdown since the start of the pandemic.
Over the weekend, a 75-year-old nursery home resident was handed over to staff from a local morgue, only for the receiving employees to find him still alive when they unzipped the body bag. Six people were arrested.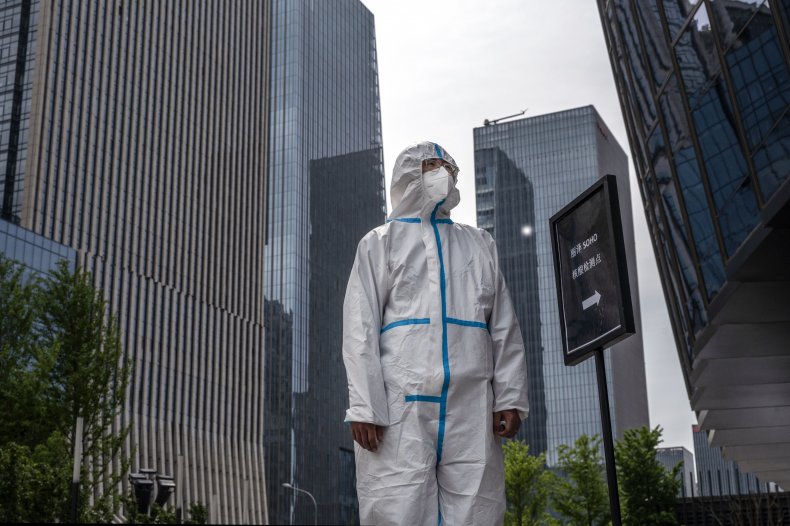 Since March, officials tracking Shanghai's Omicron outbreak have reported hundreds of thousands of cases, but only around 350 deaths. There are lingering concerns about the relatively low-vaccination rate among the elderly, as well as the efficacy of China's domestically produced shots, but many are finding it difficult to justify the government's decision to stay the course on zero COVID.
At the end of April, when Shanghai recorded no transmission outside of quarantine centers, a condition known as "social zero COVID," China's official Xinhua News Agency wrote: "China's anti-epidemic experience has demonstrated that its 'dynamic zero-COVID' policy is not only the best option but also the bottom line that must be maintained for the country's current epidemic prevention and control work."
On Monday, it dismissed suggestions that the government should find a better socio-economic balance, declaring: "China's dynamic zero-COVID approach has not only quickly cut viral transmission in the shortest time possible but also brought tangible benefits to the whole world."
The official messaging is further evidence that China won't hesitate to double down on the policy that is an extension of Xi's political legacy. To abandon the approach is to admit defeat at the hands of the virus, an impossible prospect during a year in which he's widely expected to secure a third term as the nation's leader.
At times like these, dissenting voices aren't welcome, no matter the source. Last month, China's famed epidemiologist and senior government health adviser Zhong Nanshan found his latest views censored after he called for a gradual reopening.
In a co-authored article in National Science Review, Zhong said it was time for China to open up in order to "normalize socio-economic development and adapt to global reopening."
"Prolonged dynamic zeroing cannot be pursued in the long run," he wrote in the journal article whose Chinese translations were later scrubbed from the internet.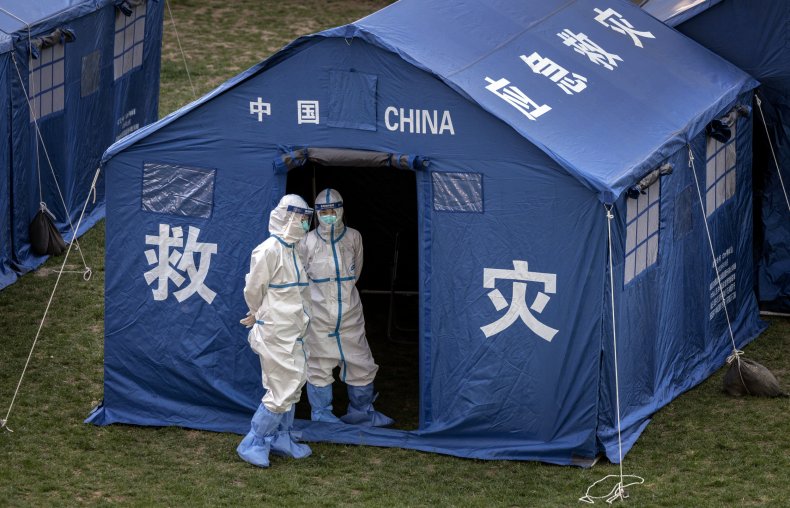 Seeing this, Beijing is bracing for more of the same. Like in Shanghai, the capital has built large field hospitals to process mild and asymptomatic COVID patients. On Wednesday, centralized quarantine in these makeshift facilities became mandatory for all close contacts of positives cases.
Press coverage of Shanghai and Beijing belies the sweeping nature of China's zero-COVID approach, which has already touched other major cities throughout the country since last year. Today, some residents in Zhengzhou, in central China, are already partially locked down; the rest are panic-buying at supermarkets in scenes unlikely to change the mood inside Zhongnanhai.
There's currently no end in sight for the once-successful policy Chinese officials used to retort accusations of human rights abuses from the United States.
Last December, the CCP marked 2022 as a year of stability. It will be up to Xi and his advisers to weigh the balance of social and economic stability against any potential panic brought on by the further spread of the virus.
On social media, meanwhile, dissatisfaction continues to be censored. Without social mobilization, or even the means to think it, the grievances of the Chinese public are likely to remain localized among small communities housing thousands, rather than move cities that are home to millions—seemingly the only way to change minds in Beijing.