Migrant News Updates: White House 'Closely Coordinating' With Delaware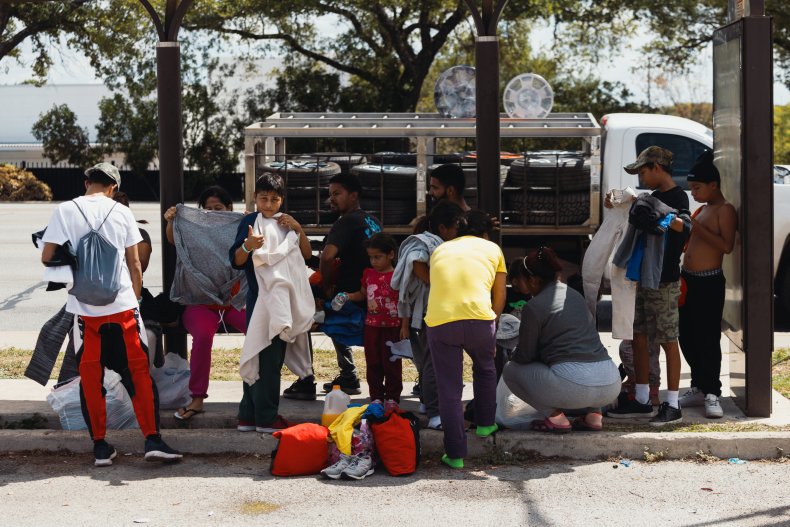 Live updates have ended.
White House 'Closely Coordinating' With Delaware
The White House is "closely coordinating" with government officials in Delaware as the state prepares for the possible arrival of migrants from Texas, White House Press Secretary Karine Jean-Pierre said Tuesday.
Jean-Pierre said during a Tuesday press briefing that the White House "received word" that a flight carrying migrants may be heading to Delaware following reports of a suspected flight earlier Tuesday.
"We are coordinating closely with state officials and local service providers who are prepared to welcome these families in an orderly manner as they pursue their asylum claims," Jean-Pierre said.
She described the unannounced transport of migrants from Texas as a "political stunt" by Florida Governor Ron DeSantis, who last week flew two planes containing migrants from Texas to Martha's Vineyard in Massachusetts.
"I don't have the specifics of where we got word from," Jean-Pierre told reporters about the suspected flight to Delaware. "I can tell you that we have been closely coordinating with the folks in Delaware, the officials in Delaware. I can tell you that our heads up did not come from Governor DeSantis, because his only goal, as he's made it really clear, is to create chaos and use immigrants fleeing communism as political pawns."
States Set Aside Millions to Transfer Migrants
As Republican governors continue to send migrants to Democrat-led cities across the country, many people have questioned the legally and the cost of these efforts.
Migrants sent by Republican governors to Democrat-led cities are legally allowed to stay in the United States, according to the Associated Press.
Tens of thousands of migrants cross the U.S. southern border and are released into the country with a notice to appear in immigration court to qualify for asylum or be placed on humanitarian parole. This requires migrants to regularly report to immigration authorities.
Migrants can seek asylum after entering the U.S. illegally, so long as they keep an address with authorities and attend appointments with a nearby court or immigration office. Permission to work requires a separate application.
But it may take years for these cases to be decided in court and there is a massive backlog in immigration courts. According to Syracuse University's Transactional Records Access Clearinghouse, that backlog has surpassed 1.9 million cases.
As detention centers become overcrowded, Border Patrol will release migrants on humanitarian parole. From August through June, nearly 250,000 migrants were paroled, the AP reported.
There has been a lot of controversy over whether Florida Governor Ron DeSantis is guilty of kidnapping or trafficking migrants he sent from Texas to Martha's Vineyard.
Several Democratic lawmakers have urged the Justice Department to investigate DeSantis and other Republican governors sending migrants to other states.
According to the AP, DeSantis used a state program what allows migrants deemed "unauthorized aliens" to be moved from Florida. Those migrants, however, were flown from Texas but did stop in Florida before going to Massachusetts.
DeSantis said the flights he chartered were through legitimate funds because the migrants would have gone to Florida. The governor has not provided any evidence to support that claim and did not say how migrants were vetted.
The federal government does fly migrants around the country, but under much different circumstances. Migrants are transported between detention facilities or are being removed from the country.
U.S. Immigration and Customs Enforcement (ICE) had more than 4,800 domestic flights and over 1,600 removal flights last year, according to Witness to the Border, a group that criticizes U.S. enforcement.
The Department of Health and Human Services also transports unaccompanied children to "sponsors," including family members, or child-only detention facilities.
Republican governors have argued that they are sending migrants to "sanctuary cities" that proclaim to welcome migrants.
The term "sanctuary city" refers to jurisdictions that limit cooperation with federal immigration enforcement actions to protect immigrants from deportation.
Chicago has a policy that prohibits people from asking about immigration status, denying services based on immigration status and disclosing information to federal immigration authorities. New York City prohibits police officers participating in joint enforcement or by letting immigration agents work in city jails. The six towns that make up Martha's Vineyard have not issued any formal sanctuary declarations. There are several Massachusetts cities that do fall under the Center for Immigration Studies, list of "sanctuary" jurisdictions.
Still, cities that claim to be welcoming to migrants has long-been a target of Republicans, including former President Donald Trump, who recently blasted these jurisdictions at a rally, saying "the radical Democrat Congresses turned our country into one giant sanctuary for serious criminal aliens."
Republican-led states have allocated funds to support migrant transfer measures.
In Texas, Governor Greg Abbott committed billions of dollars to "Operation Lone Star," a program that includes funding bus trips, prosecuting border crossers for trespassing and maintaining a large presence of state troopers and National Guard. In the city of El Paso alone, up to $2 million was spent contracting a private bus company.
The Florida legislature has allocated $12 million for its program for the current budget year. As part of the Freedom First Budget, those funds were set aside for a "program within the Florida Department of Transportation to transport unauthorized aliens" out of the state.
"The legislature gave me $12 million. We're going to spend every penny of that to make sure that we're protecting the people of the state of Florida," DeSantis said at a press conference last week.
Texas National Guard Is Helping Arrest Migrants
Texas Governor Greg Abbott shared two photos on Twitter Tuesday that he said shows soldiers with the Texas National Guard providing assistance in the arrest of migrants who entered the U.S. illegally.
The Texas National Guard is helping the Texas Department of Public Safety (DPS) "with arresting illegal immigrants trespassing on local ranches," Abbott's post said. "We put them behind bars, not catch & release. Texas continues to secure our border."
One photo showed a closeup of a National Guard soldier's uniform, with their face out of frame. The second photo appeared to show two state troopers and two members of the Texas National Guard standing near what seemed to be a group of migrants, who were sitting on the ground outside. Both photos appeared to have been taken at night.
Abbott enlisted the help of his state's military department last year as part of a plan his office calls Operation Lone Star. The additional personnel were meant to help the Texas DPS following "an increase in activity from transnational criminal networks along the Texas-Mexico border," according to the Texas Military Department's website.
Abbott recently reduced the number of soldiers available to assist with border security to more than 5,000, according to The Texas Tribune. The Republican governor said last fall that as many as 10,000 soldiers would help with border security efforts, but the paper reported the force assigned to the border was smaller by thousands of troops.
Delaware Prepares for Possible Migrant Arrival
Government officials in Delaware are reportedly taking steps to prepare in the event migrants are indeed flown into the state on Tuesday.
Flight records indicate a plane will take off in Texas and stop briefly in Florida before landing in Delaware. In the wake of Florida Governor Ron DeSantis' decision to send two planes full of migrants from Texas to Martha's Vineyard in Massachusetts last week, some people have speculated about the possibility that another plane carrying migrants could be on route to Delaware, the home state of President Joe Biden. Officials in Martha's Vineyard said they were taken by surprise when the migrants arrived at the island unannounced last week.
Delaware Governor John Carney is aware of the reports that migrants may be flying to Delaware and is preparing in case those reports turn out to be true, according to The News Journal.
The Delaware Emergency Management Agency and the Delaware Department of Health and Social Services "are working with community organizations and other partners to make sure that migrants who arrive here have the support that they need," Carney spokesperson Emily David Hershman told The News Journal.
Georgetown's mayor was also waiting for additional information about the migrants' potential arrival after hearing the reports, the paper reported.
DeSantis Says Migrants Signed Consent Forms
Florida Governor Ron DeSantis defends his plan to send migrants from Texas to the New England island of Martha's Vineyard.
During an interview with FOX News' Sean Hannity, the Republican governor said the Biden administration largely ignored the "millions" of migrants who have crossed the border, the dozens who have died at the border and the influx of fentanyl that has entered the country since Biden took office.
"It's only when 50 [migrants] get put in Martha's Vineyard," that the outraged began, he said.
The strong reaction from Democrats stems from reports that the migrants were mislead about what was waiting for them in Massachusetts.
Some lawmakers accused DeSantis of "trafficking" migrants as a political ploy.
The White House said the migrants were promised jobs and housing when they stepped off the planes. Martha's Vineyard and other Massachusetts officials said they were not given prior notice that the migrants were arriving to allow the proper accommodations to be set up.
"Republican governors interfering in that process and using migrants as political pawns is shameful, reckless, and just plain wrong," White House Press Secretary Karine Jean-Pierre said during a press briefing last week.
But DeSantis said the migrants all signed consent forms before they left Texas.
He said the vendors that took them to Martha's Vineyard provided the migrants with a packet that had a map of the island and phone numbers for different services and immigration and refugee agencies on the island and in the state.
"It was clearly voluntary and all the other nonsense you're hearing is just not true," DeSantis said.
He said Martha's Vineyard has jobs and housing available and "had they lived up to" their image as a sanctuary jurisdiction, "they could have absorbed those people without a problem."
Dylan Fernandes, Martha's Vineyard's state representative, said he requested the Justice Department hold DeSantis accountable for what he calls "inhumane acts."
"Not only is it morally criminal, there are legal implications around fraud, kidnapping, deprivation of liberty, and human trafficking," he wrote in a tweet.
DeSantis turned focus on the small towns along the southern border and across the country "that Biden has dumped people in."
"I think what we've been able to do is show that this border is a disaster, Biden has failed on this as much or more than any other policy," he said. "And we want solutions as Americans.
He said he wants to ensure Donald Trump's "Remain in Mexico" policy are reinstituted "so that we can get control over what's going on down there."
Javier Salazar, the Texas sheriff investigating DeSantis' transport of migrants, said the migrants were "preyed upon" by DeSantis.
He said the migrants were "lured with promises of a better life" but ended up being "exploited and hoodwinked." Salazar accused DeSantis of "political posturing."
DeSantis said the White House accuses him and other Republican governors sending migrants to Democrat-led cities of conducting "political stunts."
"But the biggest stunt was Biden coming into office and reversing Trump's policies," he said, not because they weren't working, but "because he wanted to virtue signal to his base and he wanted to show that Donald Trump was bad."
DeSantis said Biden knew what would happen if he reversed
"He has pulled the biggest political stunt," he said.
The governor said that immigration is now a "front burner" issue in the midterms, adding that Republicans "have the advantage."
U.S. Migrant Arrivals Top 2M, New Record for One Year
Border officials have encountered more than 2 million migrants attempting to cross the U.S.-Mexico border during the first 11 months of the 2022 fiscal year, the U.S. Customs and Border Protection (CBP) said in an operational update released on Monday. The number marks a new record for the total number of reported migrant encounters.
As of the end of August, the CBP said its agents had encountered 2,005,026 migrants since October 1, 2021. That total does not include the number of migrants agents have and still will encounter through September 30, when the 2022 fiscal year ends.
During the 2021 fiscal year, the CBP said its agents encountered a total of 1,662,167 migrants, a jump of more than 1 million from the 405,036 migrant encounters recorded during the 2020 fiscal year.
In a news release addressing the latest numbers, the CBP attributed the large number of migrant encounters to "failing communist regimes in Venezuela, Nicaragua, and Cuba," which the agency said is not only resulting in an uptick of migrant encounters along the U.S.-Mexico border but "across the Western Hemisphere." The migrants who are leaving countries experiencing political turmoil "pose significant challenges for processing and removal," the CBP said.
Meanwhile, the CBP said the number of migrants coming into the U.S. from Mexico and northern Central America is down for the third month in a row as President Joe Biden's administration "works with our partners in the region to address the root causes of migration, facilitate repatriation, and take thousands of smugglers off the streets."
The CBP also issued a prediction within its August operational update.
"More individuals encountered at the border without a legal basis to remain will be expelled or removed this year than any prior year," the agency said.
GOP Governors Sent Nearly 13k Migrants to Democrat Cities
Republican governors have sent nearly 13,000 migrants to Democratic-led cities across the country to protest President Joe Biden's immigration and border security policies.
Since April, Texas Governor Greg Abbott, Florida Governor Ron DeSantis and Arizona Governor Doug Ducey have sent migrants to four main cities: New York, Chicago, Washington D.C. and Martha's Vineyard.
Abbott sent more than 8,000 migrants on over 190 buses to D.C. in April. Ducey followed suit by sending his first bus of migrants to the nation's capitol in May. Since then, Ducey has sent about 1,800 migrants on 50 buses.
D.C. Mayor Muriel Bowser declared a public emergency earlier this month to request funds and resources, including the National Guard, to handle the large influx of migrants.
Last week, Abbott sent two buses of migrants to Vice President Kamala Harris' residence in Washington.
"VP Harris claims our border is 'secure' & denies the crisis. We're sending migrants to her backyard to call on the Biden Administration to do its job & secure the border," Abbott said in a tweet.
New York City Mayor Eric Adams blasted Abbott as the governor sent more than 2.500 migrants to the city since the beginning of August.
Adams has also requested federal assistance to accommodate migrants' housing and medical needs. He told CNN that "this is a humanitarian crisis created by human hands."
The mayor also blamed Republican governors for the recent suicide of an asylum seeker who he said was "traumatized by this whole experience."
Abbott also sent hundreds of migrants to Chicago, Illinois in August.
Illinois Governor J.B. Pritzker said Abbott send more than 600 migrants over 10 buses. He, too, declared a state of emergency and has requested federal resources.
Chicago Mayor Lori Lightfoot said the city has received about 364 migrants since Aug. 31 and she expects the number to grow. She said no one from Abbott's office communicated her the city, accusing Abbott of "creating intentional chaos to reignite anti-immigrant sentiment and attempt to strain City systems—especially Sanctuary Cities."
"Governor Abbott's political stunt continues to put lives at risk and add unnecessary trauma to the lives of people—human beings—who are simply trying to find safety and start a new life," she said in a tweet.
DeSantis charted two planes carrying 50 migrants from Texas to the island of Martha's Vineyard, Mass, last week.
He took aim at the island for boasting its willingness to be a sanctuary city for migrants arriving at the U.S. southern border.
"All those people in D.C. and New York were beating their chests when Trump was president, saying they were so proud to be sanctuary jurisdictions, saying how bad it was to have a secure border," DeSantis said during a press conference last week.
"The minute even a small fraction of what those border towns deal with every day is brought to their front door, they all of a sudden go berserk and they're so upset that this is happening," he added.
He said Martha's Vineyard is "just the beginning" of his plan to relocate migrants across the country.
Texas Sheriff Investigating DeSantis' Migrant Transfer
A Texas sheriff is investigating the flights of migrants Florida Governor Ron DeSantis sent from San Antonio to Martha's Vineyard last week.
Bexar County Sheriff Javier Salazar said he believes there is "some criminal activity" involved, saying the migrants have been "preyed upon" with a promise of a better life. He said these people were "exploited" for "nothing more than political posturing."
It is too soon to press charges or publicize any suspects' names, Salazar told reporters. He said he and his team have spoked to attorneys representing some of the migrants to establish what laws were broken and who should be charged.
During a Facebook Live news conference, Salazar said the migrants were "lured under false pretenses" onto the flights to Florida and then Massachusetts and brought to the small island of Martha's Vineyard "for little more than a photo op, video op."
"What infuriates me the most is what we have is 48 people here legally—they have every right to be here and they were preyed upon," he said. "Lured with promises of a better life and with the knowledge they would cling anything that was offered for a better life and were exploited and hoodwinked to make the trip to Florida for what I believe was political posturing."
He accused the organizers of the migrant flights of taking advantage of "people who are already in a desperate situation."
"That does tend to bother me quite a bit, and so we are absolutely opening an investigation into this," Salazar said in a press conference.
In response to the investigation, DeSantis' office said the migrants will have a better chance of success in Massachusetts.
"Immigrants have been more than willing to leave Bexar County after being abandoned, homeless, and 'left to fend for themselves,'" DeSantis spokesperson Taryn Fenske said. "Florida gave them an opportunity to seek greener pastures in a sanctuary jurisdiction that offered greater resources for them, as we expected."
Migrant Plane May be Heading to Biden's Delaware Home
The plane that Florida Governor Ron DeSantis used to sent migrants from Texas to Martha's Vineyard, Massachusetts, was heading to an airport near President Joe Biden's Delaware home Tuesday.
The aircraft that dropped off migrants in Martha's Vineyard on Sept. 14 is set to land in Delaware, according to FlightRadar24. This is leading some to speculate whether the Republican governor is sending migrants to Biden's door.
Texas Governor Greg Abbott recently sent a busload of migrants to the residence of Vice President Kamala Harris in Washington, D.C.
FlightRadar 24 shows the plane, given the designation J328, is set to leave San Antonio, Texas, at 8 a.m. Central time (9 a.m ET) and arrive in Crestview, Florida, at 10:03 a.m. CT (11:03 a.m. ET) for a brief layover, before departing for Delaware Coastal Airport in Sussex County, Delaware, at 10:17 a.m. CT (11:17 a.m. ET).
The airport is about a 40-minute drive from Biden's vacation home near Rehoboth Beach. The plane is scheduled to leave Delaware Coastal Airport at 2.30 p.m. ET and head to Teterboro, New Jersey.
At this time, there is no evidence that the flight is carrying migrants or intends to send migrants to Biden's home.