The Dire Consequences of Stopping Social Distancing During Spread of Coronavirus Explained
A top expert in pandemics at Johns Hopkins University has warned against ending social distancing in the U.S. too soon, as the country continues to try to control the spread of COVID-19.
Dr. Tom Inglesby—director of the Center for Health Security of the Johns Hopkins Bloomberg School of Public Health and an expert in areas including pandemics, infectious disease, and biosecurity—tweeted on Monday that "prominent U.S. voices" had called for a stop to social distancing "citing rationale that they're worse than impact of COVID itself."
"It's worth looking very closely at that claim, where we are in US COVID epidemic and what happens if we stop," he said.
There is currently no treatment or vaccine for COVID-19, meaning health officials must instead ask people to take measures such as social distancing to stop the coronavirus from spreading. While this is a powerful tool for slowing the pandemic and saving lives, the effect of people staying indoors has impacted the economy.
Inglesby did not state which "prominent U.S. voices" he was referring to. He made the comments after President Donald Trump, whose administration has put forward a 15-day plan to tackle COVID-19, tweeted on Sunday: "WE CANNOT LET THE CURE BE WORSE THAN THE PROBLEM ITSELF. AT THE END OF THE 15 DAY PERIOD, WE WILL MAKE A DECISION AS TO WHICH WAY WE WANT TO GO!"
Inglesby argued that ending social distancing now would put pressure on the healthcare system, and cause people to die.
Since the first COVID-19 case was reported in the U.S. in January, more than 46,450 people have been diagnosed with the disease. The figure has more than tripled from 13,000 last Thursday, partly due to ramping up in testing an expert previously told Newsweek. As shown in the map by Statista below, accurate as of March 23, some states have more than 1,000 confirmed COVID-19 cases.
The true number of cases is likely to be higher than those confirmed, Inglesby suggested, as some people are not sick enough to be tested.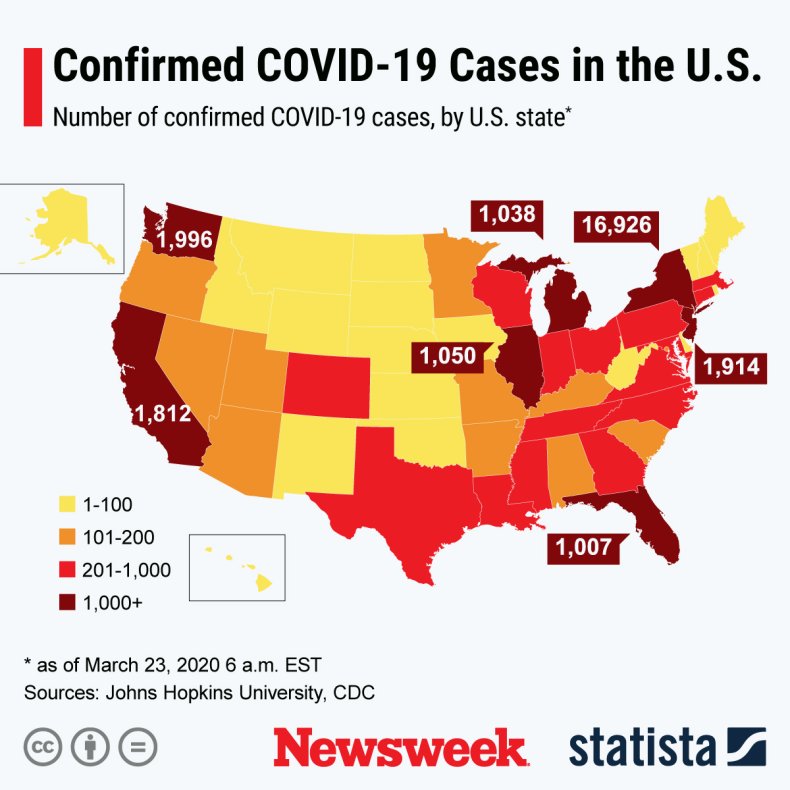 "Anyone advising the end of social distancing now, needs to fully understand what the country will look like if we do that," stressed Inglesby. "COVID would spread widely, rapidly, terribly, could kill potentially millions in the yr [year] ahead with huge social and economic impact across the country."
Inglesby went on: "To drop all these measures now would be to accept that COVID pts [patients] will get sick in extraordinary numbers all over the country, far beyond what the US health care system could bear."
Models forecasting the spread of the disease report health systems "will be completely overwhelmed/collapse by the peak of cases if major social distancing is not put in place," he said, referring to an approach called flattening the curve.
The death rate, a changeable number calculated by dividing the number of deaths by the total number of people infected, will rise if a community's healthcare system stops working, and the 5 percent of critically ill patients may not receive care, he said.
"Beyond that, if hospitals were completely overwhelmed, they may struggle to provide even oxygen for some or many of the 15% of recognized cases expected to be 'severely ill'. let alone provide care for other life threatening conditions," said Inglesby.
He pointed to countries in Asia which have used this approach to control the COVID-19 outbreak. For instance China, where the new coronavirus was first identified late last year, hit its peak in mid-March and last week, for the first time since the outbreak started, reported no new domestic cases. The country adopted aggressive measures against the virus, including quarantining millions of people.
"In Asia, we've seen these interventions work to lower pace of the epidemic, lower numbers of critically ill, lower the number of people who get COVID. In Asia where big social distancing measures have been in place for two months, they have had very strong impact," said Inglesby.
However, Inglesby explained "these big social distancing measures take time to work."
Referring to the city of Wuhan where the outbreak started late last year, he said: "The impact of big interventions in Wuhan China took about 3 wks [weeks] to start to reverse things. And then everyday after the situation got better. In the US, we're about 7 to 10 days into this, depending on the state.
"Before considering big changes to social distancing measures now, we should as quickly as possible get to strongest possible position for COVID response—we're no where near that now," he argued.
This would involve ensuring healthcare workers have enough personal protective equipment like masks; building more ventilators; and reducing the number of cases to such a low level that contact tracing and isolation of cases would be possible. Testing at airports to identify those with COVID-19 would also be needed, as well as screenings to find those who have recovered from COVID-19 and to see how widespread it is would also be required before social distancing is stopped, he said.
"Once we have those things in place, it would be a far less risky time to take stock of social distancing measures in place and consider what might gradually be reduced with trial and error," wrote Inglesby.
Until then, production needs to continue and essential establishments like doctors offices, pharmacies, groceries and banks need to remain open, while schools must close, and commuting and gathering should stop, he argued. People should be strongly advised to stay at home unless necessary.
At the same time, "every conceivable" economic program should be put in place to help those suffering due to social distancing measures, Inglesby said.
Michael Head, senior research fellow in Global Health at the University of Southampton, told Newsweek: "Social distancing is still a vital part of the efforts to reduce the spread of the novel coronavirus. There will come a time when interventions can be eased, but right now the scale-up of these measures is vital."
He added: "Cases in many parts of the world, including the USA, are rapidly increasingly, and everyone, politicians and citizens, need to be responsible in their comments and actions."
World Health Organization advice for avoiding spread of coronavirus disease (COVID-19)
Hygiene advice
Clean hands frequently with soap and water, or alcohol-based hand rub.
Wash hands after coughing or sneezing; when caring for the sick; before, during and after food preparation; before eating; after using the toilet; when hands are visibly dirty; and after handling animals or waste.
Maintain at least 1 meter (3 feet) distance from anyone who is coughing or sneezing.
Avoid touching your hands, nose and mouth. Do not spit in public.
Cover your mouth and nose with a tissue or bent elbow when coughing or sneezing. Discard the tissue immediately and clean your hands.
Medical advice
If you feel unwell (fever, cough, difficulty breathing) seek medical care early and call local health authorities in advance.
Stay up to date on COVID-19 developments issued by health authorities and follow their guidance.
Mask usage
Healthy individuals only need to wear a mask if taking care of a sick person.
Wear a mask if you are coughing or sneezing.
Masks are effective when used in combination with frequent hand cleaning.
Do not touch the mask while wearing it. Clean hands if you touch the mask.
Learn how to properly put on, remove and dispose of masks. Clean hands after disposing of mask.
Do not reuse single-use masks.